New York Journalist Targeted in Alleged Iran Kidnapping Plot Urges Biden to Act Against Regime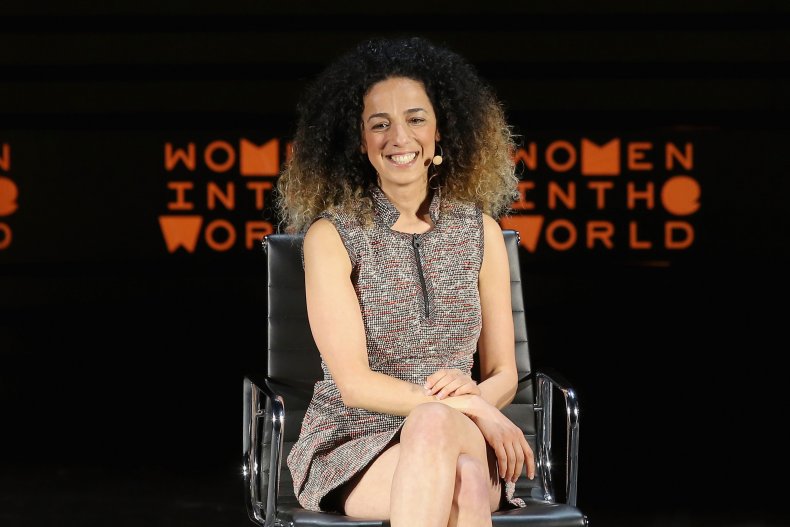 New York-based journalist and Iranian dissident Masih Alinejad urged President Joe Biden to "show some gumption" by taking on the government of Iran after an indictment detailing a plot to kidnap her from the U.S. was unsealed on Tuesday.
A federal court in New York unsealed the indictment hours earlier, alleging that Iranian intelligence hatched a plot to kidnap an unnamed U.S.-based journalist and transport her back to Iran. The Department of Justice release announcing the indictment did not name Alinejad, indicating only that the target was a woman who was originally from Iran and is now based in New York.
However, Alinejad, a noted critic of the Iranian government, has confirmed to Newsweek and others that she was the target of the plot. Alinejad said that she knows she will continue to be targeted by Iran before urging President Joe Biden to take action against the country's government to prevent similar plots from taking shape in the future.
"I know that I have a bullseye target on my back but that applies to all human rights activists and dissidents," Alinejad said in a statement to Newsweek. "I am not going to stop doing what I'm doing."
"I'd like the Biden Administration to show some gumption and take action against the Islamic Republic," she added. "Only a stern response will make the Iranian government stop its malign behavior."
Newsweek reached out to the White House for comment.
The indictment names Iranian intelligence official Alireza Shavaroghi Farahani as the plot's ringleader. He was indicted alongside Iranian intelligence assets Mahmoud Khazein, Kiya Sadeghi, and Omid Noori. All four suspects are facing conspiracy charges related to kidnapping, sanctions violations, bank and wire fraud, and money laundering. They remain at large, presumably in Iran.
A fifth suspect, Niloufar Bahadorifar, allegedly provided financial aid to the group from California. Bahadorifar was arrested on July 1 on conspiracy charges of sanctions violations, bank fraud, wire fraud, money laundering and structuring cash deposits worth approximately $445,000. If convicted on all charges, she could face a combined maximum sentence of 80 years behind bars.
The alleged plan to kidnap Alinejad began no later than June 2020 and appears to have been well-orchestrated and at an advanced stage. The Iranian suspects are said to have employed unnamed private investigators to help establish around-the-clock surveillance that included a live high-definition video feed of Alinejad's home.
After abducting Alinejad, feds say the kidnappers planned to transport her out of New York using military-style speedboats, with the intention of eventually taking her to Venezuela and then on to Iran. Before planning the U.S. kidnapping, the group allegedly attempted to enlist Alinejad's family members to convince her to travel to a third country where she could be abducted more easily.
"This is not some far-fetched movie plot," FBI Assistant Director William F. Sweeney Jr. said in a statement. "We allege a group, backed by the Iranian government, conspired to kidnap a U.S. based journalist here on our soil and forcibly return her to Iran. Not on our watch."
Alinejad, who has worked for the U.S. government by hosting and producing programs for Voice of America, has inspired the wrath of the Iranian regime for criticizing its treatment of women. She fled the country in 2009 and has drawn particular ire for speaking against the Iranian government requirement that women wear the hijab.
In a Washington Post opinion article last August, Alinejad wrote that Iranian officials had launched a campaign promoting her kidnapping on social media and that politicians in the country were urging the intelligence services to follow through with the plot.
Videos and messages shared to Twitter by Alinejad on Tuesday Alinejad indicate that the FBI had first contacted her about the plot eight months ago and that police had been stationed outside her home for the past two weeks.
Alinejad thanked the FBI for "foiling the Islamic Republic of Iran's Intelligence Ministry's plot to kidnap me," which she said was done under the guidance of Iranian President Hassan Rouhani.
Newsweek reached out to the Interests Section for the Islamic Republic of Iran at the Pakistani Embassy in Washington, D.C., which handles Iranian diplomacy in the U.S., for comment.