New York Kids Are Running Away From Rats 'Bigger Than Their Baby Sisters,' So the City Is Cracking Down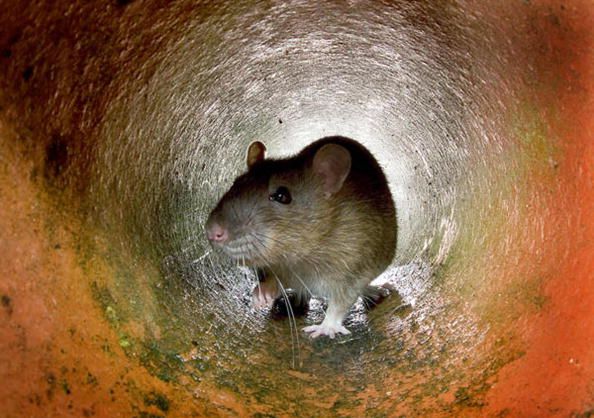 Pizza Rat and Selfie Rat may have turned out to be elaborate hoaxes staged by an eccentric performance artist, but the rat problem in New York City is unequivocally real. Mayor Bill de Blasio announced on Wednesday a $32 million plan involving several city agencies to reduce the city's rat population.
"All New Yorkers deserve to live in clean and healthy neighborhoods," the mayor said in a statement in the news release issued by his office. "We refuse to accept rats as a normal part of living in New York City."
The initiative will focus on three spots where rats have been most problematic: The Grand Concourse area in the Bronx; the Chinatown, East Village and Lower East Side neighborhoods in Manhattan; and Bushwick and Bedford-Stuyvesant in Brooklyn. The goal is to reduce rat activity in those zones by 70 percent.
"Rats are destroying neighborhoods and endangering people," City Council Member Fernando Cabrera, whose district in the Bronx is bordered to the east by Grand Concourse, said in a statement. "I've seen the impact of rat infestations in my district—parents afraid to leave children alone in their beds, family members suffering from rat bites, homes structurally damaged. It's time to take major steps to fix this problem."
Rats can contaminate food, spread diseases and reduce quality of life. They can also damage utilities and contribute to the erosion of buildings' structural integrity.
In February, at least one resident on a block in the Grand Concourse neighborhood died from a rare infection called leptospirosis (also referred to as mud fever, sewerman's flu or swamp fever) that is transmitted by contact with rat urine, and two others became severely ill. The city's health department dispatched a team to the building to lay traps, plug holes in walls and pipes, get rid of garbage that hadn't been handled properly and inspect apartments. But that work was just a temporary remedy for larger problem.
"It is unfathomable to me that in this day and age, in one of the most expensive cities in the world and at our most technologically advanced point as a civilization, the city cannot mitigate the rat problem, nor does it have good ideas to do so," Bronx Borough President Ruben Diaz Jr. said in a statement at the time. Diaz welcomed the mayor's new plan: "This much-needed investment will help decrease rodent infestation in parts of my borough that have been affected the most by rodents and the health impact they can have on a community."
The initiative includes several components. The city will buy and, starting in September, install new waste containers, such as solar compactors and steel cans rather than wire wastebaskets, to reduce rats' access to food. Some New York City Housing Authority buildings will have their dirt basement floors replaced with cement "rat pads" and get new trash compactors. The plan calls for more frequent trash pickup in residential and park areas in the "mitigation zones." The Department of Health and Mental Hygiene will add eight staff members to its anti-rat team and work with the Department of Buildings, Housing Preservation and Development and the Department of Sanitation to inspect buildings and identify conditions that contribute to the rat problem.
"We are thrilled and delighted to learn of this great investment to help stem one of the scourges that have plagued the area since the days when Charles Dickens visited this city," Wellington Z. Chen, executive director of the Chinatown Partnership, said in a statement. "There is no better investment than a green and environmentally friendly [strategy] that will drastically reduce the number of single-use plastic bags, and reduce odor emission and deny rodents their open source of smorgasbord. Sorry, Ratatouille, we know that we have great Chinese, Italian and other great food in the area but you will have to search elsewhere!"
Some supporters of the initiative, however, want elsewhere to mean outside the city entirely. In other words, thrilled as they are at the prospect of a 70 percent reduction, they'd rather see 100 percent of rats gone.
"While the Mayor's goal of 70 percent may seem ambitious, this is the greatest city in the world, and I don't believe any remaining 30 percent of rats would be acceptable," state Senator Ruben Diaz (father of the Bronx borough president) said in a statement.
"All of our families deserve to live in safe and sanitary conditions," he added. "Why should children walking past a pile of garbage have to run across the street because there are rats there bigger than their baby sisters?"