New York Knicks Requiring Vaccination to Attend Second Round Playoff Games
It took nearly 10 years for the New York Knicks to make the NBA playoffs to end their drought. Now that a second-round series could be in the mix this season, the Knicks have added an extra layer of protection to get into Madison Square Garden if the team makes it that far.
The Knicks will not sell second-round, home-game tickets to folks unless they have been vaccinated for the COVID-19 coronavirus. That is, unless they're the younger population, in which they'll need to wear masks except while eating or drinking.
Knicks management wants a full capacity of 19,040 fans should their team make the second round, which would likely be against the top-seeded Philadelphia 76ers.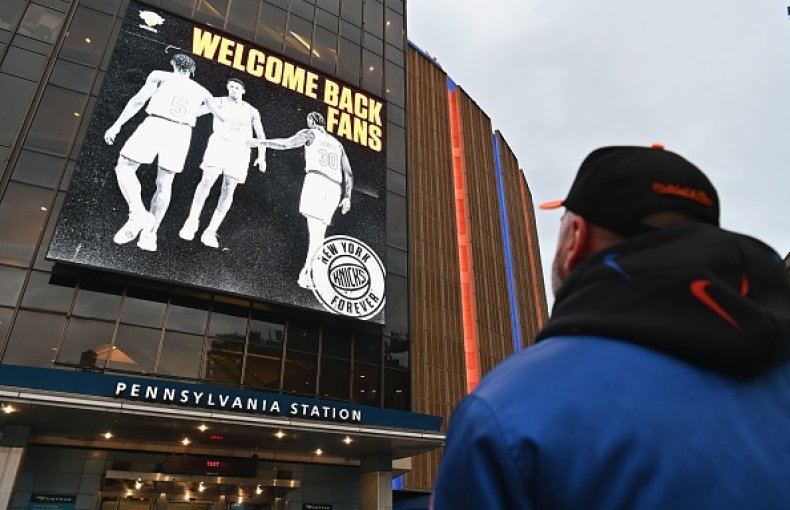 The team has already sold out MSG for a 16,000 capacity for Game 5 in the first round against the Atlanta Hawks, prompting the Knicks to issue this statement Friday afternoon regarding a possible series in the NBA's Eastern Conference semifinal round.
"The energy our Knicks fans have brought to the playoffs has been incredible, proving there's nothing more exciting than Knicks basketball at the Garden," said David Hopkinson, who's the executive vice-president of MSG Sports, along with being president of the team's business operations. "It's moments like this that show us what's possible if everyone gets vaccinated—we'll all be able to get back to doing what we love—and that definitely includes being together to cheer on the Knicks at Madison Square Garden."
The Knicks, which earned the No. 4 seed in the Eastern Conference, trail the Atlanta Hawks, 2-1, in the best-of-7 series in the first round after Atlanta won, 105-94, Friday night over the Knicks.
A second round for the Knicks isn't a sure thing by any means. Game 4 of the series will be Sunday afternoon in Atlanta, and Game 5 will be Tuesday night back in New York. There could be any number of scenarios by that point, from an Atlanta series win to a New York 3-2 lead, or simply a 3-2 advantage by either team.
The winner of the New York-Atlanta series advances to face the winner of top-seeded Philadelphia 76ers and the No. 8-seeded Washington Wizards. The 76ers hold a 2-0 lead heading into Saturday night's matchup, which will be in Washington.
Should the Knicks advance to the conference semifinals, they won't have social distancing at MSG, but they will have to show proof they have been vaccinated before entering the famed arena. For those who are 16 and under, and aren't required to have the vaccine? They'll have to wear a mask unless they are eating or drinking while in their seats.