Landlord Who Threatened To Call ICE On Tenant Could Be Forced To Pay $17,000: 'I Kept Looking Out The Window To See Any Unmarked Cars'
A New York landlord could be forced to pay up to $17,000 for threatening to call the U.S. Immigration and Customs Enforcement agency on a tenant over late rent.
According to The New York Times, Dianna Lysius and her tenant, Holly Ondaan, had been on amicable terms for the seven years that Ondaan had been renting out her Queens apartment building.
Things began to turn bitter, however, when the tenant started to have money troubles and struggled to pay rent.
Ondaan, 47, had been living in the apartment with another tenant, but reportedly stopped paying rent in the fall of 2017.
Lysius was able to challenge her tenant in housing court for the back rent, but, having fallen behind on her mortgage and facing foreclosure on the rental property, she began to send Ondaan, who is from Guyana, threatening messages, vowing to call ICE if she did not pay her debt quick enough.
"Have my money or I'm calling ICES that day period," one message reportedly read.
In another, Lysius told Ondaan: "It was fun and games when you calling DOB," the Department of Buildings. "Now it's fun and games calling immigration 12 times a day. They can deport you."
The messages, Ondaan said, left the tenant living in fear, worrying that ICE would be waiting for her when she got home each day. She also feared that if she were to be deported, she would be separated from her 23-year-old daughter, who was born in the U.S.
"I was very shocked, I was worried someone would be there waiting when I was coming home off the bus one day, or going to work, I kept looking out the window to see any unmarked cars," she told The Times. "My daughter is American born, if anything happened to me she would be all alone here."
Fearing that she could be arrested by ICE at any moment, Ondaan said she was unable to sleep, struggled to eat and felt too afraid to leave her apartment.
When she finally did leave the apartment, permanently, three months after receiving a green card, which she applied for while living in the U.S. on an expired tourist visa, Ondaan still owed $14,400 in back rent, according to Lysius' account.
In addition to threatening to call ICE on Ondaan over the outstanding charges, Lysius also threatened to try to imperil her green card status, even going so far as to contact immigration authorities four times to seek information on how to file a formal complaint if she suspected someone of falsifying information to obtain a green card.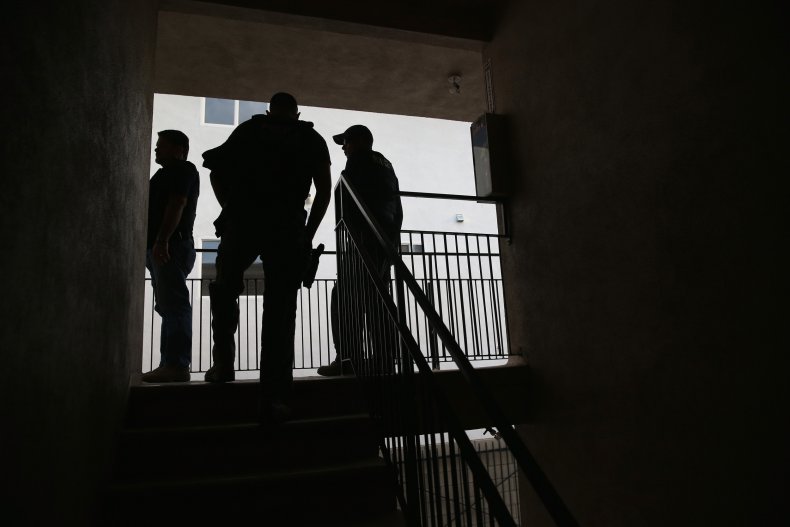 While Lysius thought her efforts might land her former tenant in legal trouble, however, it is the landlord who now faces a major fine for her repeated harassment and threats to call ICE.
This month, a judge ruled that the landlord's behavior was in violation of New York City's human rights laws, before recommending that Lysius be made to pay a $5,000 fine and $12,000 in damages to her former tenant.
As Sapna V. Raj, the deputy commissioner of the law enforcement bureau at the New York City Commission on Human Rights, told The Times, the case sets a new "precedent for protecting potential victims of housing discrimination from being threatened with ICE."
"It also sends a clear message for those who would consider engaging in such discrimination," Raj said.