New York Law That Banned Getting a Shave or Haircut on Sundays Finally Repealed
Nearly a century after it was passed, a law that banned residents of New York State from selling a shave or a haircut on Sundays has finally been repealed.
On Tuesday, New York Governor Andrew Cuomo officially took the law off the books, calling it "an archaic and meaningless" piece of legislation "that makes little to no sense in the 21st century." While he noted that the law was rarely enforced anymore, he said that he was "more than happy to sign this repeal into law and allow these businesses to determine what days they choose to operate," according to a press release.
The now-defunct edict, Section 16 of the General Business section of the Consolidated Laws of New York, is one of many so-called "blue laws," meaning that it prohibits a certain activity or activities on Sunday for religious purposes. Historically, for example, the sale of alcohol was so regulated. In 2016, Cuomo repealed a blue law that banned bars and restaurants from serving alcoholic beverages before noon on Sundays.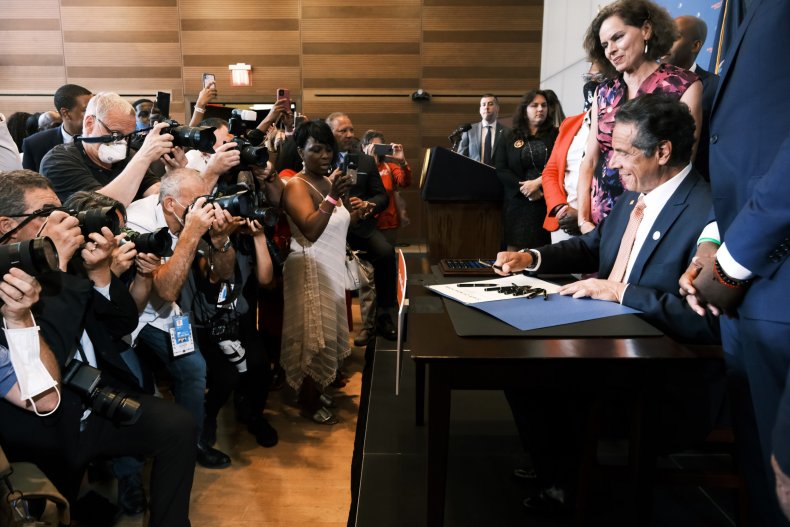 However, blue laws are far from the weirdest or most controversial statutes in the world. Until 2017, it was illegal in South Dakota to braid black hair at home without a cosmetology license. The same day Cuomo signed the bill, the city of Sheffield Lake, Ohio, approved a noise ordinance that would require residents to speak at a decibel level roughly equivalent to a soft whisper after 9:00 p.m. In June, the city of Knox in Melbourne, Australia, mandated that domestic cats must be confined at all times starting on October 1, 2021.
Under the New York law, offering a "barbering" service such as a shave or a trim on Sunday, the Sabbath, was illegal. First offenses could be punished by a fine of "not more than [$5]"; second offenses could be punished by a fine of between $10 and $25, a prison sentence of between 10 and 25 days, or both "at the discretion of the court of magistrate," according to the Consolidated Laws of New York.
The bill responsible for the repeal was sponsored by State Senator Joseph Griffo and Assemblyman Billy Jones in a bid to help business owners and other entrepreneurs recover from the devastating impact of the COVID-19 pandemic and its resulting restrictions on commerce, according to the Democrat and Chronicle.
"Barbershops and salons, like all small businesses, have faced significant, unprecedented and strenuous challenges during the coronavirus pandemic," Griffo said in the press release. "By removing outdated and unnecessary laws such as this, these businesses will be provided with an additional opportunity to recover financially as we work to rebuild our local and state economies."
The repeal went into effect immediately.