'Undoubtedly Racist': Long Island Teachers Showed Nooses as 'Back to School Necklaces'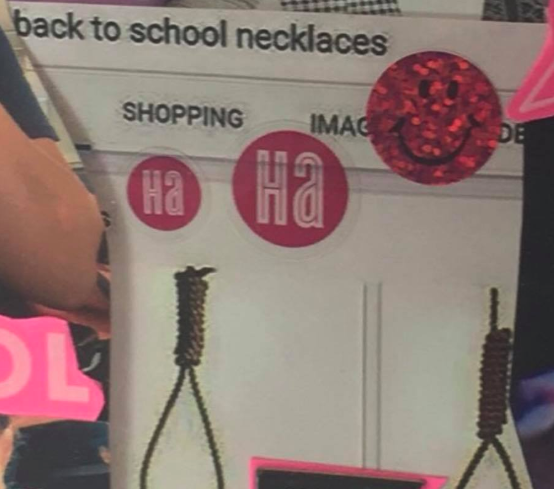 A Long Island education district has faced backlash after an image allegedly taken inside a school showed nooses beside the caption "back to school necklaces."
The picture, which has been widely shared on social media networks in recent days, contained the words "ha ha" and a hashtag "Yes" alongside two nooses and a smiley face. It has been strongly criticized by parents of children attending New York's Roosevelt Middle School.
Pastor Arthur Mackey Jr. said in a Facebook post on February 9 that the photo was part of a collage that was hanging in the classroom. "I call on our great leaders of the Roosevelt School Board to fire anyone involved in this racist act against the children of color in the Roosevelt School system," he wrote in the post, which has since been shared hundreds of times.
The context surrounding the picture is currently under investigation, officials said in a statement recently posted to the website of the Roosevelt School District.
It said: "The Roosevelt School District is aware of the inappropriate conduct at the Roosevelt Middle School. The Board of Education was made aware of this incident on Thursday, February 7, 2019, an investigation was immediately initiated and appropriate action taken. The Board of Education has zero tolerance for the display of racially offensive images.
"District administration is unable to comment further, as this is a personnel matter. You are encouraged to call the Superintendent's office at 516-345-7001 if you have any questions."
NBC News reported that an "isolated group of teachers" were investigated. The image posted online was cropped. The full classroom collage has not been published.
It was not immediately clear what "appropriate action" meant. Parents and residents of nearby towns told Long Island News 12 that the teachers involved should have been more aware.
Savitri Lekhram, of Hempstead, spoke to News 12 about racist connotations: "That may not be what they are trying to say. It is probably just a joke. It probably has nothing to do with African-Americans or anything but at the same time they can still draw that connection."
Hempstead Town Supervisor Laura Gillen told NBC New York the teachers responsible should be removed if it was true.
"This imagery that was on display in a Roosevelt Middle School classroom is undoubtedly racist and should not be tolerated in our town, or any other community," she said. "[It] is also deeply insensitive and troubling to anyone with mental health issues."
The New York State Education Department (via NBC News) says in Roosevelt Middle School students are 55 percent Hispanic or Latino and 45 percent black or African-American. There are currently 453 students in total.