New York Man Imprisoned for 27 Years Released From Prison After Golf Digest Drawings Lead to Exoneration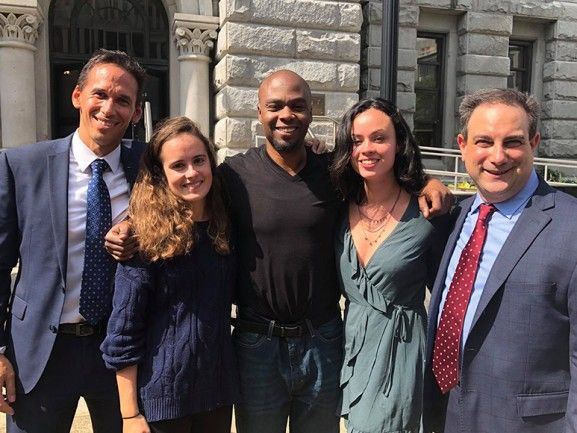 A man who spent 27 years in prison after he was wrongfully convicted of murder has been freed, thanks in no small part to a drawing of a golf course he made while incarcerated.
Valentino Dixon, 48, finally walked out of the maximum-security Attica Correctional Facility on September 19, having maintained his innocence for the 1991 murder of 17-year-old Torriano Jackson in Buffalo, New York.
In a remarkable turn of events, Dixon's case and subsequent overturning of his conviction came following a magazine profile of him that appeared in Golf Digest in May 2012.
While in prison, Dixon rekindled his childhood passion for colored-pencil drawing, with one of the wardens taking note of his skill. In the article titled "Drawings From Prison," Dixon described how the warden eventually brought him a photograph of the 12th hole at Augusta National and asked if he could draw it for him.
"I spent 15 hours on it," Dixon wrote. "The warden loved it, and it was gratifying to know my art would hang in his house. Something about the grass and sky was rejuvenating. After 19 years in Attica (New York) Correctional Facility, the look of a golf hole spoke to me. It seemed peaceful."
Dixon completed about 130 different drawings of golf courses, despite never having played the game before in his life.
Dixon's talent was eventually brought to the attention of Golf Digest, which asked: "Is Valentino Dixon innocent?" in the article, which examined key witness statements and noted there was no physical evidence linking Dixon to the victim.
"It took about a hundred drawings before Golf Digest noticed, but when we did, we also noticed his conviction seemed flimsy," Max Adler, the magazine's editorial director, wrote in a follow-up story following confirmation of Dixon's release.
"The case is complicated, but on the surface it involves shoddy police work, zero physical evidence linking Dixon, conflicting testimony of unreliable witnesses… All together, a fairly clear instance of local officials hastily railroading a young black man."
The magazine's coverage prompted students at Georgetown University to pick up Dixon's case as part of their Prison Reform Project course last year.
Among the key details uncovered by the students—Julie Fragonas, Isobella Goonetillake and Naoya Johnson—was the revelation that prosecutors in the original case didn't reveal to Dixon's defense attorney that a test on Dixon's clothes for gunpowder had come back negative.
More shockingly, the man who did kill Jackson in 1991 even admitted it on camera just days after the murder.
"I don't want my friend to take the rap for something that I did," Lamarr Scott told WGRZ anchor Wanda Starke at the time.
Scott, who is serving 25 years in prison for an unrelated attempted murder, admitted to the killing again in court, saying he had got the murder weapon from Dixon.
"There was a fight. Shots were fired. I grabbed the gun from under the bench, switched it to automatic, all the bullets shot out. Unfortunately, Torriano ended up dying," Scott told the court, reported The Associated Press. "I dropped the gun and ran and it was over and done with."
Judge Susan Eagan said Dixon would have faced five to 15 years if convicted of criminal possession of a weapon and confirmed he was still eligible for release as that sentence had passed several years ago.
"So many times I've come close [to giving up], but God kept giving me the strength to keep on and now I know why," Dixon told Golf Digest after learning of his pending release.
Dixon's family also expressed gratitude for the Georgetown students' work in helping to overturn his conviction.
"If the opportunity comes that you can be a light to someone else, take it," said Dixon's daughter, Tina. "You never know just how much of an impact you can make, and these Georgetown students have made a profound and lasting impact for my father and our family."
New York Man Imprisoned for 27 Years Released From Prison After Golf Digest Drawings Lead to Exoneration | U.S.