New York Mayor De Blasio, Frustrated by Rabbi's Funeral Crowds, Orders Arrests to Break up Large Gatherings
New York City Mayor Bill de Blasio, frustrated by a crowd gathered for a rabbi's funeral in Brooklyn on Tuesday, ordered the New York Police Department to arrest citizens caught gathering in large groups amid the coronavirus pandemic.
Hundreds of people turned up in Williamsburg, Brooklyn tonight to honor Rabbi Chaim Mertz who recently passed away due to coronavirus-related complications. The NYPD quickly arrived on the scene to break up the mourners who were flouting the city's social distancing guidelines.
After the incident, de Blasio warned the Jewish community against future large gatherings amid the pandemic. "My message to the Jewish community, and all communities, is this simple: the time for warnings has passed," the mayor tweeted on Tuesday evening. "I have instructed the NYPD to proceed immediately to summons or even arrest those who gather in large groups. This is about stopping this disease and saving lives. Period."
De Blasio asserted that officials will not allow these types of gatherings, even for a funeral. "Something absolutely unacceptable happened in Williamsburg tonite [sic]: a large funeral gathering in the middle of this pandemic," the mayor tweeted. "When I heard, I went there myself to ensure the crowd was dispersed. And what I saw WILL NOT be tolerated so long as we are fighting the Coronavirus."
"I have instructed the NYPD to have one standard for this whole city: zero tolerance," he added.
Freddi Goldstein, a spokesperson for de Blasio's office, later confirmed that the mayor was at the scene with law enforcement to break up the funeral. "I empathize with the desire to mourn those we've lost, but this is absolutely unacceptable. The Mayor is on the scene and the NYPD is breaking this up," Goldstein tweeted, alongside images depicting a large crowd of mourners gathered on the street. Most were wearing black clothing for the funeral.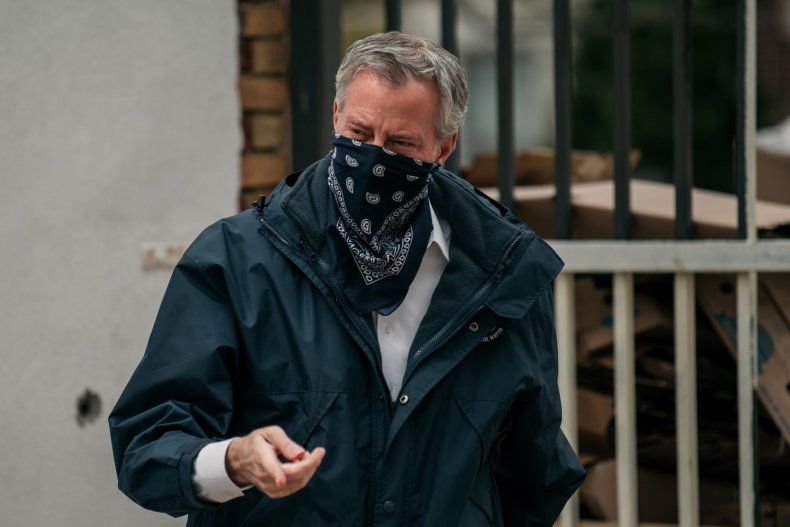 Newsweek reached out to de Blasio's office and the New York Police Department for additional information. This story will be updated with any response.
New York Governor Andrew Cuomo on Monday indicated that his stay-at-home order will likely be extended in some parts of the state past May 15. Restrictions in some areas may be eased if they are confirmed to have sufficient hospital capacity, Cuomo said during Monday's New York coronavirus press conference.
Under the order, citizens are required to remain six feet apart from others and can only leave their house for exercise or to purchase essentials.
As of April 28, more than 301,400 individuals had tested positive for coronavirus in New York state, with roughly 23,100 deaths caused by the new disease. Overall, the U.S. currently has a total of more than 1,035,700 cases of COVID-19, with 59,200 deaths and 142,200 recoveries.