New York Mayor Bill De Blasio Warns Donald Trump City Is 'Fearful' of His Tenure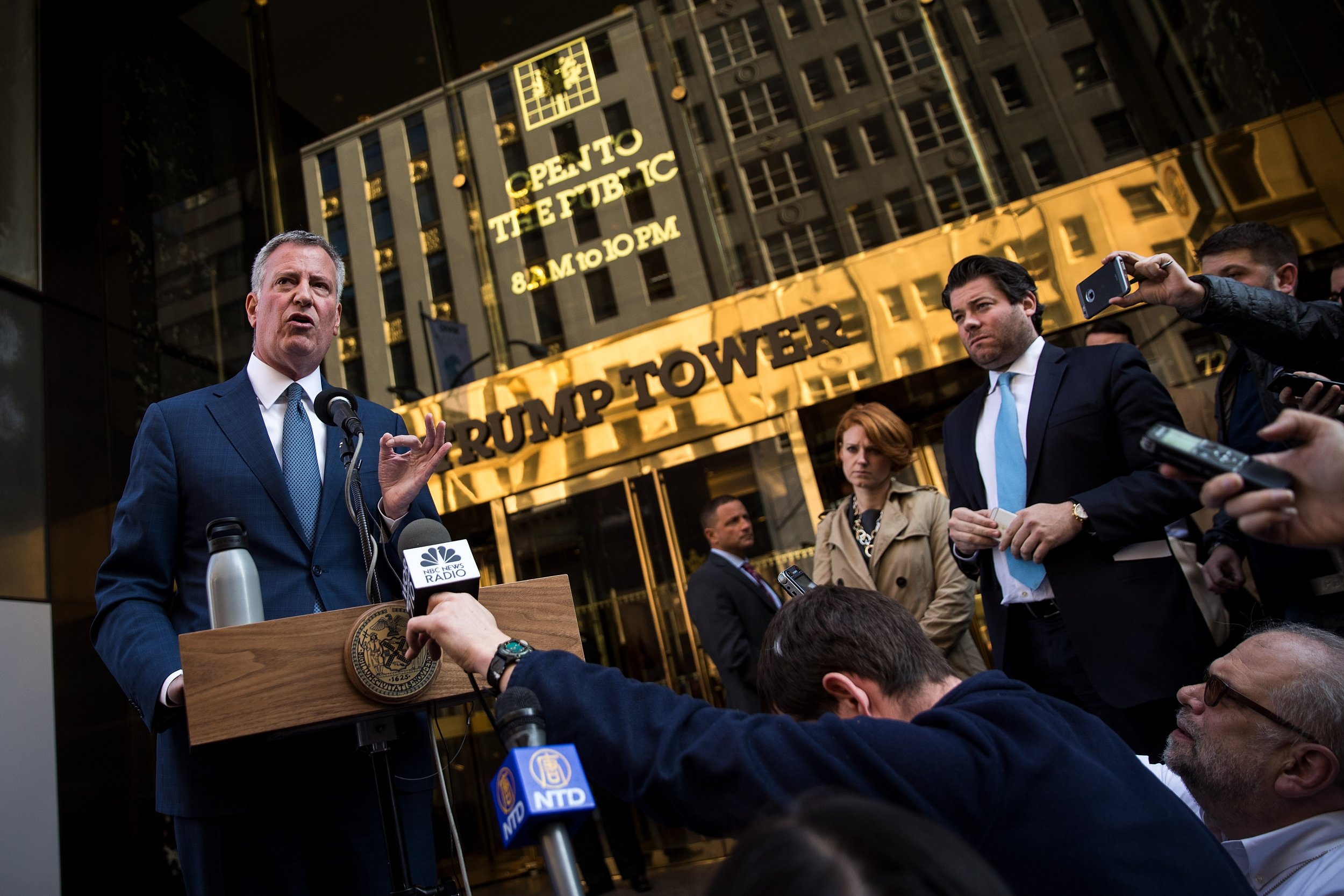 Many have sought to meet with Donald Trump in New York after his election victory, be it for a photograph, like Nigel Farage, the leader of Britain's right-wing U.K. Independent Party (UKIP), or cabinet hopefuls looking to court the construction magnate.
But one visitor Monday was not there to fawn over Trump but to challenge him: New York City Mayor Bill de Blasio.
In a meeting at Trump Tower late Wednesday, the city leader told the president-elect that people in the city are "fearful" of what his tenure in the White House could bring. Thousands of New Yorkers have taken to the city's streets to protest Trump's victory in the election, many outside Trump Tower.
"I let him know that so many New Yorkers are fearful, that more had to be done to show that this country can heal, and that people will be respected," the Democrat mayor told reporters outside the Midtown Manhattan tower.
He said that Trump's plans to deport undocumented migrants would completely fail in "the ultimate city of immigrants" and that he would make efforts to shield them from deportation. He added that the city "has succeeded because it was open for everyone, the place built of generation after generation of immigrants."
De Blasio had previously said that he would delete the names of undocumented migrants in New York from the city's database to prevent their deportation.
"I reiterated to him that this city, and so many cities around the country, will do all we can to protect our residents and to make sure that families are not torn apart," he told reporters.
De Blasio was referring to Trump's comments on CBS's 60 Minutes after his election win, during which he said that he would seek to deport or incarcerate approximately three million immigrants who hold a criminal record.
The pair have had a fraught relationship, with De Blasio—who was a supporter of Hillary Clinton—criticizing Trump as "dangerous" and an unfit candidate for president. In 2015, Trump said that De Blasio is "the worst mayor in the U.S."