New York Mayor Touts Vaccine Effort Success as Delta Variant Cases Rise
New York City Mayor Bill de Blasio is touting the state's vaccine rollout as Delta variant cases of COVID-19 are on the rise.
De Blasio on Wednesday highlighted a new Yale University study that found vaccines saved more than 8,300 lives, averted more than 44,000 hospitalizations and prevented 250,000 cases amid the pandemic.
"15 months ago, our city was the epicenter of the #COVID19 crisis," the mayor wrote on Twitter. "Today, a Yale study shows New York City's vaccine roll out literally changed the course of history, saved thousands of lives and stopped hundreds of thousands of COVID cases in their tracks."
Sixty-four percent of adults in New York City are fully inoculated against the virus, and 69 percent of adults have received one dose of the vaccine, according to the latest data from the city's health department.
Mobile and pop-up vaccination sites have been deployed across the city, and at-home vaccine appointments are available to residents. Appointments are not needed for the temporary sites but can be made online or by calling 877-VAX-4NYC.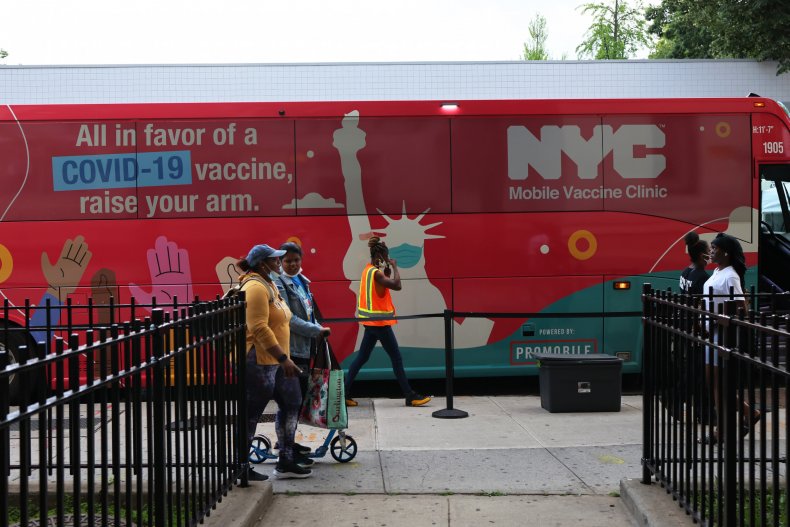 Dr. Alison Galvani, a Yale epidemiologist, said the success of New York's vaccine program is "particularly noteworthy given the emergence of more transmissible variants, including the Delta variant."
"Our study underscores that the swift vaccine rollout has played a pivotal role in reducing the COVID-19 burden, and curbing surges from more transmissible emerging variants," Galvani said during a media availability alongside the mayor on Wednesday.
Still, coronavirus cases have risen in New York City as unvaccinated people become infected. The city's positivity rate is at 1.3 percent after weeks of all-time lows. The seven-day average number of daily confirmed cases has increased to 288.
De Blasio said the city still has more work to do to ensure New Yorkers get vaccinated.
"We know the challenge," the mayor said during the media availability. "We understand the challenge of the Delta variant. We understand that challenge is particularly clear and sharp for unvaccinated people—that's where the problem is."
The Delta variant, which originally surfaced in India and has spread to more than 100 countries, is far more contagious than the first form of the virus that hit the U.S. last year. The World Health Organization (WHO) called this version of the virus "the fastest and fittest."
Dr. Anthony Fauci, the director of the National Institute of Allergy and Infectious Diseases, described the Delta variant as "nasty" and said it has "a much greater capability of transmitting from person to person."
While cases are growing, hospitalizations and deaths have remained low in New York City. The seven-day average number of daily hospitalizations this week has stayed under 20 and there has been an average of four or five deaths per day over the past month.