New York Mets Star Edwin Díaz Breaks Silence After Season-Ending Injury
Edwin Díaz has taken to social media to thank fans for their messages following his season-ending injury.
The New York Mets pitcher was playing for Puerto Rico in the World Baseball Classic on Wednesday against the Dominican Republic when he suffered a serious knee injury.
After confirming a place in the quarterfinals, Díaz, 28, was celebrating with his teammates at the conclusion of the game when he sustained a tear of his right patellar tendon, which typically requires eight months of recovery after surgery, which he underwent on Thursday.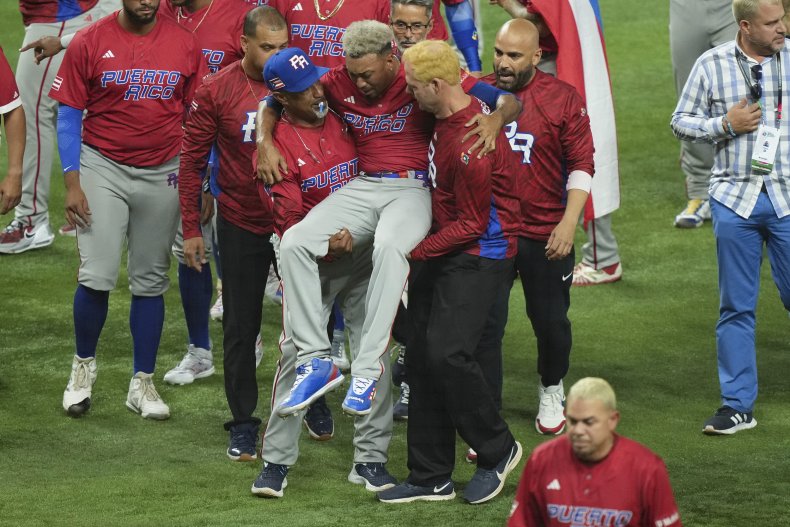 Díaz posted a message on social media for the first time since having to be taken off the field on Wednesday night.
He tweeted on Thursday evening, likely after his surgery: "To all my beloved fans, especially the Mets fans, I want to let you know that I am doing well and healing.
"I feel blessed and grateful for your support with messages and prayers, thank you very much! I can't wait to see you guys in NY again and play those trumpets."
There has been an outpouring of sympathy for Díaz after he posted his update on Twitter.
One Mets fan replied: "Rest up bro. you have a long career ahead of you. get that knee healthy again."
While another added: "Hope for a speedy and smooth recovery, king. See you on the mound again soon."
With the new season just weeks away, it will be a big blow for the Mets to lose one of their star pitchers.
Many thought that it was a bad injury as his brother, Alexis Díaz, was among the players in tears as Díaz was taken off the field at the loanDepot Park.
A Mets doctor examined Díaz after the pitcher raised a fist to fans in his first act of defiance against the suspected injury at the time.
Speaking to FOX Sports on Thursday, Mets owner Steve Cohen gave his reaction to the injury news, telling the media outlet: "It's such a freak accident. Just so unlucky. He's such a good guy. It's just terrible.
"He just wants to win a World Series, that's what he expresses to me. We're all just kind of taking it all in right now."
One teammate of Díaz, outfielder Brandon Nimmo, also expressed his sadness at the injury Díaz had suffered, telling reporters on Thursday: "I feel terrible for Díaz because he has so much charisma around him, and he has so much weight to him when he comes onto the field.
"The trumpets are blaring. We obviously enjoyed the heck out of it last year and what he did. So I'm really hurting for Edwin."
Update 3/17/23: 10:34 a.m. EDT: This article was updated with reaction to Díaz' injury.
Do you have a tip on a sports story that Newsweek should be covering? Do you have a question about baseball? Let us know via entertainment@newsweek.com.