MoMA Reopening: Hours, Admission Price and Everything Else You Need to Know About $450 Million Expansion
The newly refurbished Museum of Modern Art (MoMA)—developed by architects Diller Scofidio + Renfro in collaboration with Gensler—features more than 40,000 square feet of new gallery space following a $450 million expansion.
The expanded space will allow the museum to showcase "significantly more art in new and interdisciplinary ways," with its entire art collection reinstalled to encourage guests to "discover new voices and fresh perspectives," the museum notes on its website.
"Inspired by Alfred Barr's original vision to be an experimental museum in New York, the real value of this expansion is not just more space, but space that allows us to rethink the experience of art in the museum," Glenn D. Lowry, director of MoMA, told the Associated Press.
Some of the museum's most famous works, including ones by Claude Monet, Vincent Van Gogh, Pablo Picasso and Jackson Pollock, have been newly arranged next to lesser-known pieces by women and minority groups from Africa, South America and Asia, AP reports.
"Sometimes even small juxtapositions can have a big impact," Jodi Hauptmann, senior curator of drawings and prints at MoMA, told AP.
"On the fifth floor, for example, Van Gogh's The Starry Night is now shown in the same gallery as a collection of ceramics made at the same time by George Ohr, of Biloxi, Mississippi. It's interesting to see those things together," she added.
Some spaces will also see sculpture, painting, design, architecture, photography and film featured together and the museum aims to rotate much of the pieces in its galleries every six months with a greater focus on promoting multiculturalism, the AP reports.
"It's an opportunity to show visitors what the museum has been doing in terms of collecting these past years," Michelle Elligott, the museum's chief of archives, library and research collections, told AP.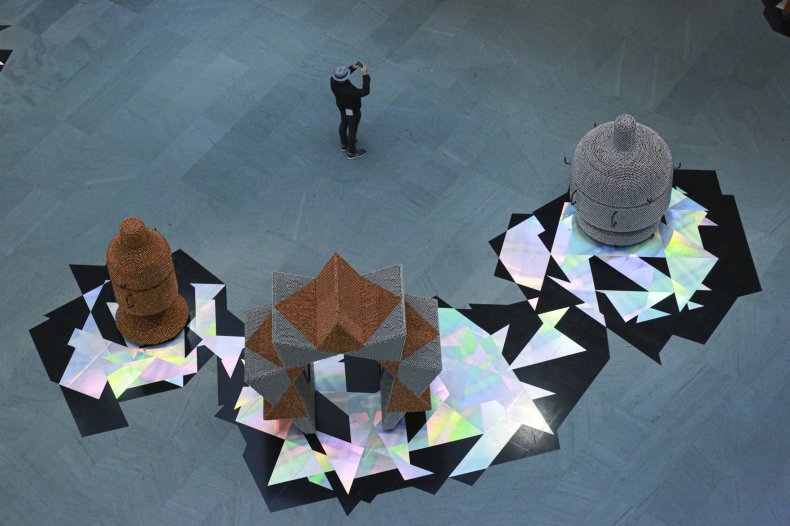 Among the innovative new spaces is the Marie-Josée and Henry Kravis Studio which will host the museum's experimental programming and live performances. The new area aims allows visitors to interact with artists and the museum's most thought-provoking pieces, such as the striking Rainforest V (variation 1) sound installation created by David Tudor and produced by Composers Inside Electronics Inc. (CIE).
Tudor's first Rainforest series (which features "sounds electronically derived from the resonant characteristics of physical materials," according to the artist's website) debuted in 1968, with the first forming the musical score for choreographer Merce Cunningham's dance of the same name. Tudor began translating the musical piece into a performance installation from the fourth instalment of the series (Rainforest IV), working with CIE.
The latest sound installation "transforms an installation once activated by performers into a rich visual environment animated by a computer program," the museum says.
The new studio will be inaugurated with a series of live performances of Tudor's rarely performed Forest Speech from Thursday (October 24) through December on selected dates, MoMA confirms.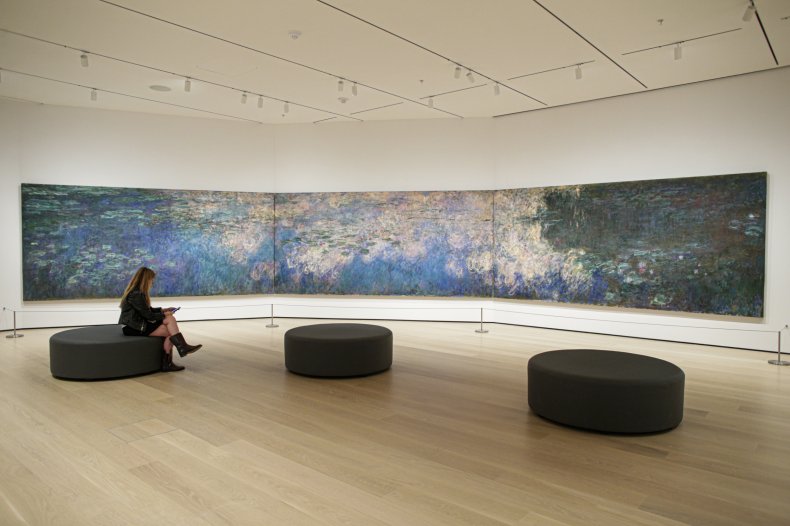 MoMA has also introduced a "creativity lab," a space designed to encourage visitors to "participate in lively conversations, engage with artists, make art, reflect and relax" as well as get tips on how best to explore the museum.
The People's Studio: Collective Imagination will feature several weekly workshops and talks led by artists discussing "the networks, cultures, and environments that enable and sustain artistic practice," the museum states.
The studio also includes a Reading Room, which houses a rotating collection of publications from local and international titles, as well as from independent art house projects, community archives and groups, responding to the various works of art exhibited at the museum.
Members of the museum can also enjoy extra benefits including a dedicated entrance, exclusive access hours as well as expanded programming. The museum also now offers an additional entrances including from a new wing on its west side to help alleviate crowds, AP reports.
The museum also boasts a new shop and extended opening hours, which are from 10 a.m. to 5:30 p.m. seven days a week, while the venue is open until 9 p.m. on Fridays and the first Thursday of every month. Admission costs $25 for adults, $18 for those aged 65 and visitors with disabilities. Students are charged $14 while children 16 and under are admitted for free.
Restaurants and cafes include Michelin-starred The Modern, overlooking the Abby Aldrich Rockefeller Sculpture Garden, and the restaurant's buzzing Bar Room as well as Café 2 on the second floor, serving rustic Italian dishes and the Terrace Cafe on the museum's sixth floor serving American fare.
While the museum's opening had a controversial start, following protests over the museum's alleged ties to private prisons and the Puerto Rican debt crisis, reaction to the new space has been positive, with several museum-goers posting their first impressions of the new space on social media.
"At the new #moma! It seems more open in every sense of the word. This is wonderful @JulieMehretu's piece 'Empirical Construction, Istanbul', my hometown!" described @ZeynepNY, while another user @ProfMOConnell simply posted: "The #moma renovation is a WOW."
"First school group into the new MOMA! Epic. Exciting. Vast. Boys are stunned. WOW! @DulwichCollege #moma #schoolarttrip #arttrip," said the Dulwich College of Art on its official Twitter account.