New York MTA Pushes Apple to Make Face ID Work With Masks to Stop People From Taking Them Off
New Yorkers keep taking off their face masks on the subway to unlock their iPhones and the New York Metropolitan Transit Authority (MTA) wants Apple to do something about it.
MTA Chairman and CEO Patrick Foye wrote a letter on Friday addressed to Apple CEO Tim Cook asking the company to upgrade the facial recognition software so that it detects users' faces with their masks on.
"We urge Apple to accelerate the deployment of new technologies and solutions that further protect customers in the era of COVID-19," Foye said. "Upgrades enabling users to unlock their phones while keeping their masks securely covering their nose and mouth would be beneficial in all public spaces, not just on public transportation."
The MTA has required all passengers wear a facial covering when riding public transportation, in ordinance with the mask mandate Governor Andrew Cuomo issued at the peak of the coronavirus pandemic in April.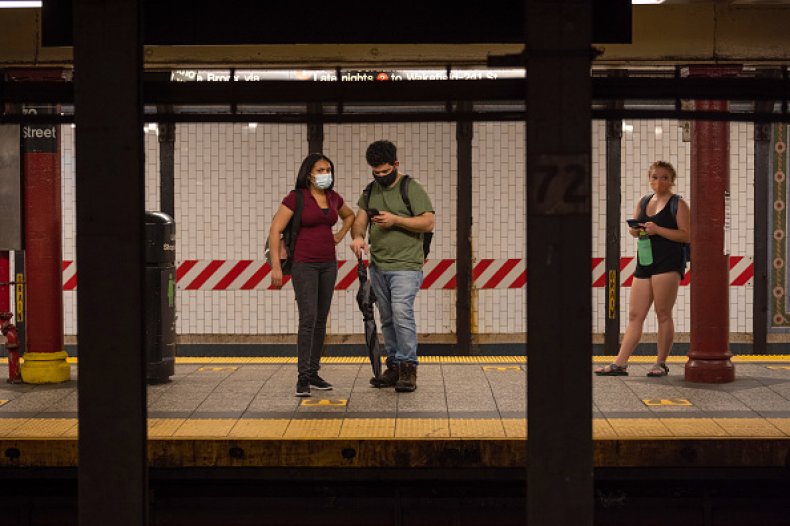 Earlier in July, as more people returned to work in Phase 4 of the city's reopening plan, the MTA launched a face mask compliance campaign called "Operation Respect" to ensure commuters are wearing protective equipment.
MTA volunteers wearing yellow shirts have been spotted going from station to station, handing out masks to riders and reminding them that facial coverings are mandatory.
According to Foye, more than 90 percent of MTA riders on both subways and buses have been compliant with the mandate.
However, he said the MTA has "observed customers removing their masks in order to unlock their iPhones with Face ID in order to use their devices for other purposes, when standing on the platform and riding our buses, subways and commuter railroads."
"As more customers return to mass transit, not just in New York, but around the world, we need a solution that works for everyone," Foye added.
MTA subway ridership has been down roughly 75 percent as a result of the ongoing global health crisis. At the peak of the pandemic, ridership had fallen over 90 percent in April.
Last week, the MTA reported over 8.4 million New Yorkers rode the city's subway system.
Foye also requested that Apple send a notification to its users, alerting them to the company's update if tweaks are made. He said the MTA would be "willing to collaborate on messaging" with the company.
"At this time, there have been no coronavirus clusters traced back to public
transportation anywhere in the world, and we want to ensure that continues by driving mask usage by MTA customers even higher," Foye said.
Newsweek reached out to Apple for comment but did not hear back before publication.