New York Business Fined for Allegedly Price Gouging Out-of-date and Uncertified Face Masks During Coronavirus Outbreak
A New York business has been fined $25,000 for selling uncertified and over-priced N95 face masks out of a warehouse, Nassau County authorities said this week.
Demand for N95 respirators, manufactured by 3M, has spiked in recent weeks due to the COVID-19 outbreak, an infectious disease that has now spread to more than 189,000 people in the U.S.
But the masks, which filter airborne particles, have also been subject to scams and price gouging.
Nassau County Executive Laura Curran said Monday that one "bad actor" was caught flogging N95 masks that were inflated in price and past their use-by date, as WABC reported.
The person behind the enterprise, operating out of a facility in Plainview, was hit with five separate violations, each assigned a penalty of $5,000. The person was not named.
"I think the most egregious we have come across is a Plainview warehouse selling N95 masks at an inflated price," Curran said. "So that is bad enough, that is already a violation, however, the masks were not N95 certified and this particular mask wasn't supposed to be sold as of 2011."
Speaking at a press conference, the politician said the county's consumer affairs office had logged at least 300 complaints and issued 70 violations during the ongoing COVID-19 outbreak so far.
She said: "This is especially egregious now when there is financial insecurity, economic insecurity, people are not getting paychecks, people are losing their jobs.
"We have some, a small number, but we do have some bad actors... looking to capitalize on this and take advantage of fear and anxiety. This price gouging tally is $350,000, which is so awful when you think about the kind of financial state that so many of our residents are in right now."
The U.S. Centers for Disease Control and Prevention (CDC) has published a list of approved N95 face mask model numbers which members of the public can use to ensure their mask is in date.
"If you are a hospital worker of a grocery store worker, and you are depending on [a face mask] for your health and safety you need to know that it is a legit product," Curran said.
The politician added that scammers were also spoofing official phone numbers and phishing for social security numbers, and stressed that authorities will never ask for that form of personal data. This week, security experts warned about a rise in scams related to stimulus package checks.
Yesterday, 3M pledged to take action after confirming it too had received reports of price gouging and people selling counterfeit products falsely claimed to be from the company.
"3M is working to protect the public from counterfeiting and price gouging on critical healthcare supplies, including the respirators and masks that are essential to our country's healthcare personnel," said Mike Roman, 3M chief executive officer (CEO) and chairman of the board.
"3M will take decisive action against those seeking to take illegal and unethical advantage of the COVID-19 outbreak. We are working with law enforcement authorities around the world on this matter, including federal, state, and local authorities in the U.S." Roman said the company is also working with online shops to "identify and remove counterfeiters and price-gougers."
Early last month, Amazon confirmed that it had removed more than one million products for price gouging or false advertising linked to COVID-19. "Sellers set their own product prices in our store and we have policies to help ensure sellers are pricing products competitively. We actively monitor our store and remove offers that violate our policies," a company spokesperson told Newsweek at the time.
Citizens only need to wear a face mask if they are taking care of a person with suspected COVID-19 infection, according to the World Health Organization (WHO).
"Wear a mask if you are coughing or sneezing," it says online. "Masks are effective only when used in combination with frequent hand-cleaning with alcohol-based hand rub or soap and water.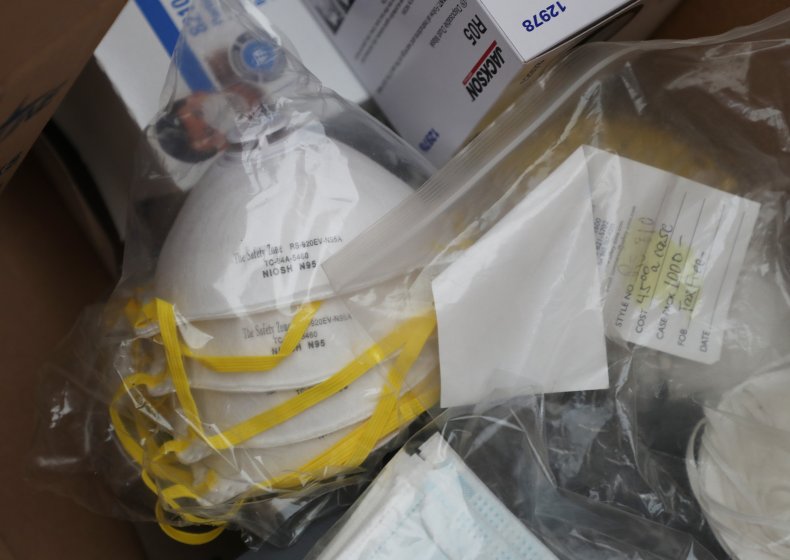 World Health Organization advice for avoiding spread of coronavirus disease (COVID-19)
Hygiene advice
Clean hands frequently with soap and water, or alcohol-based hand rub.
Wash hands after coughing or sneezing; when caring for the sick; before, during and after food preparation; before eating; after using the toilet; when hands are visibly dirty; and after handling animals or waste.
Maintain at least 1 meter (3 feet) distance from anyone who is coughing or sneezing.
Avoid touching your hands, nose and mouth. Do not spit in public.
Cover your mouth and nose with a tissue or bent elbow when coughing or sneezing. Discard the tissue immediately and clean your hands.
Medical advice
Avoid close contact with others if you have any symptoms.
Stay at home if you feel unwell, even with mild symptoms such as headache and runny nose, to avoid potential spread of the disease to medical facilities and other people.
If you develop serious symptoms (fever, cough, difficulty breathing) seek medical care early and contact local health authorities in advance.
Note any recent contact with others and travel details to provide to authorities who can trace and prevent spread of the disease.
Stay up to date on COVID-19 developments issued by health authorities and follow their guidance.
Mask and glove usage
Healthy individuals only need to wear a mask if taking care of a sick person.
Wear a mask if you are coughing or sneezing.
Masks are effective when used in combination with frequent hand cleaning.
Do not touch the mask while wearing it. Clean hands if you touch the mask.
Learn how to properly put on, remove and dispose of masks.
Clean hands after disposing of the mask.
Do not reuse single-use masks.
Regularly washing bare hands is more effective against catching COVID-19 than wearing rubber gloves.
COVID-19 can still be picked up on rubber gloves and transmitted by touching your face.