Was Theodore Roosevelt Racist? Controversial NY Statue to Be Removed
A controversial statue of President Theodore Roosevelt will be removed from the entrance of the American Museum of Natural History in New York City.
The monument of Roosevelt on horseback flanked by two men—one Native American and one African—has presided over the museum's Central Park West entrance since the 1940s, but has long been decried by critics as a symbol of racism and colonialism.
The decision to remove it was proposed by the museum amid a nationwide reckoning on racism sparked by weeks of protests over the death of George Floyd, a Black man, in Minneapolis police custody.
Mayor Bill de Blasio said the city had approved the museum's request on Sunday, adding that it was the "right time to remove this problematic statue."
Newsweek subscription offers >
"The American Museum of Natural History has asked to remove the Theodore Roosevelt statue because it explicitly depicts Black and Indigenous people as subjugated and racially inferior," de Blasio said in a statement to Newsweek.
"The City supports the Museum's request. It is the right decision and the right time to remove this problematic statue."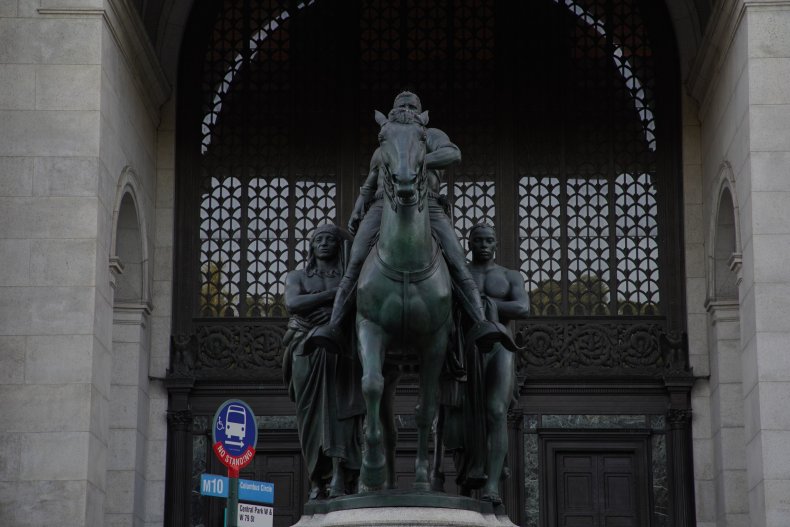 In a tweet, President Donald Trump expressed his objection to the removal. "Ridiculous, don't do it!" he wrote.
Newsweek subscription offers >
Officials have not yet determined when the statue will come down and where it will go when that happens, according to The New York Times.
Ellen Futter, the museum's president, told the newspaper that it was the statue's "hierarchical" composition and not Roosevelt himself that was being objected to.
"Over the last few weeks, our Museum community has been profoundly moved by the ever-widening movement for racial justice that has emerged after the killing of George Floyd," she said in a statement to Newsweek.
"We have watched as the attention of the world and the country has increasingly turned to statues as powerful and hurtful symbols of systemic racism."
Theodore Roosevelt IV, the late president's great-grandson and a trustee of the museum, said in a statement that he supports the statue's removal because its composition does not reflect Roosevelt's legacy.
"The world does not need statues, relics of another age, that reflect neither the values of the person they intend to honor nor the values of equality and justice," he said.
"The composition of the Equestrian Statue does not reflect Theodore Roosevelt's legacy. It is time to move the statue and move forward."
Futter said the museum will continue to honor Roosevelt, who she described as a "leading conservationist" and whose father was a founding member of the institution, by naming its Hall of Biodiversity for him. It already has a number of spaces named after him, including Theodore Roosevelt Memorial and the Theodore Roosevelt Park outside.
The museum's decision to remove the bronze statue comes almost three years after red liquid representing blood was splashed across the statue's base as part of a protest.
In a statement posted online, a group calling themselves the Monument Removal Brigade called for its removal, saying it embodied "patriarchy, white supremacy and settler-colonialism."
"Now the statue is bleeding," it said. "We did not make it bleed. It is bloody at its very foundation."
Last year, the museum hosted an exhibition called Addressing the Statue that explained the history of the monument as well as contemporary reactions to it.
"We are proud of that work, which helped advance our and the public's understanding of the Statue and its history and promoted dialogue about important issues of race and cultural representation, but in the current moment, it is abundantly clear that this approach is not sufficient," Futter said.
She added: "We recognize that more work is needed to better understand not only the statue, but our own history.
"As we strive to advance our institution's, our City's, and our country's passionate quest for racial justice, we believe that removing the Statue will be a symbol of progress and of our commitment to build and sustain an inclusive and equitable Museum community and broader society."
Roosevelt served as New York's governor before becoming the nation's 26th president after the assassination of William McKinley in 1901.
But critics have long decried his racist opinions and noted that he was an aggressive imperialist who led American expansion into colonies in the Caribbean and the Pacific, including Puerto Rico and Guam, believing colonization was necessary to civilize "backward" nations.
An article about Roosevelt on the Smithsonian website describes him as "a racist" who "thought African Americans to be inferior to white citizens."
His election in 1904 marked one of the first Presidential administrations "openly opposed to civil rights and suffrage for blacks," according to a PBS report.
The report noted that while Roosevelt is remembered for inviting Booker T. Washington, a Black leader, to the White House for dinner, the invitation was not "to improve the situation of blacks, but because they agreed that blacks should not strive for political and social equality."
Debate has raged amid ongoing anti-racism protests across the country about whether monuments to offensive historical figures should be pulled down.
In recent weeks, statues of Confederate leaders and other controversial figures who perpetuated racial injustice, such as Christopher Columbus, have been defaced or toppled by protesters.
Was Theodore Roosevelt Racist? Controversial NY Statue to Be Removed | U.S.