New York Officials Seize Hundreds of Illegal Fireworks Ahead of 4th of July Weekend
New York officials have seized hundreds of illegal firework items, with those units containing up to thousands of individual fireworks, in the days leading up to the 4th of July weekend.
Deputies from the New York City Sheriff's Office's Fireworks Task Force have arrested at least nine people in connection to fireworks possession and reckless endangerment since last Friday.
Authorities said two people were arrested Monday, four people were arrested Sunday and another three were arrested Saturday after illegal and dangerous fireworks were seized "before they could be used or sold on NYC streets," according to the sheriff's office.
Since June 9, officers have charged 43 individuals with a variety of firework offenses and companion crimes in the last three weeks.
Sheriff Joseph Fucito told Newsweek that while it is difficult to inventory these items because there is no standardization for counting, his office alone has vouchered 128 items. The items consist of subsets ranging from 50 to 2,000 smaller firework units.
Under state laws, fireworks are illegal to possess, buy, sell and use in New York.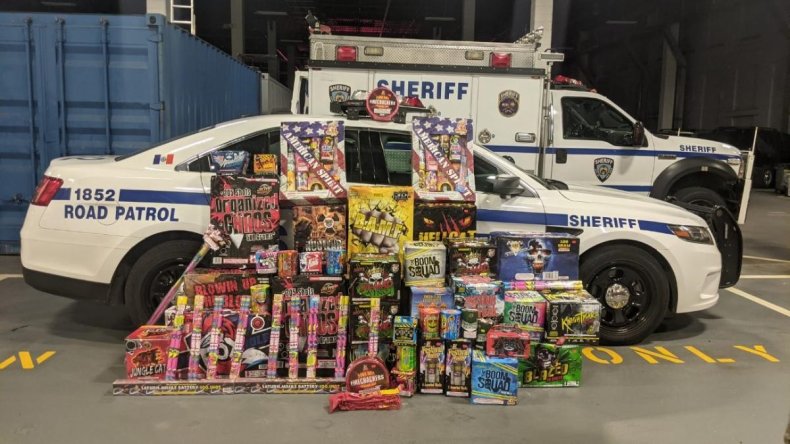 New York officials are ramping up their efforts to confiscate illegal fireworks and arrest those in possession of them ahead of the holiday. Earlier this month, Mayor Bill de Blasio announced a large-scale, multi-agency task force to crack down on these fireworks ahead of July 4th.
Several city agencies—including the sheriff's office, the Fire Department of New York (FDNY) and New York Police Department (NYPD) Intel investigators among others—have partnered together to combat the transportation, storing or selling of illegal fireworks.
The task force is looking to develop information on major suppliers, intercept the fireworks as they come into the city from out of state distributors and target storage locations as well as sellers who peddle the fireworks. Officials warn that setting these items off without professionals can result in multiple injuries to both adult and children.
"We're going after the people who bring these fireworks into New York City to begin with," de Blasio said at a June 9 press conference. "We're getting right at the source."
In advance of the long weekend, officials are asking residents to remain vigilant and report the use of fireworks to authorities.
"There is no safe way to light illegal fireworks in NYC," the FDNY tweeted over the weekend. "Be #FDNYSmart - leave fireworks to the professionals. New Yorkers - call 311 to anonymously report the use, delivery or sale of fireworks. If you see something dangerous, call 911."
Illegal fireworks have been an ongoing problem in the city, especially over last summer during COVID lockdowns.