New York Plans Up to 100 Miles of Street Closures, Widened Sidewalks to Give City Residents More Outside Space
Some streets and sidewalks in New York City will soon expand for public use as the city, devastated by the coronavirus pandemic, begins finding ways to reopen.
During a news conference Monday, Mayor Bill de Blasio said his office has been working with the City Council to discuss options for closing streets to vehicle traffic, widening sidewalks and adding bike lanes throughout the city. De Blasio said the project will begin in May, with at least 40 miles of streets affected at first.
The project may expand to a total of 100 miles of closed streets and widened sidewalks for the duration of the statewide stay-at-home order, which Governor Andrew Cuomo said on Monday he was planning to extend in some areas past May 15.
According to de Blasio, a driving force behind the project was the anticipation of warm temperatures driving New Yorkers to city parks. "One of the most important places to open might be where a lot of people are going anyway, to just give them more space, since more and more people will go there when it gets warmer," he said.
Reflecting on his own visits to city parks in recent weeks, de Blasio said that while he'd seen many people abiding by social distancing guidelines while outside, "it became clearer and clearer that the parks were filling up in nice weather."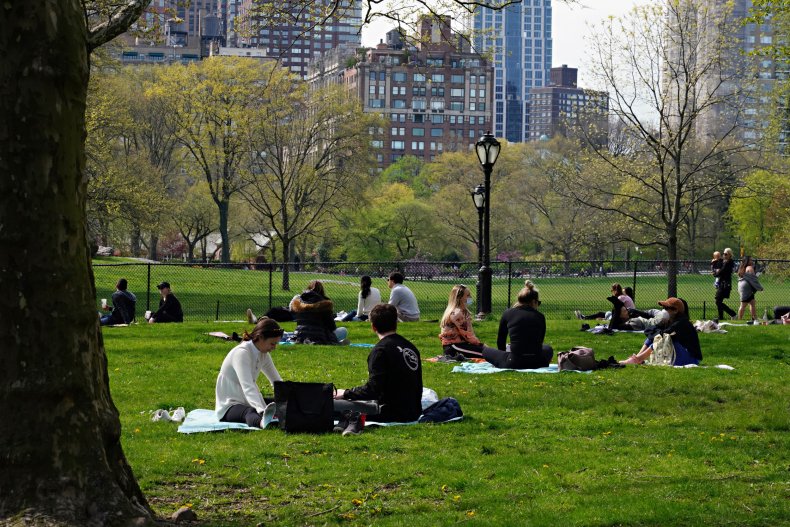 During a meeting last week, City Council members introduced legislation to provide pedestrians with more space outdoors. "New Yorkers don't have the street space they need to maintain proper social distancing, which we know is essential in this public health crisis," Council Speaker Corey Johnson said in a news release earlier this month.
The proposal had support from several other council members, with many echoing the calls for assistance in making social distancing easier outdoors.
With the project still in its planning phase, the streets that will be closed to vehicles have not yet been selected, the city's Department of Parks and Recreation told Newsweek. But de Blasio said areas that typically see high traffic near open public spaces will be top candidates. Discussions on how to implement the plan will proceed in collaboration with the City Council, the Department of Transportation and city police, the mayor said Monday.
"A very important piece [of the discussion] revolved around community partners that could be relied upon to create structures that, if you were going to have a place closed off, there would be a constant effort to monitor it to make sure it was safe," de Blasio said. He compared the proposed widening of city sidewalks to the space near Rockefeller Center that is open to pedestrians during the holiday season.
"That also is a more straightforward enforcement dynamic than if you're trying to open a bunch of places all over," the mayor said.
According to information the City Council provided Newsweek, as many as 60 miles of streets in and near city parks may be adapted to enable increased pedestrian access, and 2.5 miles of sidewalks may be expanded. Local community leaders and law enforcement will contribute to the discussion regarding the rest of the streets that may be included in the 100-mile goal, the council said in a news release.
Information regarding which areas will be selected for the street closures and sidewalk expansion plan is expected as discussions continue in the coming weeks.