As New York Plans Phased Reopening, the State is Experiencing An Average of Over 2,000 New Cases Every Day
New York Governor Andrew Cuomo announced Monday that the state will begin to reopen certain regions even as the number of novel coronavirus cases continues to rise, with an average of over 2,000 new cases per day in the past seven days.
"In many ways, in my point of view, we're on the other side of the mountain," Cuomo said at his press conference Monday. "We got hit with the virus, we saw that incline, we saw the number of cases growing, we saw the number of deaths growing, we finally hit a plateau because we did what we needed to do."
Cuomo also noted there have been at least 488 new hospitalizations of the novel coronavirus in the past 24 hours, as well as 161 deaths.
According to the New York state Department of Health, there has been an average of at least 2,586 new cases per day from May 4 to May 10, bringing the state's total number of coronavirus cases to over 337,000 and at least 21,640 coronavirus-related deaths.
Cuomo added that the state's phased reopening plan marks a "new chapter" for New York, and the "next step of this historic journey." Phase one of the plan includes reopening manufacturing and construction businesses, and allows some non-essential retailers to offer curbside pickup.
"Now we can intelligently turn towards reopening," the New York governor added. "Local regions, all across the state, should start to prepare for it and people as well. We're going to open when we are ready to open. What is 'ready to open' mean? First, the number of hospitalizations and the infection rates."
Cuomo noted that some regions in upstate New York, such as Rochester, Utica, Binghamton, Ithaca and Elmira will meet all of the seven benchmarks needed to reopen by the end of the week. Some of those benchmarks include a 14-day decline in hospitalizations and hospitalized deaths and an increase in the number of hospital and ICU beds available. The state is also required to increase statewide testing and contact tracing.
Tompkins County, where Ithaca is located, has seen six cases over the past two weeks, marking a decline from their highest number of 19 cases on a single day on March 27. However, in New York City, cases have stayed steady, with over 3,000 reported over the past 14 days.
Monroe Country, where Rochester is located, has also seen a decrease in cases. According to the state health department, the county has seen an average of 38 cases per day over 14 days, down from a high of 86 cases reported on April 24.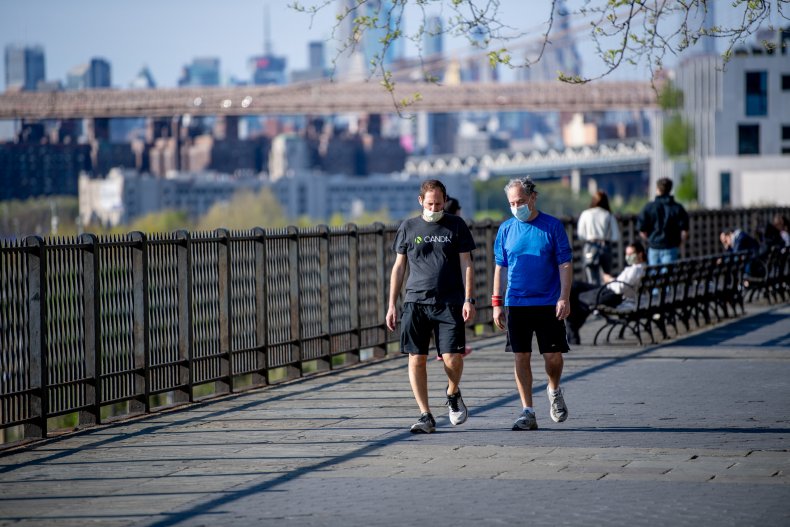 In addition to the different upstate regions meeting the specific criteria needed to reopen, Cuomo also added that certain low-risk businesses, such as landscapers and drive-in movie theaters, will be permitted to reopen statewide.