New York Police Department Cancels All Days Off for Officers 'Effective Immediately' Amid Protests
Days off for New York City Police Department (NYPD) officers were ordered canceled Tuesday as the city prepared for more demonstrations after the death of Minneapolis resident George Floyd while in police custody.
New York Governor Andrew Cuomo criticized New York City Mayor Bill de Blasio Tuesday for not using enough police officers to stop the demonstrations. Looters ransacked businesses on Monday, including the Macy's department store in Herald Square. Officers arrested approximately 700 people overnight Monday despite a curfew set in place by Governor Andrew Cuomo and New York City Mayor Bill de Blasio.
"Effective immediately, all full duty uniformed members of the service RDO's [regular days off] are cancelled," read a memo sent to all NYPD commanding officers Tuesday, according to the New York Post. The cancellation of NYPD officers' days off was confirmed to Newsweek in a Tuesday statement from spokesperson Detective Sophia Mason from the Office of the Deputy Commissioner, Public Information.
"At this time, regular days off for full duty uniformed members of the service are cancelled," Mason said.
"Rank-and-file New York City police officers were out on the street last night doing our job," said Police Benevolent Association President Patrick Lynch in a Tuesday statement. "Tonight, we'll go out and do it again."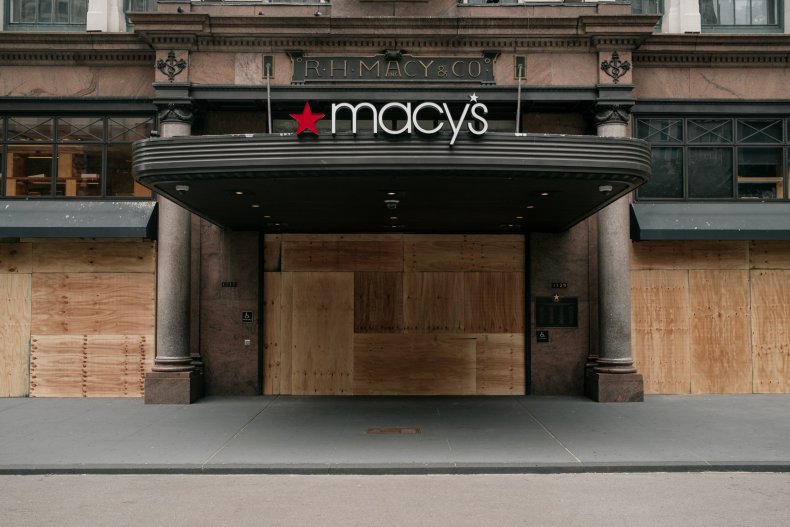 Referring to the looting, Governor Cuomo said Tuesday that Mayor de Blasio "underestimates the duration of the problem."
"You have 38,000 police officers," Cuomo said. "Deploy them. Give them support." Cuomo also said that video footage taken during the protests showed "a lot of looting and not enough police presence."
President Donald Trump said Tuesday that the looting incident at Macy's was "a shame."
"Macy's at 34th Street, long the largest single department store anywhere in the world, & a point of pride in NYC, was devastated yesterday when hoodlums and thieves vandalized it, breaking almost all of its large panels of storefront glass," Trump tweeted, adding that the National Guard should be brought in.
Trump said during remarks from the White House Monday that he was willing to deploy National Guard units to cities where demonstrations turned violent without the consent or approval of state governors.
Governor Cuomo said he offered to deploy the National Guard to New York City as a "large scale support unit" but Mayor de Blasio said Tuesday that bringing troops into New York City may not be the best idea.
"When outside armed forces go into communities, no good comes from it," de Blasio said. "They are not trained for the circumstances here."
In an attempt to curb the protests, New York City was placed under a curfew which is not expected to expire until Monday morning. Hours for the curfew extend from 8:00 p.m. to 5:00 a.m. and is applicable to first responders and essential workers.
Mayor de Blasio asked that people who planned on participating in protest "do it in the daytime hours and then please go home."