New York Police Officers Uses Buzz Saw to Separate Protesters Connected on NYC Streets
Officers from the New York Police Department were seen using a buzz saw to separate protesters who had bound their hands together on a Manhattan street.
Footage from a Wednesday Public Power protest captured officers passing around a circular saw and using it to disconnect protesters before arresting them.
A number of demonstrators had joined together by holding hands and encasing their limbs inside PVC pipes so that their hands were obscured from view while they staged a sit-in on the street. It appears police used a saw to cut open the pipe in order to separate the protesters from one another.
Some at the scene were concerned that police moved quickly to use the power tool because no emergency medical services or ambulances were on site at the time.
However, freelance photojournalist Scott Heins, who was at the rally, reported that all demonstrators were arrested without any apparent injuries.
Hundreds of demonstrators gathered at City Hall Park in downtown Manhattan Wednesday morning.
The rally led by a coalition of environmental and democratic socialist groups called on state legislators to support the New York Build Public Renewables Act, which would make New York Power Authority, a quasi-public agency, a bigger player in renewable energy.
The legislation aims to get all public properties to 100 percent renewables by 2025 and allow New York Public Authority to sell low-cost energy directly to residents.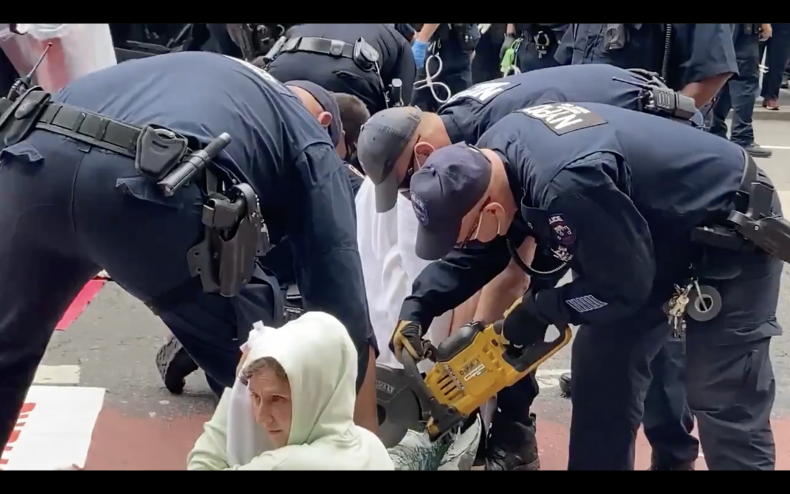 "New York has the power to go 100% renewable by 2040, stop the polluting and poisoning of Black and brown neighborhoods, and create up to 51,000 new jobs in the process. All without raising taxes a single cent, and all before June 10th, 2021," Public Power NY's website reads.
Advocacy groups, like the New York City chapter of the Democratic Socialists of America, are putting pressure on Albany Democrats, who they say have not done enough to promote climate change, especially with two weeks left in the official 2021 legislative session.
Campaign finance records from recent years collected by Public Power NY show that a number of legislative leaders have each received thousands of dollars in donations from energy companies that use fossil fuels, like Con Ed and National Fuel, suggesting that lawmakers face a conflict of interest with their legislative duties.
On Wednesday, protesters held signs replicating the Venmo profiles of several legislators, implying that there was a vested interest in climate inaction.
Newsweek reached out to the New York Police Department for comment but did not hear back before publication.