NYPD Announces Razor Blade Found in Cop's Sandwich Was Result of Accident: "No Malicious Intent"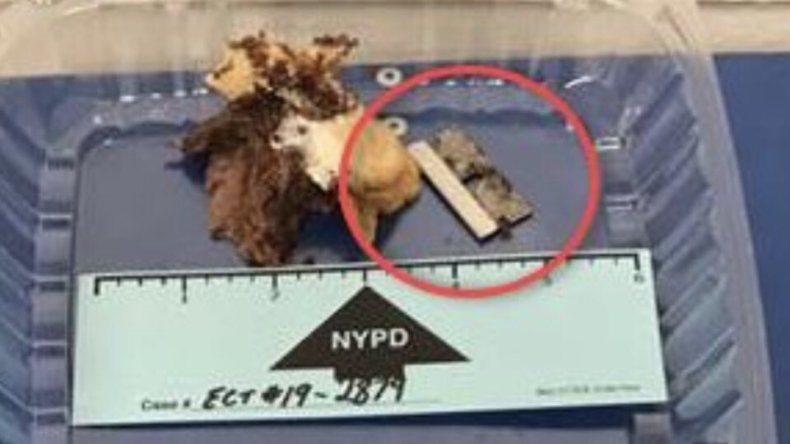 The New York City Police Department (NYPD) announced Saturday that a razor blade found in the sandwich of a Critical Response Command unit officer was the result of an accident.
"After a thorough investigation including reviewing surveillance footage and interviews with employees at the location, it was determined that the incident was accidental and there was no malicious intent involved," NYPD spokesperson Detective Sophia Mason told Newsweek in a written statement.
In a tweet Saturday, NYPD Commissioner Dermot F. Shea said the determination was made after an investigation by Chief of Detectives Rodney Harrison, who was dispatched to determine how the plainclothes officer was served a sandwich containing a razor blade at a deli in Queens, New York, on Thursday.
The deli, Bon Appetit, issued a heartfelt apology after the incident, telling NBC 4 New York that, "if given the opportunity, the management of Bon Appetit would like to personally apologize to the officer and the rest of the local law enforcement community."
Bon Appetit could not be reached for comment.
After biting into the sandwich, the officer was transported to a local hospital where he was treated for injuries and then released. On Friday, Shea described the officer's condition as "OK" in a tweet.
In that same post, Shea assailed any individuals found to be responsible, writing that the department has "ZERO tolerance for acts of violence against our police officers" and calling the incident "abhorrent."
The Sergeants Benevolent Association, a union representing around 13,000 active and retired NYPD sergeants, immediately seized on the controversy Friday. The group responded to Shea's tweet by calling for "an arrest on this case."
"NO TOLERANCE of any attacks on law enforcement," the group added.
Despite the recriminations, the officer, who has not been named, was not deliberately targeted by a deli employee, according to the NYPD's investigation.
In its statement to NBC, Bon Appetit suggested the razor could have been inadvertently placed in the sandwich during the food preparation process.
"We use a variety of tools to prepare our food, but none should ever be found in any food item meant for customer consumption," it said.
After news reports documented the incident, Bon Appetit was reportedly flooded with negative comments online. Its Yelp page currently has a banner reading, "this business is being monitored by Yelp's Support team for content related to media reports."
A spokesperson for the Sergeants Benevolent Association did not immediately return a request for comment.