New York Power Outage as Over 170,000 Affected by Winter Storm
Over 170,000 people have been left without power after a winter storm hit New York, causing power outages across upstate New York from the Southern Tier to the Adirondack Mountains.
The overnight winter storm on Monday was forecast to bring heavy snowfall ranging from 8 to 14 inches, according to the National Weather Service Weather Prediction Center.
The NWS office of Binghampton, in New York, reported 14 inches of snow, followed by Paris with 13.5 inches, Maryland with 13 inches, Windsor with 12.5 inches and Laporte and Dimock with 12.
The NWS Weather Prediction Center had warned against "hazardous travel conditions" as well as "downed trees and power lines," caused by the heavy, wet snow and rain potentially affecting more than 1.4 million people across northern Pennsylvania and central and northern New York.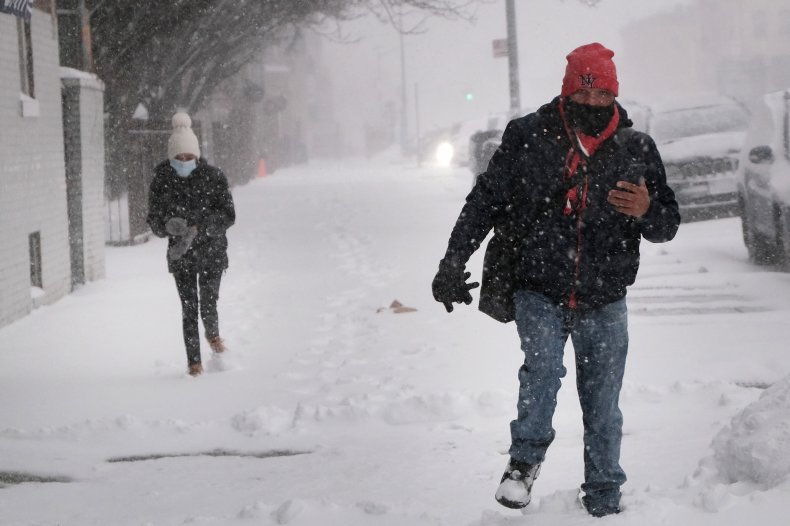 According to a map by PowerOutage.US, Hamilton and Chenango counties are the worst affected areas in New York, with a scale of power outage over 60 percent. Other counties significantly affected, at 30 percent on the outage scale, are Broome, Delaware, Otsego, Herkimer, Fulton, Warren, Essex.
Tioga, Cortland, Madison, Oneida, Lewis, Franklin, Washington, Greene, Albany, Montgomery, Clinton, Schoharie, Saratoga and Schenectady counties also experienced some outages.
New York City was spared by the snow.
The National Grid's outage map shows that tens of thousands of customers were affected by outages in upstate New York, with the highest numbers of customers affected by power outages recorded in Warren and Fulton, at over 14,000 and 11,000 customer suffering power blackouts.
Talking to Times Union, National Grid spokesman Patrick Stella said that as many as 85,000 customer outages had been reported overnight until Tuesday morning.
In Pennsylvania, over 50,000 customers reported power outages following the storm. Outages were also reported in Maine and Vermont, according to PowerOutage.US.
The snowstorm caused several fallen trees and branches in New York State, which led to road closures and made efforts to restore power harder for crews. In the morning of Tuesday, snow had turned into rain across much of the Capital Region.
The NWS' winter storm warning is set to continue in some areas of upstate New York until 12:00 p.m. on Tuesday.
According to the NWS, the storm will continue to bring "gusty winds, heavy snow, heavy rain, coastal flooding, and rough seas to the Northeast U.S. into Tuesday night."
Temperatures are expecting to increase significantly during the week starting on Wednesday, which will likely help the snow melt and free blocked roads across New York.
This story has been updated to provide more context on the storm.