New York Pride: Twitter Reacts to U.N. Ambassador Claims She and Family Booed at Restaurant During Festival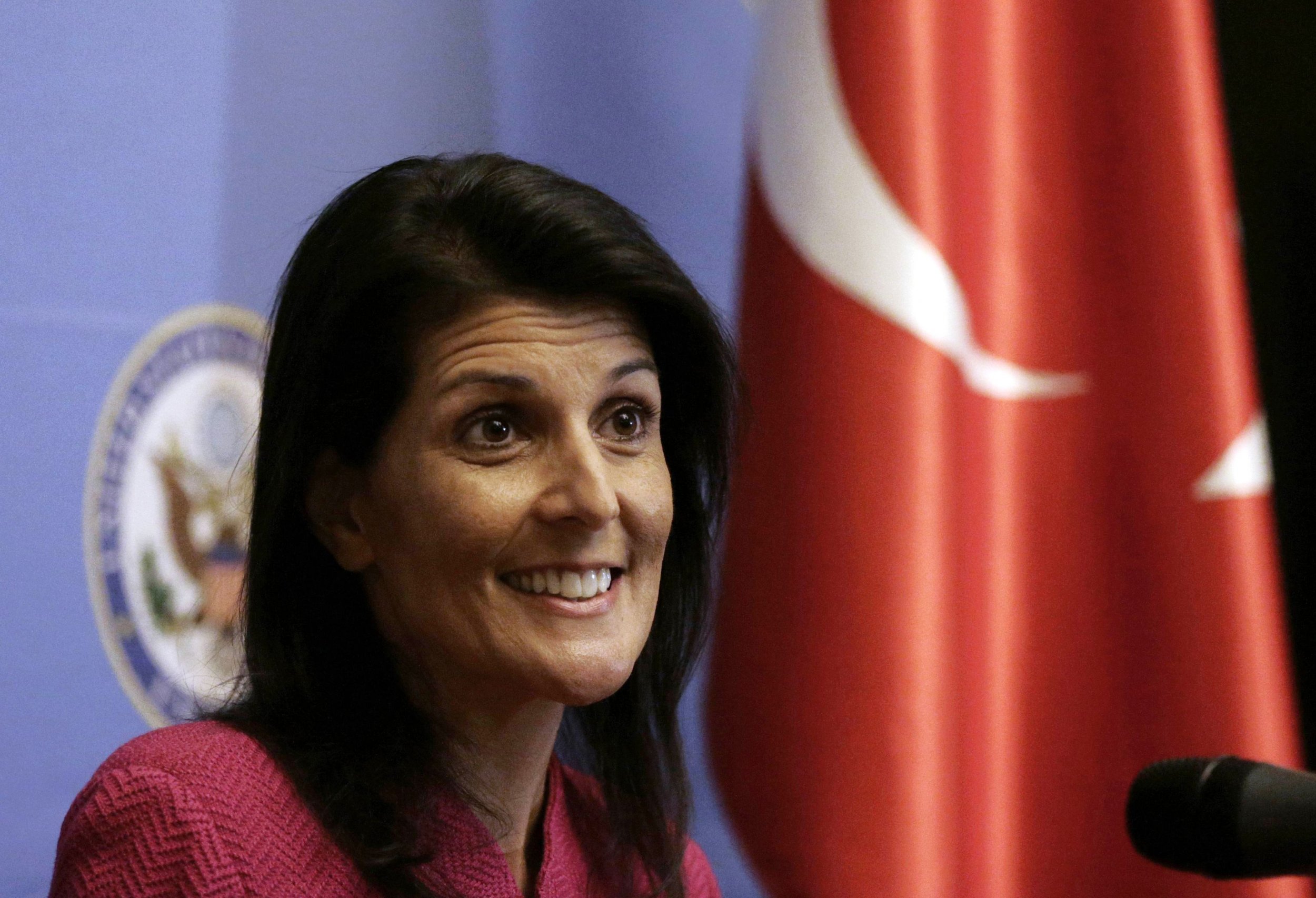 The U.S. Ambassador to the U.N., Nikki Haley, has said she and her family were booed while leaving a restaurant in New York during LGBT Pride celebrations Sunday.
The Republican did not say where she was, but tweeted saying a crowd of patrons at the eatery made "hateful" comments and booed her and her son.
"We, incl my son, were booed by patrons saying hateful things as we left lunch @ Pride Parade," Haley wrote in a Twitter post on Sunday afternoon following the alleged incident. "Our country is better than this. ‪#HateNeverWins," she added.
One day prior to the event, the South Carolina native had shared a bird's-eye picture of New York City on her Twitter feed, writing: "It never gets old....‪#LifeInNYC."
Several social media users responded to Haley's complaint about being shouted out of a restaurant during the Pride celebration, pointing to the GOP's record on issues concerning the LGBTQ community.
On respondent on Twitter, Danny Deraney, wrote: "What has the republican party done to promote Gay Rights Nikki? The vice president thinks a therapy session can change science."
He added: "Yes, you did not deserve it. But think about the company you keep and look who you are currently surrounding yourself with. They represent you."
Vice President Mike Pence has previously faced criticism from the LGBT community over his stance on gay marriage and alleged links to groups that push gay conversion therapy, although Pence has denied he supports such methods.
People advocating for the LGBT community have also previously slammed Haley for her previous form on gay rights. During her time as governor of South Carolina, which she served as from 2011 to January, when she became U.N. ambassador, she spoke out against legalizing same-sex marriage.
"The citizens of South Carolina spoke... spoke something that I, too, believe, which is marriage should between a man and a woman," Haley said in 2013 when she stood against an amendment challenging the state's ban on same-sex marriage, Fox News reported.
"I'm going to stand by the people of this state, stand by the constitution, I'm going to support it and fight for it every step of the way," she said.
She later appeared to soften her stance on the issue, when she backed Marco Rubio for Republican presidential candidacy, saying in her January rebuttal to Barack Obama's State of the Union address that Republicans "would respect differences in modern families, but we would also insist on respect for religious liberty as a cornerstone of our democracy." But it seems the LGBT community has not forgotten her fight against equal marriage.
New York Pride: Twitter Reacts to U.N. Ambassador Claims She and Family Booed at Restaurant During Festival | U.S.