New York Primary Overshadowed by Voting Irregularities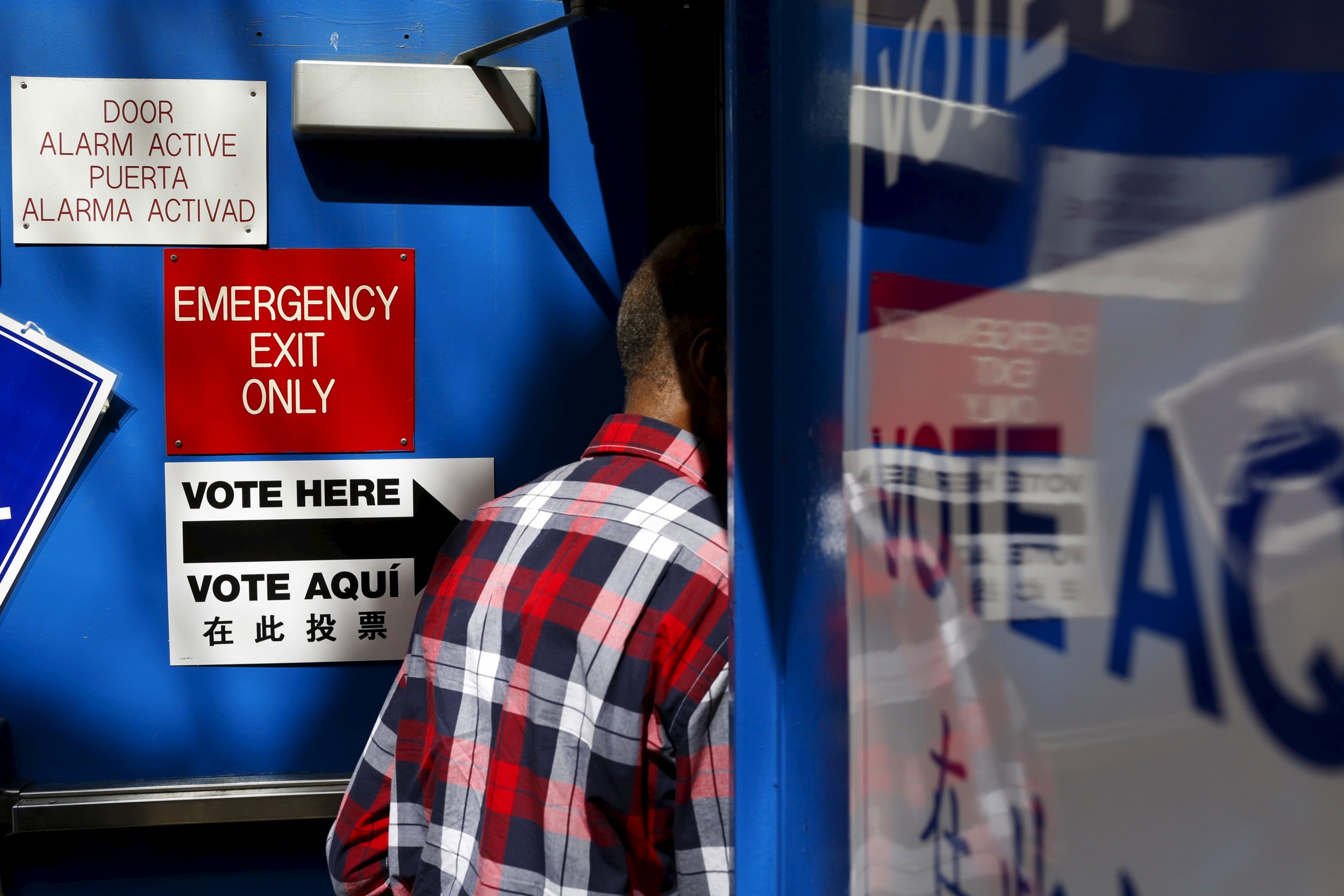 NEW YORK/WASHINGTON (Reuters) - Democrat Hillary Clinton and Republican Donald Trump were favored to win their parties' U.S. presidential nominating contests in New York state on Tuesday, but voting was overshadowed by official confirmation that more than 125,000 people were missing from New York City voter rolls and reports of other irregularities.
New York City Comptroller Scott Stringer ordered an audit of the city elections board after it confirmed the names had been removed from voter rolls. The city has roughly 4 million voters considered active for the presidential primaries.
Stringer complained in a letter to the board that it was "consistently disorganized, chaotic and inefficient." He cited faulty ballot scanners, late-opening polling stations and scant staffing.
Opinion polls in New York put Clinton, 68, a former U.S. senator from the state, ahead of Brooklyn-born U.S. Senator Bernie Sanders, 74, of Vermont in the Democratic race. The state has been the scene of some of their harshest exchanges during a long campaign.
Clinton hopes to recapture the momentum she lost to Sanders, winner of seven of the last eight state-by-state nominating contests.
"Any double-digit win would really reassure everybody that the (Clinton) campaign is reaching the voters who are going to be the people in November that are going to carry her to victory," said Dan Fass, a longtime Democratic donor in Rye, New York.
Last week, after the Democratic candidates debated in Brooklyn, Clinton aide Jennifer Palmieri sought to play down expectations by expressing skepticism about the accuracy of some polls showing Clinton with a double-digit lead.
"We are always cautioning people to not put a lot of stock into public polls and particularly ones that show big leads," Palmieri said.
Clinton has 1,758 of the 2,383 party convention delegates needed to win the Democratic nomination to Sanders' 1,076 delegates, according to an Associated Press tally. A total of 291 delegates are up for grabs in New York, and a big Clinton win there could make her delegate lead nearly insurmountable.
During the Democrats' July 25-28 convention, the delegates will select the party's nominee to the Nov. 8 presidential election.
In Democratic nominating contests, pledged delegates are awarded proportionate to the support a candidate receives in each state, while superdelegates, who make up a smaller proportion, can support any candidate.
TRUMP LOOKS PAST NEW YORK
Trump, 69, a New York billionaire businessman, already was looking past New York to future contests by sending Paul Manafort, who is charged with chasing the delegates needed to win the Republican nomination, to meet with lawmakers from the U.S. House of Representatives and Senate.
Manafort "feels that there are four or five different pathways to 1,237," Congressman Scott Desjarlais of Tennessee said, referring to the number of delegates a candidate needs to secure the Republican nomination.
Trump, front-runner for months in the Republican race, has 744 delegates, while U.S. Senator Ted Cruz, 45, of Texas has 559 and Ohio Governor John Kasich, 63, is trailing far behind with 144, according to an Associated Press count. The count includes endorsements from several delegates who are free to support the candidate of their choice.
Opinion polls show Trump has a double-digit lead in New York, where the "winner takes most" primary carries 95 delegates. But a big win for Trump in the state York would not erase his vulnerabilities.
If Trump does not secure enough delegates needed to win the Republican nomination outright at the party's July 18-21 convention in Cleveland, delegates would be allowed to switch to other candidates.
Trump remains unpopular with the Republican leaders and activists who select and serve as delegates, whereas Cruz has invested time and money courting them.
Some establishment Republicans have been alienated by Trump's more incendiary proposals, such as building a wall along the border with Mexico and slapping a temporary ban on Muslims entering the country.
Trump has sought to mend fences with new hires and through contacts with party leaders in Washington.
Congressman Lou Barletta of Pennsylvania said Manafort told House lawmakers the Trump campaign has an "open door."
"It is good that they are reaching out to members here, to get policy ideas, and bounce ideas off," said Barletta, who has endorsed Trump.