New York Reopening Explained: First Phase Includes These Businesses and Parts of the State
Three regions in New York state will start to reopen on Friday, but it's not going to be as if a light switched back on, with life returning to normal. Instead, there will be a gradual reopening.
With 337,055 cases and 26,682 deaths, New York has had the largest coronavirus outbreak in the nation. While newly reported deaths and cases are still too high, according to Governor Andrew Cuomo, the state is now on the "other side of the mountain," making it possible for parts to reopen.
"It's an exciting new phase. We're all anxious to get back to work," Cuomo said. "We want to do it smartly, we want to do it intelligently, but we want to do it."
To reopen, an area must meet seven metrics, including a 14-day decline in hospitalizations or under 15 new hospitalizations on a three-day average. They must also have a 14-day decline in hospitalized deaths or under five new ones for a three-day average; under two hospitalizations per 100,000 residents on a three-day rolling average; 30 percent of hospital beds and intensive care unit beds available; and 30 tests and contact tracers per 1,000 and 1000,000 residents, respectively.
Central New York and North Country have met six of the seven metrics, according to Cuomo, and the Capital Region, Long Island, Mid-Hudson, New York City and Western New York regions have each met five.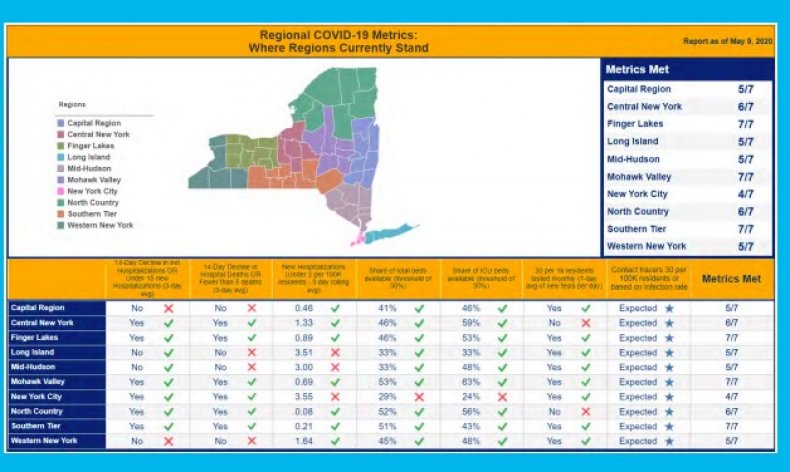 Only three regions—Finger Lakes, Southern Tier and Mohawk Valley—have met all seven metrics and will be able to start reopening Friday. Cuomo acknowledged that when the topic of reopening comes up, people believe their business should be the first in line, but he said New York would start with businesses "that are more essential and pose a lower risk."
In this first phase, construction, manufacturing, agriculture, forestry and fishing businesses can reopen, and retailers can start offering curbside or in-store pickups. Additional businesses will be allowed to reopen in phases two, three and four. Once businesses reopen, they must have adjusted hours and shifts, implement sanitation standards and require masks if people are in close contact.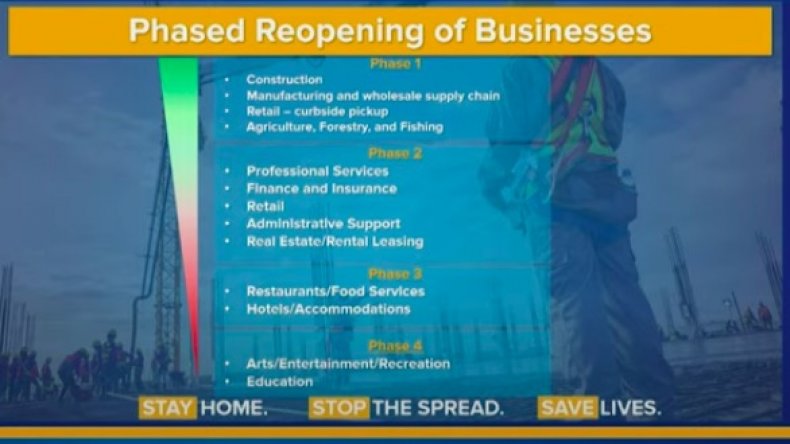 Beginning on Friday, drive-in movie theaters and some outdoor recreational activities, such as tennis, will resume statewide.
Before reopening, regions must also have a regional "control room," which will consist of the top government, academic and health care officials who are watching the situation develop. If reopening doesn't go as planned and the infection rate increases, the people in the control room need to be able to "pull the plug," Cuomo said.
Thus far, the governor said, New York has "averted tragedy" by being "smart and unified." He applauded efforts to increase hospital capacity to meet projections, as well as lockdown measures that prevented" thousands" of deaths. Had New York not cracked down down the way it did, Cuomo said, the state would have made the situation in Italy, one of the two largest outbreak areas in Europe, "look like a walk in the park."
Now that New York has made significant progress and changed the trajectory of the outbreak, Cuomo encouraged a continuation of the unity and intelligence that got the state to this point.
"We just made it over the mountain. Nobody wants to go back to the other side of the mountain," he said. "This is a big step in this historic journey."