New York Reports 299 New Coronavirus Deaths, Ending Six-Day Downward Trend
New York Governor Andrew Cuomo announced Saturday of 299 new deaths from a novel coronavirus reported the day before, an increase that ended a six-day downward trend in daily reported deaths.
In New York, the state with the largest outbreak, new deaths started trending downward on April 25 when Cuomo reported 367 lost lives compared to 437 the previous day. On Thursday, they dropped to 289, the lowest to be reported in a single day in the entire month of April.
The state's health department had reported more than 18,000 deaths, as of Saturday morning.
Of the new 299 deaths--a number Cuomo called "obnoxiously and terrifyingly high" during his Saturday briefing--273 were in hospitals and 23 were in nursing homes.
Although the six-day downward trend in deaths ended on Friday, the increase shouldn't be viewed as an indication that mitigation measures aren't working. While there's still more progress to be made, Cuomo applauded New Yorkers for taking action to change the fate of the state.
"Our past actions changed the path's trajectory," Cuomo said during a briefing on Friday. "Our present actions will determine the future trajectory. It is that clear. It is cause and effect."
To this end, Cuomo announced on Friday that he was closing all K-12 schools and colleges for the rest of the academic year.
Distance learning programs will continue throughout the state and the governor said a decision would be made about summer school by the end of May. Given that the situation continues to change, Cuomo said the administration is trying to make decisions at intervals that both allows them to have updated information and gives people time to plan.
Just as businesses will be tasked with creating plans to safeguard workers when they reopen, schools will be asked to determine precautions that should be taken in education environments.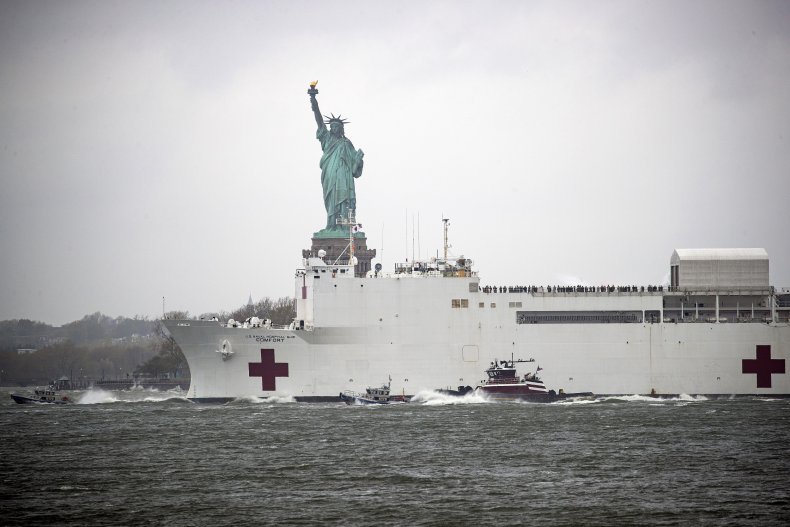 It's unclear when New Yorkers will be able to walk into non-essential businesses again. But Cuomo floated the idea that some regions may be able to reopen after May 15, when the stay-at-home order is set to expire. Among the requirements for a region to reopen businesses is that they've had a 14-day decline in the hospitalization rate.
Hospitalizations and new cases are declining in the state, both of which are "good news" according to Cuomo. However, the state's still averaging about 1,000 new cases a day and at that number, it can still be a burden on the hospital system.
Moving forward, officials are setting their sights on the origin of the the new cases and what's driving the infection rate. Now that the "enemy is on the run," Cuomo said it's time for a targeted approach that identifies who's becoming infected so the strategy can be tailored to reducing the 1,000 new cases each day.
To accommodate the potential influx in hospitalizations, President Donald Trump sent the USNS Comfort, a Navy hospital ship, to New York. It docked on March 30, and treated 182 patients, including about 70 percent of those with COVID-19, before departing on Thursday for the Naval Station in Norfolk, Virginia.
"While the ship is departing New York City, make no mistake, the fight is not over, and we stand ready to support the response to COVID-19 in whatever capacity we are needed," Vice Admiral Andrew Lewis, commander of U.S. 2nd Fleet and Maritime Component Element-East, said in a statement.