New York Reports 437 New Deaths, 12 Straight Days of Decline in Coronavirus Hospitalizations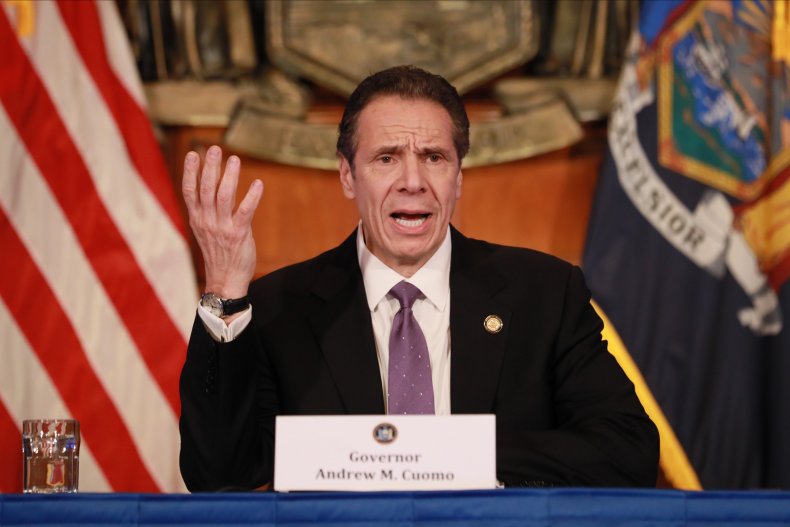 New York Governor Andrew Cuomo announced Saturday that there were 437 new coronavirus-related deaths Friday, a small uptick from the 422 reported yesterday. The total number of deaths in the state is now at 16,599.
Cuomo also reported that there are 13,524 COVID-19 patients in New York hospitals, a number that has been decreasing every day since peaking at 18,825 patients recorded on April 12.
"What we need to find out is when we will be back to the point where only several hundred people showed up at the hospital every day with the COVID-19 infection," the governor said.
The net change in total hospitalizations yesterday was minus 734, though the rolling three-day average of people going to the hospital with the novel coronavirus is 1,184.
"Only in this crazy reality would 1,100 new cases be relatively good news," Cuomo said on the number of new cases that has been decreasing every day since April 16. "But 1,000 new cases – again we like to see that down into the two-, three-, four-hundred new cases per day."
New York has 10,553 new confirmed cases of the novel coronavirus, bringing the statewide total to 282,143 as of Saturday. The state is averaging about 20,000 diagnostic and antibody tests per day, but Cuomo would like to increase that number to 40,000 with the help of the federal government.
Cuomo will be signing an executive order to allow more than 5,000 independent pharmacists in the state to conduct diagnostic tests. As a result he is expanding the testing criteria for New Yorkers, which was originally reserved for people who were symptomatic.
"Since we now have more collection sites, more testing capacity, we can open up the eligibility for those tests," Cuomo said. The expanded criteria will now include all first responders, health care workers and essential employees.
"The more testing we have, the more we will open eligibility," Cuomo said, as the state continues to prioritize who gets tested.
While the virus continues to trend downward in New York, the governor had said Thursday that projections indicate if state lockdown orders are lifted too soon, then the infections would spread at a greater rate than it has in the past.
In comments directed toward those who want to reopen businesses now, Cuomo said: "Virtually all experts will say not only does the virus spread increase, but it increases to a higher point than we had increased the first time."
New York City Mayor Bill de Blasio released a video on Twitter Saturday announcing that he will be taking questions from New Yorkers Saturdays who use the #AskMyMayor, in conjunction with providing daily updates Sunday through Friday: "Here's my promise to every New Yorker: I'll be here to give you information every day. Join me to talk about the road ahead."
"I want to offer my promise to all New Yorkers of all faiths, of all backgrounds, in every neighborhood, in every borough – I will be there for you," de Blasio said. He said he has answered 68 questions for the day thus far.
New Jersey Governor Phil Murphy posted a tweet Saturday of a graph showing that New Jersey continues to flatten the curve: "Look at the curve of new COVID-19 cases. We see continued flattening. We cannot ease up one bit on our social distancing. We need to see more progress and more slowing."
The state has a total 105,523 confirmed cases of the novel coronavirus and 5,863 deaths. The governor reported 249 new deaths at his press briefing Saturday.
"We need to see more progress and more slowing before we can begin implementing any effort to get ourselves on the road to the new normal that awaits our state on the other side of this pandemic," Murphy said.
Updated 4:38 PM ET
New York Reports 437 New Deaths, 12 Straight Days of Decline in Coronavirus Hospitalizations | U.S.