As New York Reports Over 4,800 COVID Cases, Cuomo Restricts Indoor Gatherings, Limits Restaurant, Gym Hours
New York Governor Andrew Cuomo announced updated restrictions that will apply to certain businesses, as well as indoor gatherings, on Wednesday.
The announcement came as New York, once the epicenter of the coronavirus pandemic, confirmed its largest single-day increase in cases since April, at the height of the state's outbreak.
The upcoming wave of restrictions will take effect this Friday. According to Cuomo, the state's latest provisions limit groups to 10 people when congregating indoors. The governor said restrictions apply to private gatherings, such as parties and other social events. How the state intends to regulate or enforce this portion of its new mitigation order was not immediately clear. Newsweek reached out to Cuomo's office for additional comments but did not receive a reply in time for publication.
In addition to attendance caps, New York restaurants, bars and fitness facilities are ordered to close their doors at 10 p.m. ET nightly, beginning at that time on Friday. Reporters present during the Wednesday afternoon conference call where Cuomo explained the new mandates said restaurants and bars will be permitted to offer curbside pickup services past the 10 p.m. curfew.
"COVID is getting worse by the day. All around the country," the governor wrote on Twitter after unveiling the protocols. "The fall surge is here. We are taking action but we need New Yorkers to do their part."
Regarding private gathering restrictions, Cuomo additionally noted that COVID-19 outbreaks have often been traced back to crowded indoor social events. Social gatherings across most parts of the state were previously limited to 50 people, with individual hotspot areas subject to more stringent guidelines.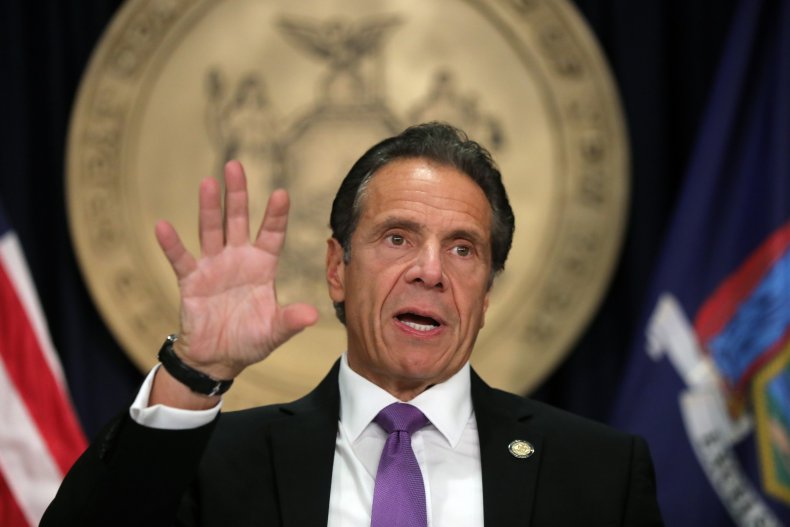 The governor's Wednesday conference coincided with health officials' latest COVID-19 report, which confirmed upwards of 4,800 new infections across New York state since Tuesday.
New York's daily case counts have risen significantly over the past two weeks, after reporting consistently low numbers throughout the summer and subsequently confirming between 1,000 and 2,000 new cases per day during the month of October. Before Wednesday, New York had not reported more than 4,800 daily infections since the last week of April, according to data published by the state's Department of Health.
Virus cases have risen most noticeably in New York City, where Mayor Bill de Blasio has warned of an oncoming second wave of COVID-19 infections for weeks. During a Tuesday news conference, he said the city could be forced to close in-person instruction at New York City's public schools—the largest public school system in the country, serving more than 1 million students—if the city's average weekly ratio of positive test results to tests administered exceeds 3 percent.
The average test-positivity rate remained below that threshold, at 2.5 percent, on Wednesday.