New York Restaurant Diners Chant 'F*** Cuomo' Over COVID Restrictions as Thanksgiving Nears
A video of New York diners chanting "F*** you, Cuomo" is gaining popularity as the state experiences newly implemented restrictions, ordered by Democratic Governor Andrew Cuomo, to slow the spread of COVID-19.
The video, shared on the TikTok video-sharing app, is captioned, "How New York really feels about closing at 10:00 p.m." It shows a seated table of young diners repeating the chat—clapping and beating their fists and silverwear against the tables between repetitions—before showing the chant being repeated by other diners throughout the restaurant.
As of November 23, the video has been viewed over 389,000 times, liked over 69,300 times and shared over 6,613 times on TikTok.
The video coincides with new restrictions ordered by Cuomo to reduce new COVID-19 cases during the Thanksgiving holiday and beyond.
According to Cuomo's new measures, "all bars, restaurants and gyms or fitness centers, as well as any State Liquor Authority-licensed establishment" are required to be shut daily from 10 p.m. to 5 a.m. local time.
After 10 p.m. restaurants can only serve food for pick-up or delivery and are not allowed to serve alcohol.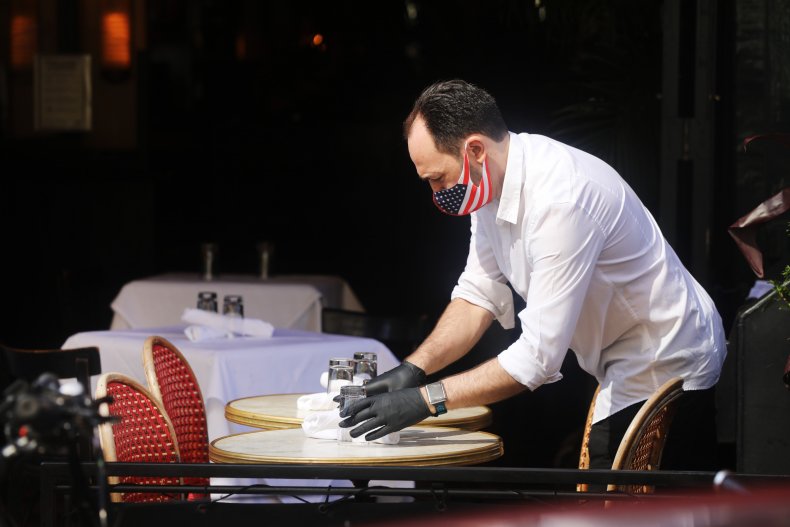 The governor also limited indoor and outdoor gatherings at private residences to no more than 10 people, citing a "recent prevalence of COVID spread resulting from small indoor gatherings including Halloween parties."
"These gatherings have become a major cause of cluster activity across the state," the governor's office said in a statement. "If you look at where the cases are coming from, if you do the contact tracing, you'll see they're coming from three main areas: establishments where alcohol is served, gyms, and indoor gatherings at private homes."
Cuomo also issued an order specifically limiting the number of people allowed at Thanksgiving gatherings. However, several sheriffs and a New York City council member said they planned to ignore the governor's new rules, calling them unconstitutional.
Newsweek contacted Governor Cuomo's office for comment.
Early into the pandemic, New York was initially the U.S. state with the highest overall number of COVID-19 cases. However, its daily case numbers dramatically decreased by June, staying below 1,000 cases a day.
Then, in late September, as the weather grew colder, case numbers began increasing again to above 1,000. The numbers have gradually increased from 1,632 on November 2 to 5,386 on November 22.
Despite warnings by the U.S. Centers for Disease Control and Prevention for families not to attend holiday gatherings, the Transportation Security Administration has still seen a sharp rise in airline passengers traveling for Thanksgiving.