New York Restaurant Owners Hit Bill de Blasio With Lawsuit Over Vaccine Mandate
The Independent Restaurant Owners Association Rescue (IROAR) has filed a lawsuit against New York City Mayor Bill de Blasio over his vaccine mandate for the city's indoor dining venues, entertainment establishments and fitness studios.
The group is seeking an injunction against de Blasio's executive order, which requires people to provide proof of vaccination to participate in a host of in-person activities. Mandatory vaccinations also apply to the staff working at the venues affected by the order.
In the lawsuit, IROAR called the mayor's order "arbitrary, irrational, unscientific and unlawful" and argued it would "severely impact" the businesses, life savings and livelihoods of restaurant businesses represented by the group.
IROAR was found last year by restaurant owners from the city's Staten Island borough.
The complaint also listed Max's Esca, DeLuca's Italian Restaurant, Pasticceria Rocco, Evolve-33 and Staten Island Judo Jujitsu as plaintiffs. All of the plaintiffs, except for Pasticceria Rocco, are based on Staten Island.
On Monday, de Blasio signed an order, also known as the Key to NYC, that requires patrons to show they have at least one dose of a COVID-19 vaccine in order to eat indoors at the city's restaurants, bars, coffee shops, cafes, fast food joints, catering halls and hotel banquet rooms.
Proof of vaccination will also be required at nightclubs, concert venues, pool halls, movie theaters, stadiums, museums, galleries, gyms and indoor fitness studios.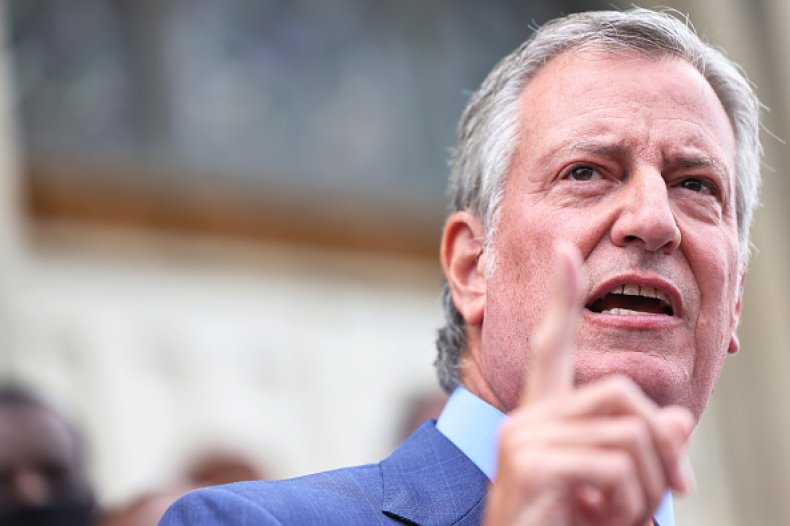 When asked about the lawsuit, de Blasio said he and the city's law department has "tremendous confidence that we're in a very strong legal position."
"We're in a global pandemic still. The decisions that have been taken with the leadership of our health officials who have been fighting this battle from the beginning," the mayor said at a Wednesday press conference. "And we know we must get more people vaccinated and strategically focusing on the ways to get more people vaccinated—particularly focusing on young people where there's been a real gap—so we can stop the spread of the Delta variant is mission-critical. It is about public health and safety."
Unvaccinated people can still dine at restaurants and bars as long as their table is outdoors.
"We want people to enjoy the fullness of the city, but you gotta be vaccinated to do it," the mayor said at a Monday press conference. "It's going to be a reason for people to get vaccinated, particularly young people, and we know how important that is."
Businesses have until September 13 to comply with the order, at which point city agencies will begin conducting inspections and issuing penalties for violations.
Overall, roughly 63 percent of New York City's population has received at least one dose of a COVID-19 vaccine.
The mayor has continued to encourage more residents to get vaccinated, especially given the rapid spread of the highly contagious Delta variant.
"New York City has one mission: defeat the Delta variant and build a recovery for all of us," de Blasio said in a Monday statement. "The Key to NYC sends a powerful message that vaccination will unlock our city's potential, and we'll stop at nothing to save lives and keep New Yorkers safe."
Andrew Giuliani, a New York gubernatorial candidate and son of former New York City Mayor Rudy Giuliani, applauded the lawsuit on Wednesday.
"Every private business and their customers should choose the terms of their patronage, NOT government and certainly not the incompetent de Blasio!" Giuliani tweeted.
This is not the first lawsuit the IROAR has filed against the city's coronavirus restrictions.
Back in September, the group was part of a class-action lawsuit filed against de Blasio and Governor Andrew Cuomo that called for the emergency opening of New York City restaurants at 50 percent, when indoor dining remained closed across all five boroughs.