New York Shutdown Extended to May 15, Joining Los Angeles, D.C., and Others
New York's social distancing policies will remain in place until at least May 15, Governor Andrew Cuomo announced on Thursday.
"I don't want to project beyond that period. That's about one month. One month is a long time," Cuomo said. "What happens after then, I don't know. We will see depending on what the data shows."
Cuomo put New York on PAUSE, an acronym used to describe the state's social distancing policy, on March 22. The 10-point plan–which closed non-essential businesses and banned gatherings–has worked, according to the governor, but must continue as New York isn't out of the woods yet.
New York, the epicenter of the outbreak, has had at least 213,779 cases, which equates to about one-third of total cases in the U.S. The projected rate of spread for New York state was between 1.2 and 1.45, according to Cuomo. Thanks to mitigation efforts that required people to stay home vastly more than usual, that rate is down to about 0.9.
However, it's not low enough to reopen the economy, as the margin of error between 0.9 and 1.2 "does not leave you a lot of wiggle room," the governor said.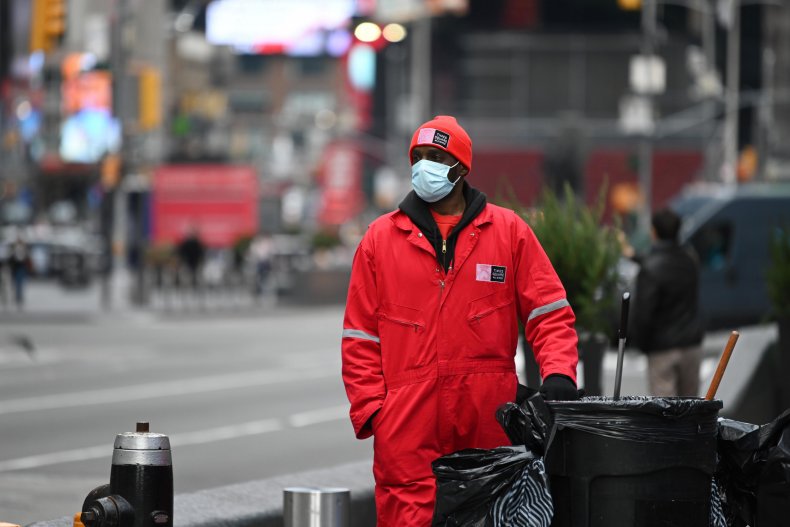 On Wednesday, Washington, D.C., Mayor Muriel Bowser announced that the stay-at-home order and closure of nonessential businesses would be extended until at least May 15. Last week, Los Angeles County announced the extension of its prohibition on events and gatherings and the closure of non-essential businesses to May 15, as well.
In Kansas City, the stay-at-home order was set to expire on April 24, but Mayor Quinton Lucas announced on Thursday that it will be extended until May 15.
Cuomo has been working with governors of neighboring states to ensure a collaborative–or at least not contradictory–response effort. The same is true of extending mitigation efforts and New York will be working in coordination with other states.
Businesses that were deemed essential and allowed to stay open have been required to implement rules that help facilitate social distancing of at least six feet. For many businesses, this means limiting the number of people in a store at one time.
As part of New York's 10-point plan, people are not allowed to gather or be within six feet of others when outside their home and must limit outdoor exercises to those that can be done alone. New Yorkers were also told to only use public transportation when absolutely necessary and to stay home if they're sick.
Lifting the PAUSE policy in New York will be dependent on data, including hospitalization and infection spread rates, according to Cuomo. Then, experts will determine the best path forward based on that information.
"No political decisions. No emotional decisions. Data and science. We're talking about human lives here," Cuomo said.
Cuomo acknowledged that the policies in place are difficult and life-changing and praised people for choosing to do the right thing and follow them. Moving forward, he encouraged people to continue doing their part to help others, as adhering to social distancing policies can save lives.
"It's our behavior, it's our level of discipline ... what we're willing to do to safeguard others in our community," the governor said. "That's what makes all the difference."