Giant New York Sinkhole Swallows Car in Middle of Manhattan
Like something from a natural disaster movie, a giant hole in the earth opened in East Village, Manhattan, over the weekend and gobbled up the front half of a silver Toyota SUV.
Footage published on the Citizen app shows the large vehicle sunken below ground level on East 2nd Street, near Avenue A, at around 2am on Sunday morning.
In the footage we see the car at an almost 45 degree angle with its back-end pointing to the sky, as the New York City Fire Department investigates the bizarre scene.
It's not yet known what caused this extreme concrete cavity. Fortunately, no one was in the parked car during the incident.
This is not the first sinkhole to have formed in New York, sinkholes have been reported for decades in the city. In August 2019 and August 2015, for example, the New York City Fire Department responded to two enormous sink holes in Brooklyn, both around 16-20 feet wide, no one was hurt in these incidents when the concrete came away from the road surface.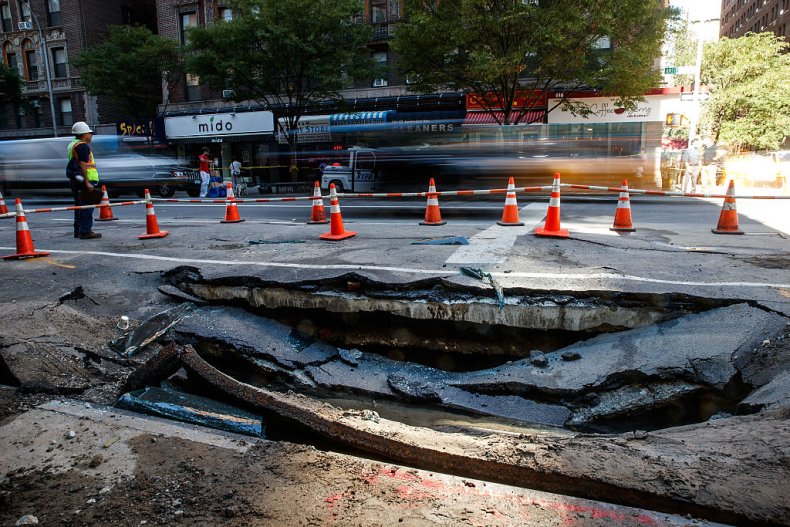 Sinkholes can be caused by a number of factors, from a deterioration in the infrastructure to heavy rainfall and flooding caused by broken sewer lines and water pipes. These cavities often form when water erodes an underlying layer and that surface shifts to somewhere else. Experts usually excavate the area to ascertain the exact cause.
Sinkholes are a remarkable phenomenon that have previously wiped away roads, swallowed pedestrians, and caused major accidents. Some of the most devastating sinkholes include those occurring in the Russian city of Berezniki, which was built on a salt mine. For years huge depressions in the earth have ripped apart the town's buildings and schools.
The more peculiar sinkholes on record include one found in 2019 in Florida. After an investigation, the FBI discovered a small two foot tunnel to a Chase bank, which was 50 yards long and had a power cord and generator inside. It's believed the tunnel was going to be used in an attempted bank burglary.
Equally as strange, in early February, Ecuador's enormous nearly 500 feet tall San Rafael Waterfall completely disappeared due to a large sinkhole upstream at the intersection of the Andes Mountains and the Amazon Basin, which swallowed up the river and stopped the water flowing.
If you spot a large depression in the road, do not attempt to test its stability, keep away from it and alert the authorities immediately.
Newsweek has contacted the New York City Fire Department for further comment on Sunday's sinkhole in NYC.