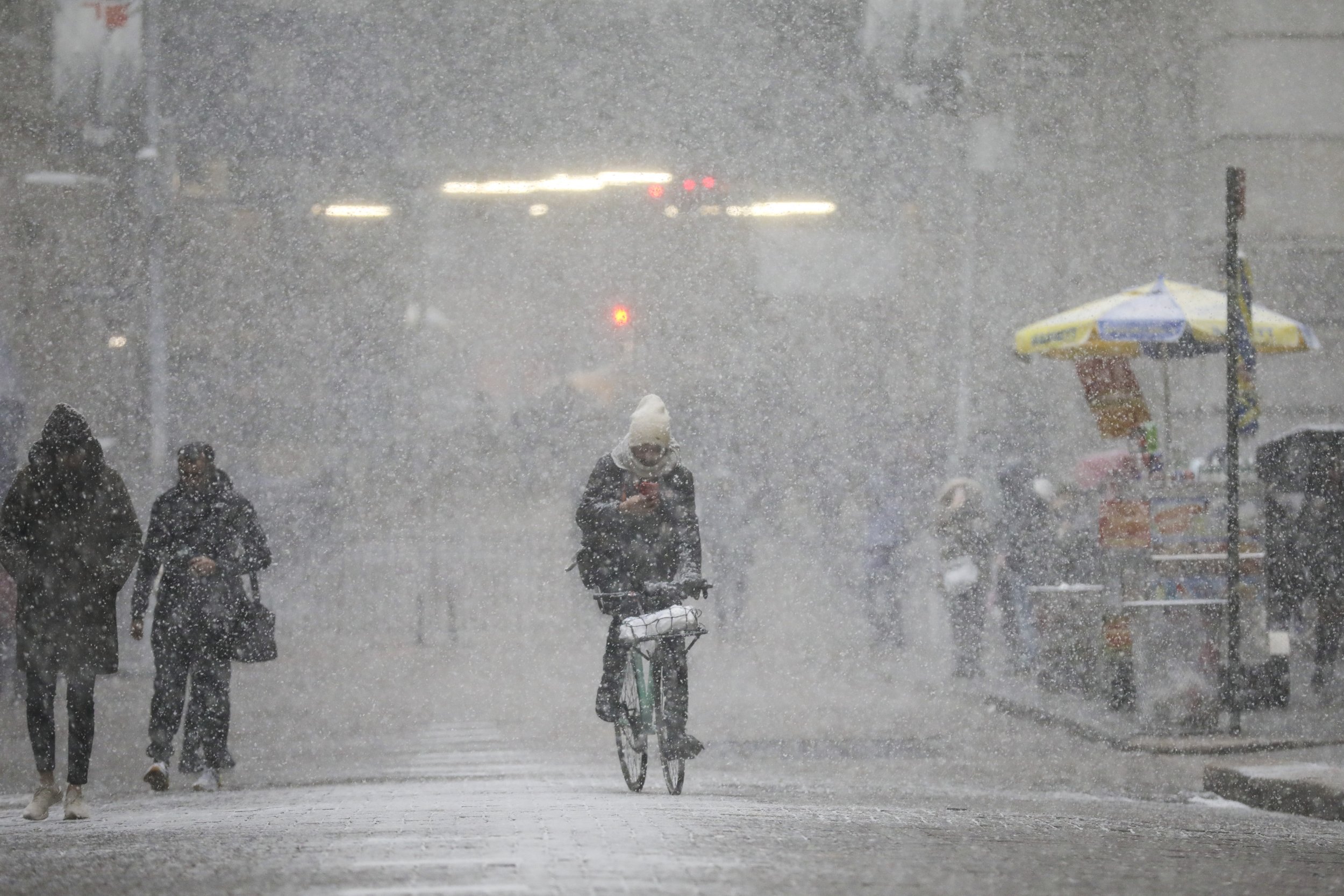 Snow was expected to hit the Midwest and the Great Lakes Monday night and make its way east through the night into Tuesday morning. Once there the storm was expected to bring anywhere from six to 12 inches of snow, with more falling in certain areas, according to the National Weather Service.
There was a winter weather advisory issued for the southern part of New York, including New York City, and for southern Connecticut. North of there and more inland there was a winter storm watch in effect.
The winter weather advisory was set to begin at 6 a.m. EST Tuesday and last 24 hours until 6 a.m. Wednesday. That was issues for Southern Connecticut, Putnam, Rockland and Westchester. The winter weather advisory was set to start at 6 a.m. EST Tuesday as well but only stay in effect until midnight for New York City, Northern Nassau and Northwest Suffolk. A winter storm watch was issued for Tuesday morning through Tuesday night in Orange and Northern Passaic, according to the NWS.
The snow in those areas was expected to reach one to four inches along the coastlines and four to seven more inland but in all areas, the snow was expected to impact travel. There would also be ice and rain accumulation following the snow.
Upstate there was a winter storm warning for the "western and southern Adirondacks, Mohawk Valley, and Lake George Saratoga Region in eastern New York, and the southern Green Mountains in Vermont," according to Weather Prediction Center.
There eight to 14 inches of snow was expected starting around 10 a.m. EST Tuesday and lasting through most of Wednesday. In Onondaga, Madison and Oneida counties there was six to 10 inches of snow expected and was likely to begin around 6 a.m. Tuesday and last until 7 a.m. Wednesday.
In Jefferson and Lewis counties even more snow was expected with estimates around 14 to 18 inches. Anyone in the area under one of the watches, advisories or warnings should be sure to check their local forecast and follow any instructions from authorities on how to prepare or what to do once the snow arrives.
New Jersey Snow Forecast
New Jersey would also be getting some snow, though it would be only about two to five inches and likely isolated to the northeastern part of the state. There was a winter weather advisory in effect there from 6 a.m. Tuesday until the same time Wednesday.
That advisory meant that snow would cause slippery conditions that might cause travel issues and make driving difficult.
​