New York State Democratic Party Didn't Fund Proposals to Increase Voting Access
The New York State Democratic Party offered no funding to encourage voters to support three ballot proposals that would've expanded ballot access. All three proposals were defeated in the state's Tuesday election.
New York Democratic Party Chairman Jay Jacobs said that political campaign committees and associated groups advocating for the propositions never contacted the state party to request support, according to The Times-Union. Had the groups requested it, he added, the state party would've provided financial assistance, Jacobs said.
"There was no initiative that we were asked to do by anybody to begin a campaign or undertake the financing of or the running of the campaign on these issues," Jacobs told the publication. "Maybe, in that sense, the ball was dropped, but I will tell you that is not something that came to my attention."
The three proposals were as follows: Proposal 1 would've made changes to the state's redistricting process; Proposal 3 would've helped allow for same-day voter registration; Proposal 4 would've allowed "no-excuse" absentee voting.
About 38 percent of New Yorkers supported each proposal, and nearly 50 percent rejected them. The remaining 12 percent of voters didn't vote on the proposals at all.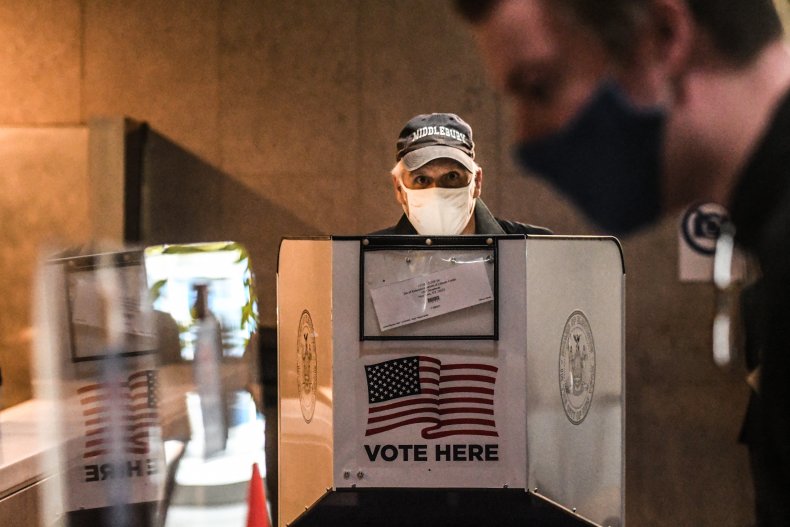 Conservative and Republican spending on political advertising to defeat the proposals was 10 times greater than Democratic and progressive spending to promote them, according to voter-forward advocacy groups that supported the measures.
"We were very nervous about what was going to happen because you're only seeing one side of the story being described to voters," Blair Horner, executive director of the New York Public Interest Research Group, told the Times-Union.
Horner's nonpartisan group and Common Cause NY, another pro-voting group, were two of several groups that, along with several unions, pushed for a campaign to support the proposals.
Democratic state Senator Michael Gianaris said that Senate Democrats contacted the state party in mid-October to support the proposals. Gianaris' statement directly contradicts Jacobs' assertion that no one contacted the state Democratic Party for support. Gianaris got one of the proposals on the ballot.
"The question is why the Republican Party didn't need to be asked [to fight the proposals] and who the chairman is waiting for to ask him to do something that is in the interest of the party," Gianaris said. "The Republican Party leadership seemed to know that they should do this."
New York Republican Party Chairman Nick Langworthy mocked Democrats for not supporting the proposals.
"The funny part of that is where were the Democrats that were so proud of their efforts to put these things on the ballot?" Langworthy told reporters.
"I don't think in my own travels or any piece of your publications did I see Democrat politicians stand at a podium like I did, 40 times in the last 10 days, and say why these were virtuous ideas," he added.
Jacobs came under fire from fellow Democrats in mid-October for comparing Buffalo mayoral candidate India Walton to former Ku Klux Klan (KKK) leader David Duke. Jacobs invoked Duke's name when saying that neither he nor the state party had to support Walton or anyone else running as a Democrat.
"Jay Jacobs absolutely should resign over his disgusting comments comparing a Black single mother who won a historic election to David Duke," New York Representative Alexandria Ocasio-Cortez wrote on Twitter in response to his comment.
Jacobs apologized for his comparison shortly thereafter.
He wrote that his remarks "obviously caused an uproar that I did not intend."
"Using an extreme example of David Duke winning a primary, to make a logical point—even with stating twice the specific qualification that India Walton, was in a different category—was wrong," he wrote. "I should have used a different example, and for that, I apologize."
Jacobs' statement also blamed critics who were "less interested in the discussion and more interested in causing controversy."