New York, State With Largest School District, Allows Schools to Reopen — Here's Where Second-Ranked California Stands
New York, home to the country's largest school district, will allow all public schools in the state to reopen their doors to students this fall as long as virus transmission rates remain low, a move at odds with other states in the U.S.
"Every region is well below our COVID infection limit, therefore all school districts are authorized to open," New York Governor Andrew Cuomo wrote on Twitter Friday. "If the infection rate spikes, the guidance will change accordingly."
With his announcement, Cuomo stipulated that individual school districts will be responsible for submitting their own plans for the state's education department to review and approve, but most of the state has maintained a coronavirus positivity rate of around 1 percent.
Schools will be required to hold several meetings with parents and teachers before August 21, and all students must wear masks when social distancing isn't possible, Cuomo wrote.
Newsweek contacted Cuomo's office for comment, but did not hear back in time for publication.
New York could serve as a model for other states in how to successfully reopen, if it is able to maintain its low coronavirus transmission rate while educating children in the classroom. The state, once a worldwide epicenter for the disease, is an outlier among other states' decisions to reopen.
California, which has the second-largest school district in the U.S., created a list of counties on the state's COVID-19 "watch list," meaning counties with concerning coronavirus trends.
The schools in any of these 38 counties currently on the list are able to apply for waivers allowing them to conduct in-person learning, but must otherwise hold all classes online. The waivers will be granted only if the area meets certain health requirements and will only apply to kindergarten through sixth grades, KABC-TV reported.
The Los Angeles Unified School District, the country's second-largest, announced earlier in July that it would conduct distance learning for the year for its more than 600,000 students. Los Angeles County remains on the state's COVID-19 watch list and is currently reporting an average 7.8 percent test positivity rate.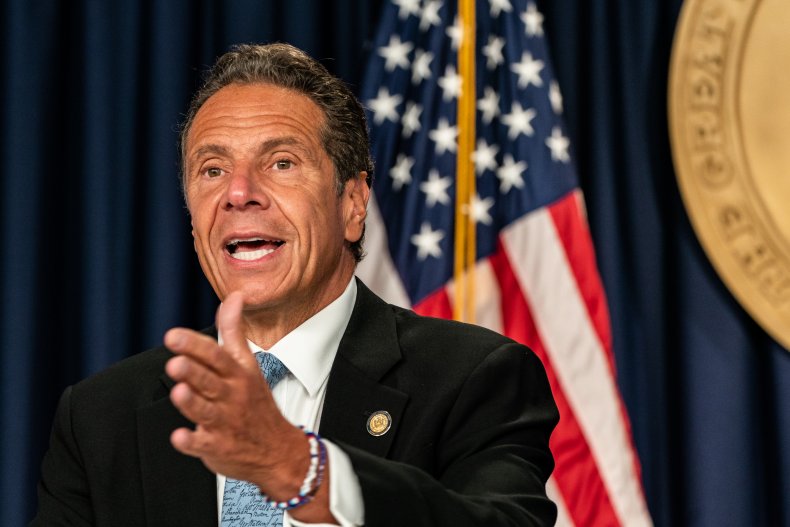 New York is home to more than 2.7 million students, the fourth-highest public school student population in the country. New York City's school district makes up the largest percent of the state's total student population, with 1.1 million children and 1,800 schools — the biggest district in the country.
New York City Mayor Bill de Blasio previously stated that schools in the city could reopen if the positivity rate is below 3 percent.
"We're committed to getting this right," de Blasio tweeted Friday following Cuomo's announcement. "If COVID-19 positvity rate goes above 3%, we will not open. The health of our kids, teachers and staff comes first."
According to a June survey conducted by the city's Department of Education with more than 400,000 parents, roughly 75 percent said they wanted their children to return to in-person education in some capacity in September. The remaining parents answered they were unsure.
Dionn Hurley, who lives in the South Bronx, told The New York Times her 18-year-old son, who has autism, "regressed by a year in a month" after schools shut down in March. "Our kids need in-person learning," she said.
But a recent survey with New York State United Teachers, a 600,000-member state teachers' union, found that 50 percent of its members polled said they are reluctant or unwilling to have in-person education this fall because of health and safety concerns.