New York State Legislature Passes Bill to Reform Police Privacy Law, Require Disclosure of Misconduct Records
New York's state Senate and Assembly voted to repeal a privacy statute that protects law enforcement personnel records on Tuesday, as activists and government leaders push for police reform amid ongoing protests.
The statute, outlined in Section 50-A of New York's civil rights law, previously designated all records confidential unless the officer they concerned gave written consent stating otherwise. It applied to complaints and disciplinary proceedings, preventing public access to the information and forming barriers against court retrieval.
The bill to repeal Section 50-A, introduced by members of New York's State Senate on June 6, also proposed amendments to other areas of legislation related to public officers. The amendments explicitly called for disclosure of law enforcement disciplinary records, including complaints, allegations and charges against law enforcement employees.
Several state committees approved the bill on Monday, allowing it to proceed to the senate and assembly floors, and in response, New York's Senate Majority Leader, Andrea Stewart-Cousins, released a statement emphasizing the "immediate need" for these reforms and others recently introduced by the legislature."
The bill to repeal Section 50-A passed following weeks of demonstrations across the United States to protest police violence after George Floyd's death in police custody on May 25. Floyd's death was the latest of many that occurred under similar circumstances and it prompted widespread calls for change.
"The horrific murder of George Floyd, the most recent in a long list of innocent people like Breonna Taylor, Ahmaud Arbery, Sean Reed, Tony McDade, and so many more, has led to a rightful outpouring of grief and anger. Black New Yorkers, like all residents of this state, deserve to know that their rights, and lives, are valued and protected by our justice system," Stewart-Cousins' said in Monday's statement, which outlined a series of additional police reform bills, including one prohibiting the use of chokeholds and another that establishes individuals' rights to receive medical attention while in custody. New York's legislature passed both bills this week.
"The legislation that will be passed over the coming days will help stop bad actors and send a clear message that brutality, racism and unjustified killings will not be tolerated," the senator's statement continued.
Sergeant Mary Frances O'Donnell, a spokesperson for the New York City Police Department's Office of the Deputy Commissioner, told Newsweek on Monday that NYPD supported lawmakers' efforts to repeal Section 50-A and increase accountability.
"The NYPD has long advocated for reforming the law," O'Donnell said. "Department executives have spoken publicly about the need for fairness and transparency in the law and have testified in Albany in support of an amendment to accomplish that."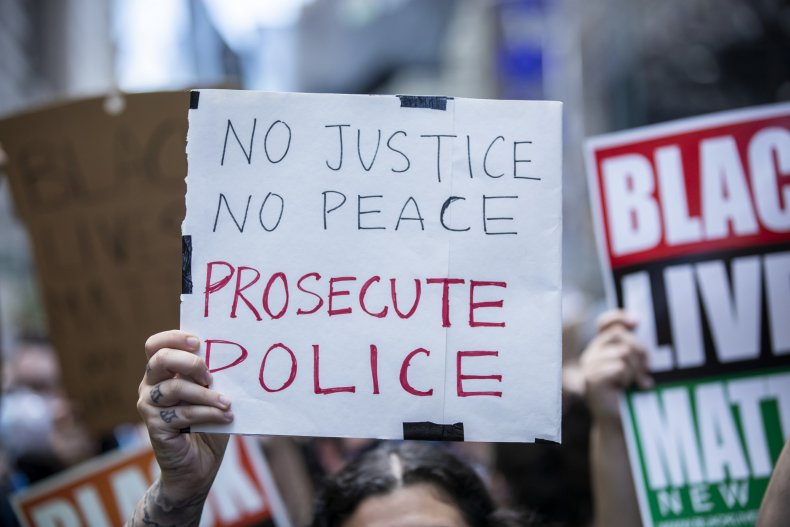 In additional comments to Newsweek, representatives from activist group Communities United for Police Reform, who have advocated for changes to New York's police privacy statues for years, said amendments were "long overdue."
"New York's 50-A police secrecy law has long emboldened police violence and abusive practices by police officers and departments," a spokesperson said. "It's long overdue that the legislature repeal this dangerous law that hides police misconduct and shields abusive officers."
During a press conference earlier this week, New York Governor Andrew Cuomo confirmed his intent to approve bills related to police reform once passed by the state legislature. The governor showed support again on Tuesday amid the state Senate and Assembly votes.
"This is not just a moment to express outrage — it's a moment to do something about it and create real reform & real change," Cuomo wrote on Twitter. "We will pass major criminal justice reforms this week," he continued, referencing Stewart-Cousins and Assembly Speaker Carl Heastie. "NY will not let this moment pass unanswered."
Newsweek reached out to Stewart-Cousins' office, the Buffalo Police Benevolent Association and Police Benevolent Association of the City of New York for additional comments but did not receive replies in time for publication.