New York Plastic Bag Ban—What You Need to Know
New York's ban on plastic bags can be enforced from today, October 19—more than seven months after the law went into effect.
The new Bag Waste Reduction Law took effect in New York State on March 1, 2020, but has not been enforced due to a lawsuit brought by plastics manufacturer Poly-Pak Industries in the New York State Supreme Court.
Following the court's decision to back the new legislation, the New York State Department of Environmental Conservation (NYSDEC) can begin enforcing it from today.
The ban means that anyone required to collect New York State sales tax will be banned from distributing plastic bags in most scenarios, even if the sale is exempt from tax.
Here are some of the ways the ban could impact stores and everyday consumers:
Reusable Bags
From today, New Yorkers are encouraged to bring their own reusable bags while out shopping. Retailers are likely to offer reusable bags for purchase.
Consumers are encouraged to use reusable, washable bags, such as cloth bags, and the NYSDEC recommends using separate bags for meat, fish or poultry, fresh produce like fruits and vegetables, and ready-to-eat foods, in order to reduce the spread of germs.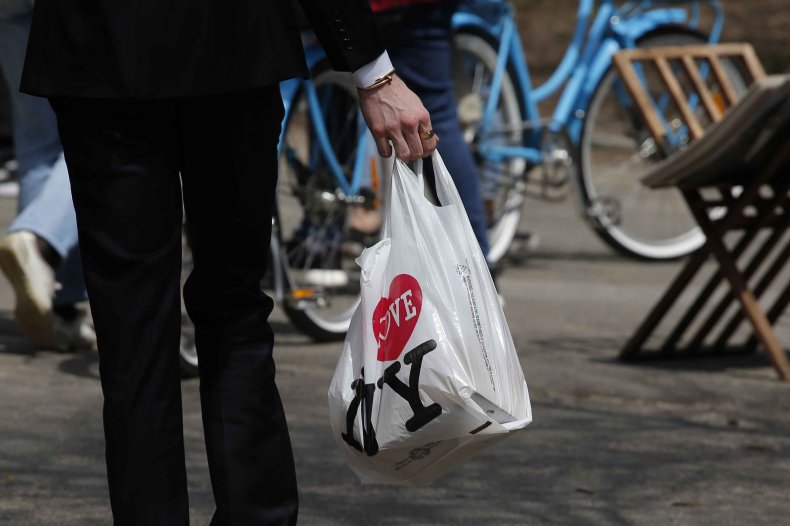 Charge for Paper Bags
In some cities and counties in New York, retailers will charge customers five cents per paper carryout bag, while other areas will give them out for free.
This fee will not apply to people accessing the Supplemental Nutrition Assistance Program (SNAP) and the Women, Infants, and Children nutrition program (WIC).
Recycling Plastic Bags and Film Plastic
Stores covered under the NYS Plastic Bag Reduction, Reuse, and Recycling Act are still required to recycle plastic bags, such as bread bags, and plastic films, often used to wrap paper towels.
Plastic Bag Ban Exemptions
Some plastic bags are exempt from the ban in certain situations. These exemptions include: bags used by a pharmacy to carry prescription drugs, produce bags for bulk items like fruits and vegetables, bags for takeout food, trash bags, and garment bags.
Back in February, when Gov. Andrew Cuomo launched a statewide outreach campaign about the plastic bag ban, he said: "Right this minute, plastic bags are hanging in trees, blowing down the streets, filling up our landfills and polluting our lakes, rivers, and streams—all hurting our environment.
"Twelve million barrels of oil are used to make the plastic bags we use every year and by 2050 there will be more plastic by weight in the oceans than fish. We took bold action to protect our environment and ban these environmental blights and with this campaign, we're going to make sure New Yorkers are ready and have all the facts."
According to the NYSDEC, more than 23 billion plastic bags are typically used in the state each year.