New York State Senator Compares ICE Shooting 26-Year-Old to KKK Brutality
A New York State Senator has called on lawmakers across the country to take action after a U.S. Immigration and Customs Enforcement (ICE) agent shot a 26-year-old man in the face during an operation in Brooklyn, New York.
Speaking with Newsweek on Monday, State Sen. Zellnor Myrie said he was disappointed by the lack of public outrage over the shooting incident, which put Eric Diaz in hospital with serious injuries on Thursday.
"We have become so normalized to these sorts of raids and these sorts of actions that... this hasn't raised eyebrows and I think that is a real tragedy... that we're used to this," Myrie said.
On Saturday, the state senator joined protesters as they called for action. Diaz was shot on Thursday as ICE agents tried to arrest his mother's partner, Gaspar Avendano Hernandez.
During the demonstration, Myrie said it was up to lawmakers to step in and prevent something like a person getting "shot in the face by the government" from being normalized.
"We cannot, as a society, be okay with what happened this week,'" Myrie said in a speech. "We cannot normalize what happened this week. Someone was shot in the face by the government."
The New York State Sen. then appeared to compare ICE agents to the Ku Klux Klan, asserting that in the past, those who sought to "harm people in broad daylight" wore a "white hood."
"It used to be the case that in this country, if you wanted to harm people in broad daylight, if you wanted to brutalize them, you wanted to take away their liberty, you wore a white hood," Myrie said. "You brutalized with impunity under a white hood."
"I'm calling on all of our colleagues, if you have something to say, say it now," he said. "Because if you are silent when people are getting shot in broad daylight, the future is hopeless."
"Yesterday, they came for Gaspar, yesterday they came for Eric, tomorrow they may come for you," he warned, appearing to draw inspiration from the famous words of Martin Niemöller, the Lutheran pastor who was imprisoned for opposing Adolf Hitler's regime and who warned that those who do not speak out against injustice could soon be left with no one to speak out for themselves.
"Speak up now because justice demands it!" Myrie said in comments that were first shared online by photojournalist Gabriele Holtermann-Gorden.
Myrie told Newsweek he hoped his comments would strike a chord in those he fears are becoming complacent with ICE's treatment of undocumented immigrants in the U.S.
"I think that under different circumstances, this would be front-page news," he said. However, with near-daily coverage of the ongoing crackdown on immigration in the U.S., he said, "this has become normalized."
"That's why I spoke as forcefully as I did," Myrie said. "Because I feel that if we cannot be outraged by this, then there's going to be little else that will drive us to action."
As the son of two immigrants who came to the U.S. from Costa Rica in search of "a better life," Myrie said that he would "always be unapologetic in my defense of this community."
"The immigrant story is very much my story," he said. "I would not be who I am were it not for that."
Last week, ICE confirmed to Newsweek that a young man had been shot during a "fugitive operations" mission in Brooklyn.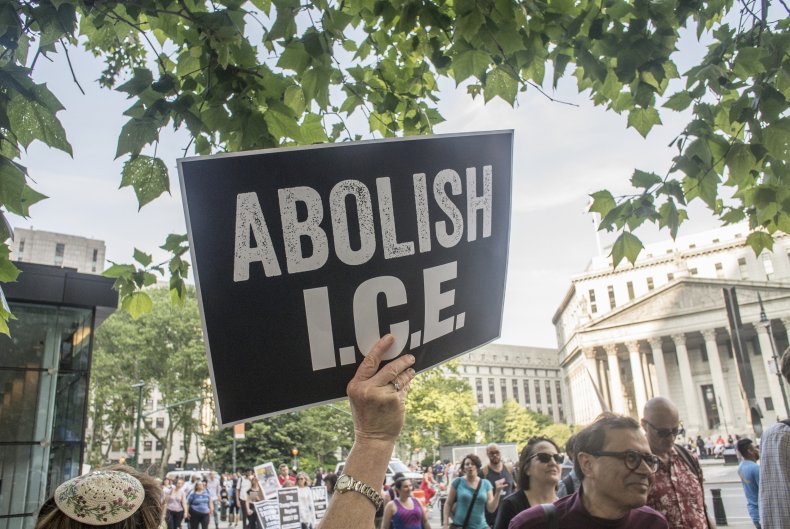 A spokesperson said agents had been "physically attacked while attempting to arrest Avendano-Hernandez," who they described as a "twice-removed illegal alien from Mexico with a 2011 assault conviction in New York City."
The spokesperson said Avendano-Hernandez had been arrested by the New York Police Department on Monday for "possession of a forged instrument," a felony criminal charge.
"ICE attempted to lodge an immigration detainer after his most recent arrest, however the subject was released from local custody before ICE could lodge a detainer," the spokesperson said. "This forced ICE officers to locate him on the streets of New York rather than in the safe confines of a jail."
It is still unclear exactly how the incident unfolded, but at some point, at least one firearm was fired by an agent, striking Diaz in the face.
While ICE claimed that agents had been "physically attacked," Kevin Yañez Cruz, the victim's brother, claimed agents "didn't say a word" before shooting his sibling.
"We were unarmed. The agents were the only ones with weapons," Yañez Cruz said in a statement to CNN.
It is unclear what Diaz's condition currently is. As of Saturday, he was still at the Maimonides Medical Center in Brooklyn in stable condition, according to CNN.
Newsweek has contacted ICE for an update.