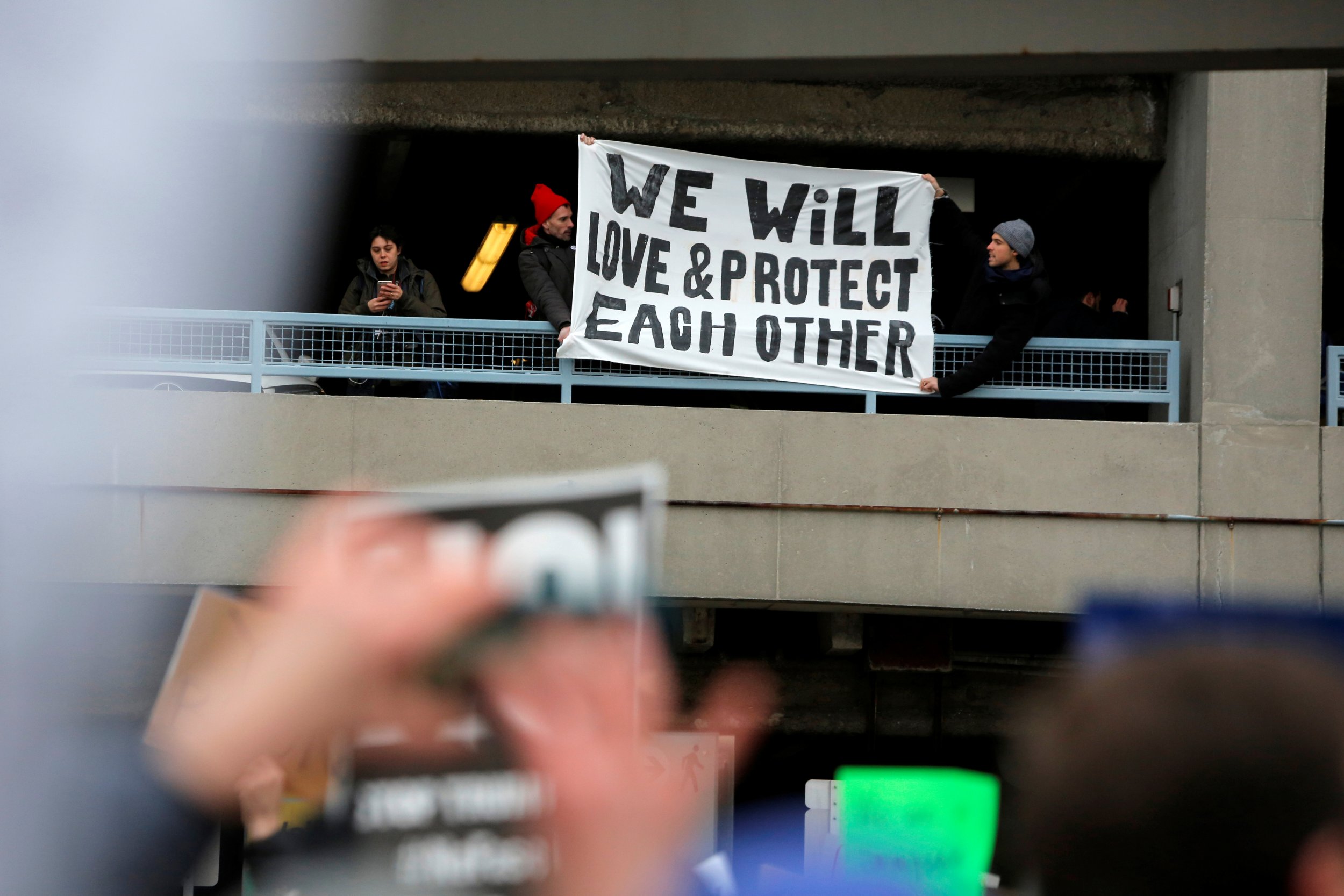 The work of taxi drivers and their advocates usually doesn't stop because the country is in political mayhem. The New York Taxi Workers Alliance has taken political action before—typically for workers' rights—but since January 27, when President Donald Trump signed an executive order halting the U.S. refugee resettlement program and banning entry to people from several Muslim-majority countries, the union has found itself at the center of opposition to both Trump and Uber.
On Monday, drivers come in and out of the New York Taxi Workers Alliance headquarters in Astoria, Queens. Some are there for help with summonses; others are taking a class on wheelchair accessibility. The men, waiting on leather couches near tables with crackers and brochures, are from Morocco, Pakistan and other places outside the U.S. A staffer making fresh coffee is from Ecuador. A handmade sign on the wall shows a school of tiny fish pursuing one big fish. It says, "Do Not Fear—Organize."
Related: Thousands of academics sign petition against Trump's order
The union was founded in 1998 and has 19,000 members, all drivers of yellow or green cabs or for Uber or Lyft (in New York, those drivers all must have a Taxi and Limousine Commission license). On Saturday, union members refused to make pickups or drop-offs at John F. Kennedy International Airport for one hour, part of the massive demonstrations there against Trump's executive order. Though the union's Uber driver members participated in the strike, Uber corporate tweeted that it had turned off surge pricing for those traveling to the airport. The company meant well, but offering any service at all violated the strike. Uber has since received widespread criticism, and with a movement dubbed #DeleteUber, celebrities and activists have been telling people to remove the app.
The Uber fallout has put an unlikely spotlight on the New York taxi union. "To have that many people stand up for striking workers, that was so deeply moving," says Bhairavi Desai, executive director of the union. She says that she and her colleagues had talked on January 27 about the executive order and finalized plans the next day to strike when they saw protesters showing up to the airport. "This is at the airport, where drivers go every single day to work and to serve people," she says. "Who knows the airports better than we do? And so we wanted it to be clear that this is not just a place of work for us. This is going to be a place where we stood for justice."
Trump's order suspends the refugee admissions program for at least 120 days; suspends entry to people from Iran, Iraq, Libya, Somalia, Sudan, Syria and Yemen for at least 90 days; suspends entry to people from Syria indefinitely; and proclaims other actions. A federal judge issued a stay on the deportation of people under the order, but detainments continued.
Sitting at a wooden desk at the taxi union headquarters, in a room with oak tag signs on the walls and a megaphone in one corner, Javaid Tariq, a Pakistani immigrant who co-founded the union and is a senior staff member, explains why this issue is so personal for his members. He has three earrings, rings on more fingers than not and long, graying hair tied into a ponytail. "That executive order from Trump to ban Muslims coming into America, it affects a lot on our members," Tariq says. "They are hardworking people. They come here, they are living here many, many years, and none of them is involved in any kind of crime."
More than 2,000 Taxi and Limousine Commission drivers in New York City were born in the seven countries listed in the executive order, according to Dan Rivoli of the New York Daily News. As of 2013, its drivers came from 175 countries, according to a report by the commission. The most frequent country of origin for yellow cab drivers was Bangladesh (more than 10,250 drivers, or 23.1 percent of all yellow cab drivers), and the second was Pakistan (5,850 drivers, or 13.2 percent). Both of those countries are predominantly Muslim; neither is named in the executive order.
Taxi drivers are more than 20 times more likely to be murdered while working than people in other professions, the Occupational Safety and Health Administration has found. Desai and Tariq cite incidents such as the slashing of a Muslim taxi driver in August 2010, during the controversy over the so-called Ground Zero mosque, as the sort of incident they fear will happen again. Drivers have told the union representatives in recent days that they are worried about such attacks, as well as about family members being able to visit them because of the travel bans.
Drivers at the union offices on Monday are concerned too. Khalid, a Muslim immigrant from Morocco, returned from a trip to his native country on January 26, the day before Trump signed the order. (Several of the taxi drivers quoted in this article declined to give their last names.) "We feel mad about what happened," he says. "We are worried."
Another driver, a Muslim from Pakistan named Mahmood, holds an unpopular opinion among his cohort: that the executive order is a good thing. "I'm a citizen," he says, explaining that national security is important to him and that he believes the order will make Americans safer.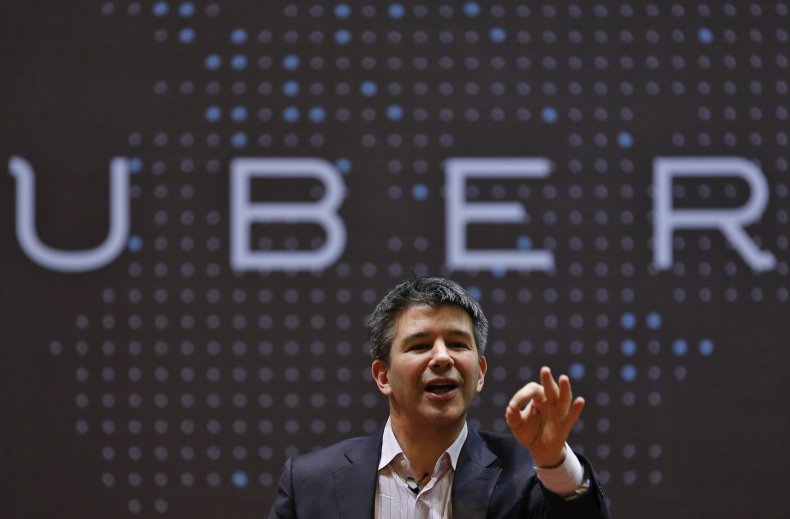 'Everybody's Scared'
A few blocks away, in a gentrifying neighborhood that has new residential buildings going up but also an elevator repair shop and a live poultry market, drivers gather at Aladdin Sweets and Restaurant. An immigrant from Bangladesh named Sorwar, who is Muslim, picks up vegetables with roti and puts it in his mouth. His green cab is parked outside. "It's very bad. Very, very bad," he says about Trump's executive order. "Everybody's scared." He, his wife and their three children are all U.S. citizens. He says that he's worried about hate crimes and that the political climate will discourage tourists from visiting the U.S., potentially costing him fares.
The taxi union says it will continue taking action against Trump. It also released a statement about the Uber fallout. "Make no mistake, the corporations leading the gig economy and the sharing economy will never be a part of the resistance," the statement said. "Sharing is the new euphemism for worker exploitation, meaning that workers share the scraps after corporations loot profits." The union has previously filed a lawsuit on behalf of two drivers, calling for Uber to pay their unemployment. In 2016, New York state regulators ruled in favor of the drivers.
Following the #DeleteUber movement, the company has tried to clarify its position, tweeting on Sunday that its turning off of surge pricing was "not meant to break [the] strike." A spokesman told Fortune that the company had decided to turn it off to make sure Uber was not profiting from increased demand during the protest. As Fortune points out, Uber has also promised to do that during states of emergencies and natural disasters.
Uber CEO Travis Kalanick, who sits on Trump's Strategic and Policy Forum, has also issued clarifications. "This ban will impact many innocent people—an issue that I will raise this coming Friday when I go to Washington for President Trump's first business advisory group meeting," he wrote in an email to employees that he later made public. "We've taken the view that in order to serve cities, you need to give their citizens a voice, a seat at the table…. This is why I agreed in early December to join President Trump's economic advisory group."
Kalanick outlined the steps his company is taking to identify and compensate drivers whom the order might affect. In a follow-up email to drivers, he said the company would provide legal support to those having trouble re-entering the U.S. and create a $3 million legal defense fund for drivers.
But the backlash has continued. A competitor, Lyft, is taking advantage, announcing it is donating $1 million over the next four years to the American Civil Liberties Union. "We stand firmly against these actions and will not be silent on issues that threaten the values of our community," the company said in a statement. Lyft has since surpassed Uber in iPhone downloads for the first time, the Financial Times reported Tuesday.
Trump has had a difficult relationship with unions, according to Richard Hurd, a professor of labor studies at Cornell University. Unions tended to endorse his Democratic rival, Hillary Clinton. Earlier in January, Trump met with union leaders, but most or all of them were from the construction sector.
In New York, the taxi union folks are happy that the country is hearing them. "Drivers work in such isolation, and you feel silenced for the majority of your day, 12 hours of your day," says Desai, the executive director. "I think that it builds up in people, and you feel the weight of your silence quite often."