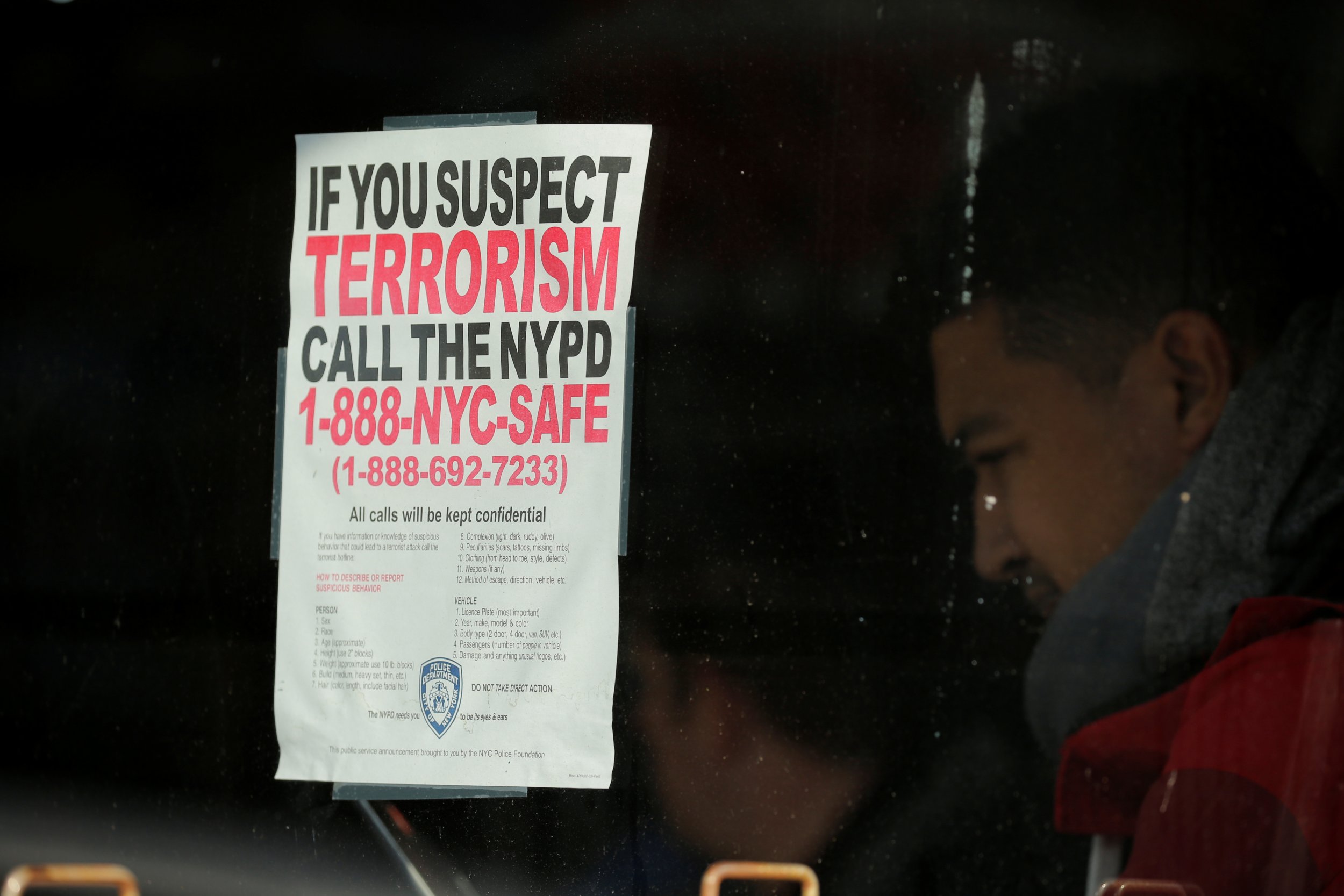 Federal authorities say that Akayed Ullah, a 27-year-old Bangladeshi immigrant suspected of carrying out a terrorist attack in New York City early Monday morning, is a Green Card holder who came to the United States on a family visa in 2011—a type of immigration that President Donald Trump wants to curtail.
Ullah had what is called an F43 visa, which is issued to children of immigrants who already have a direct relative who is a U.S. citizen who sponsors them—an example of what is sometimes referred to as "chain migration."
Ullah "benefited from extended family chain migration," Tyler Houlton, spokesman for the Department of Homeland Security, told Newsweek, referring to immigration policies that encourage U.S. citizens to sponsor family members to come to the country.
According to DHS, Ullah—who authorities say set off a bomb in Times Square in what reportedly was an attack inspired by the Islamic State—obtained the F43 visa to come to the United States by being the son of an F41 visa recipient sponsored by a U.S. citizen sibling.
DHS did not disclose whether Ullah's mother or father received the F41 visa or what U.S. citizen in the family sponsored them to migrate.
Family-based immigration policies, or "chain migration," have been the bedrock of U.S. immigration policy for decades. They incentivize families to migrate as a unit in the hopes of facilitating quick assimilation to American culture and norms.
By design, these policies give a preference to immigrants with family already in the U.S. Of the nearly one million foreign nationals admitted to the United States in 2013 as lawful permanent residents, two-thirds were admitted "on the basis of family ties," according to a 2016 report by the Congressional Research Service.
To qualify, immigrants must go through a lengthy application process and must comply with all laundry list of admission requirements issued by U.S. Citizenship and Immigration Services.
Trump has recently attacked family-based immigration policies.
"Recently, we've asked Congress to ensure that any proposed immigration reform ends chain migration," Trump said at a cabinet meeting on October 16. "One person comes in and then brings everybody in his family in with him or her. And we have to end chain migration, which—it's critical for creating a system that puts American workers and the American taxpayer first."
White House press secretary Sarah Huckabee Sanders echoed Trump at a press conference on Monday, saying that Ullah "would not have been allowed" into the United States if Trump's proposals were implemented.
But critics say that the link between family-based immigration and a rise in undocumented or unauthorized immigrants is weak.
"To be clear, chain migrants, family-based immigrants, have nothing to do with illegal immigration or visa overstayers. To overstay a visa necessitates that an individual have a nonimmigrant visa, which is issued only when an applicant proves their intent to return to their home country," Kristie De Peña, senior immigration counsel with the Niskanen Center, a pro-immigration reform think tank, wrote in an op-ed for The Hill in October.
According to a 2014 report by the Migration Policy Institute, approximately 277,000 Bangladeshi immigrants and their children live in the United States, account for less than one percent of the total foreign-born population in the country. A majority of these immigrants have become U.S. citizens. The Bangladeshi immigrant community is also "better educated than the general U.S. population and has a higher income level," according to the report.
An estimated 75,000 Bangladeshi immigrants live in the New York metropolitan area.
In a statement, Attorney General Jeff Sessions agreed with Trump, saying, "We have now seen two terrorist attacks in New York City in less than two months that were carried out by people who came here as the result of our failed immigration policies that do not serve the national interest. ... It is a failure of logic and sound police not to adopt a merit-based immigration system."