'New York Times' Delivers Google Cardboard to Subscribers, Betting Big on Virtual Reality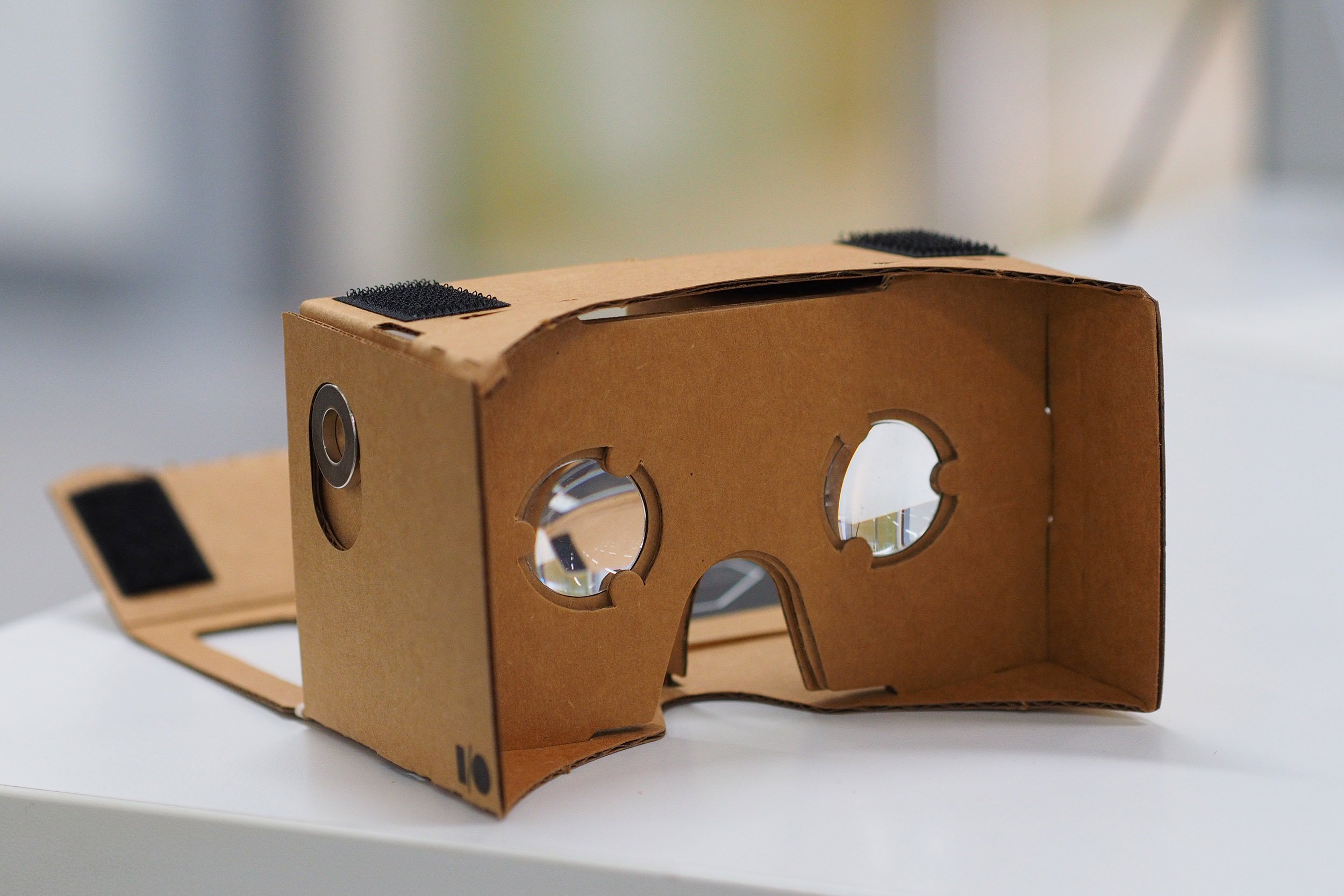 Tucked inside New York Times newspapers this weekend, subscribers found a Google Cardboard viewing device that is a gateway into the Times's latest journalistic venture: virtual reality.
The delivery follows the Thursday launch of the newspaper's virtual reality mobile application, NYT VR. The initial download comes with two immersive videos from the New York Times Magazine.
One video, titled "Displaced," drops viewers into the harrowing lives of three children, each of whom were expelled from their homes by conflict. Viewers play amongst the rubble of 11-year-old Oleg's former life in Ukraine, row through crocodile-infested waters with South Sudanese 9-year-old Chuol and stand in a Lebanese cucumber field as Hana, 12, picks cucumbers to support her Syrian refugee family.
The second video gives a behind-the-scenes look at the making of the recent New York Times Magazine cover "Walking New York," which shows the likeness of an immigrant blown up and superimposed onto a city street. In the film, viewers take flight—experiencing virtual reality from the heights of a helicopter, looking down at prominent artist JR's creation.
Though extremely different in both topic and tone, the quality of the films propels the Times's pieces past the gimmicky area where virtual reality videos so often land. "It's one thing to put people in a location and say, hey, you can look around this place and see what it's like to be there. But that gets old fast," says New York Times Magazine Editor in Chief Jake Silverstein. "What is clear in both films is that connecting to characters, to individuals, is one of the real unique qualities of virtual reality."
The Times is hardly the first to adopt this new form of spherical storytelling. It follows the likes of ABC, The Wall Street Journal and Vice News, each of which has used the technology but failed (so far) to make it a staple tool in its journalistic arsenal. The Times says it is betting big on VR, not just following the pack to prove its technological prowess. The outlet aims to set itself apart from the competition, both in terms of quality and accessibility to its audience.
Silverstein says the idea was met with some early push-back from staff. "There was definitely some skepticism about whether the moment was right and that we'd be able to make something that would be up to our journalistic standards," he says. "But the thing that really activated our exploration was this partnership with Google that would allow us to achieve scale."
The Times began having serious conversations about using virtual reality earlier this year. Within months, a team from the newspaper, in conjunction with VR studio IM360, developed and began testing its own VR app. Though virtual reality is best experienced through headgear, the app also accommodates those who don't have it; a smartphone alone serves as a moveable viewer into a story. The Times wanted to reach the broadest distribution while alienating as few potential viewers as possible.
"The way this has been designed and set up, anyone can participate," says Myles McGovern, president of IM360. "With the Cardboard or not they can still enjoy the experience and maybe will be enticed to go out and get a Cardboard."
Both experiences received ample testing with delivery and digital subscribers prior to launch. Though mention of "Gray Lady" readers evokes images of veteran news consumers tightly gripping a disappearing relic—the newspaper—the developers found that their readership was more tech-savvy than they thought.
"We thought that people would need hand holding," says Toni Cruthirds, associate product manager at the Times. "But the feedback we got [during testing] is there are too many screens, there are too many steps, I just want to get to the video."
The app is easy, anyone can use it, but will the videos, which are incredibly difficult and expensive to make, be released fast enough to hold viewers' attention to the medium? Besides the two launch videos, there are a few virtual reality shorts from advertisers, but the next two videos won't become available until December and early 2016 respectively.
"We think there is a tremendous amount of potential and we'd like to publish as much as we can but we're also trying to be realistic about the fact that this technology is still emerging," says Silverstein. "And how much and how fast we are able to publish depends on how it evolves."
The Times's effort underscores that virtual reality won't replace print, photographs or standard video. The immersion and unmediated observation places the tool into a realm of its own. But just as the Times is known for having "all the news that's fit to print," will it soon also produce "all the news that's fit to experience"? Get your headgear ready.