New York Times Anti-Donald Trump Op-Ed Author Betting Odds: Who Oddsmakers Wager Wrote Bombshell Piece
It's the question everyone across the country is asking: Who wrote the bombshell anonymous New York Times op-ed that dropped on Wednesday?
Oddsmakers are doing their best to guess the identity of the author who said that White House aides were working behind the scenes to protect the country from some of President Donald Trump's most erratic impulses. The Times identified the writer simply as a senior official in the Trump administration.
Online bookmaker MyBookie seems to believe Vice President Mike Pence might be the author—it pegged the former Indiana governor as the -150 favorite. The field—anyone not listed—actually had shorter odds, at -300. Here are the odds via MyBookie:
-Mike Pence -150
Newsweek subscription offers >
-Betsy DeVos +200
-Mike Pompeo +400
-Steve Mnuchin +400
-John Kelly +400
Newsweek subscription offers >
-Jim Mattis +500
-Jeff Sessions +500
-Ryan Zinke +600
-Sonny Perdue +600
-Wilbur Ross +700
-Alex Acosta +700
-Alex Azar +800
-Ben Carson +800
-Robert Wilkie +800
-Kirstjen Nielsen +1000
-Ivanka Trump +1200
-Jared Kushner +1200
-Stephen Miller +1500
-The Field -300
The bookmaker pegged Pence based on the word choice in The Times piece. There was one word in particular the vice president is fond of using that showed up in the op-ed.
"What tipped us off was 'lodestar,'" MyBookie head oddsmaker David Strauss told the New York Post. "When you search members of the administration [who have used that word] only one name comes up—and that name is Mike Pence. He's used it in multiple speeches this year."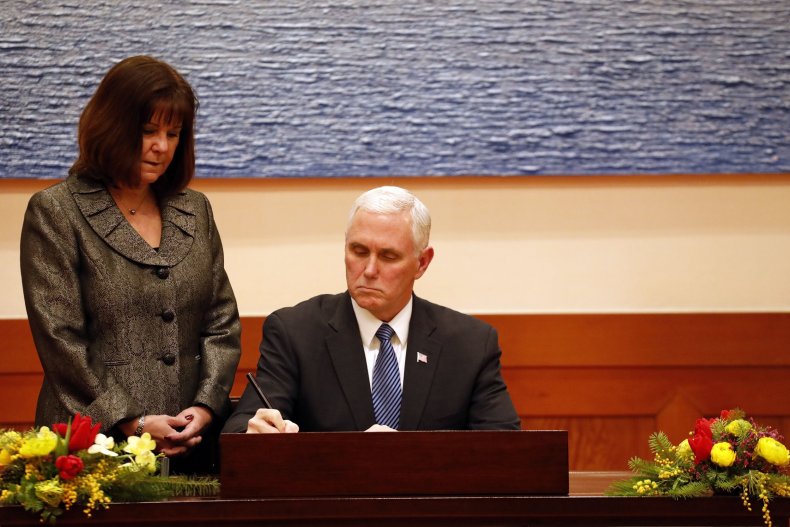 Of course, that should be taken with a grain of salt, considering the allegations that White House staffers insert other people's idioms and favorite into their leaks to cover their tracks. And Pence wouldn't need anonymity to protect his job, since he can't be fired.
The Times op-ed said the crux of the problem was the president's "amorality."
"We fully recognize what is happening. And we are trying to do what's right even when Donald Trump won't," the anonymous author wrote.
Trump, predictably, was enraged.
"TREASON?" he tweeted in response.
He followed up with claims that the Times might have made the piece up: "Does the so-called 'Senior Administration Official' really exist, or is it just the Failing New York Times with another phony source? If the GUTLESS anonymous person does indeed exist, the Times must, for National Security purposes, turn him/her over to government at once!"
New York Times Anti-Donald Trump Op-Ed Author Betting Odds: Who Oddsmakers Wager Wrote Bombshell Piece | U.S.