New York Times reporter Kenneth P. Vogel shared a frightening voicemail he received from a man on Monday. In the 38-second message, the caller referred to Vogel as an "enemy of the people" and threatened him with an AK-47.
The man first sarcastically lauded Vogel as a "genius" for supporting Democratic presidential nominee Hillary Clinton before quickly delivering a menacing message.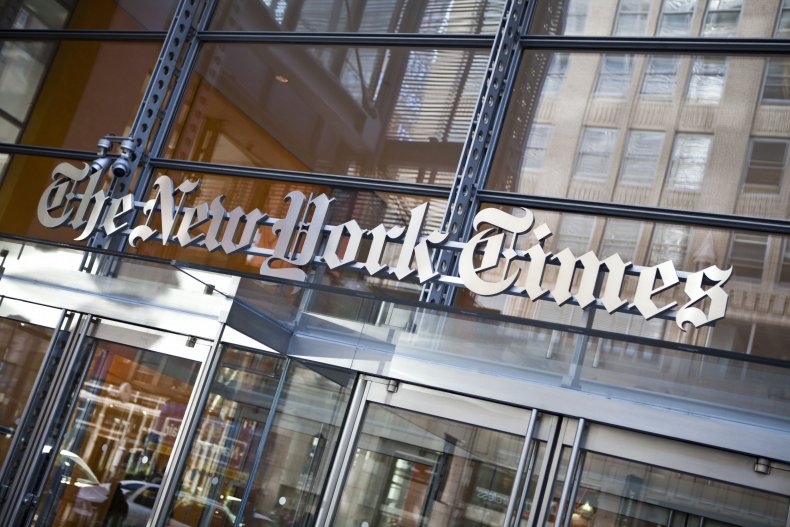 "You're the problem. You are the enemy of the people. And although the pen might be mightier than the sword, the pen is not mightier than the AK-47," the man can be heard saying in the voicemail. Vogel shared the voicemail on Twitter, captioning it, "Voicemail from a fan."
The man ended the voicemail by saying, "And just remember Ken, there's nothing civil about a civil war.
"Regrettably, we have been seeing an increase in threats and other verbal attacks aimed at our journalists, and this is an example of the type of thing we are dealing with," New York Times spokesperson Ari Isaacman Bevacqua told Newsweek in a statement. "Ensuring the safety and security of our staff is of critical importance, and we've taken steps to expand security measures given the current environment."
The voicemail appeared to reference a common attack used by President Donald Trump against members of the media. Trump has repeatedly said "the fake news media" is "the enemy of the people."
On Sunday, the president railed against The New York Times after it published a story about the White House counsel and the Robert Mueller investigation.
"Some members of the media are very Angry at the Fake Story in the New York Times. They actually called to complain and apologize - a big step forward. From the day I announced, the Times has been Fake News, and with their disgusting new Board Member, it will only get worse," Trump tweeted.
Some 300 news outlets joined forces on August 15 to publish editorials denouncing Trump's "dirty war" on media. The effort was led by The Boston Globe and quickly garnered the ire of the president.
"There is nothing that I would want more for our Country than true FREEDOM OF THE PRESS. The fact is that the Press is FREE to write and say anything it wants, but much of what it says is FAKE NEWS, pushing a political agenda or just plain trying to hurt people. HONESTY WINS!," Trump tweeted.
The president's supporters have since taken to dismissing the media as "fake news" and "enemy of the people."