New York Lawmakers Vote to Give Undocumented Immigrants Driver's Licenses 'In the Best Interest of the Entire State'
A measure seeking to allow undocumented immigrants in New York to obtain driver's licenses, known as the "Green Light Bill," got its own green light on Tuesday, when the New York State Assembly voted in favor of the legislation.
The Green Light Bill passed in the Democratic-led house 86 to 47, but still has to clear state Senate before it can make it onto the desk of Governor Andrew Cuomo, who has expressed support for the measure.
In a statement, Democratic Assemblyman Marcos Crespo, who sponsored the bill, said he was grateful to his colleagues for "doing the right thing" and passing the legislation that aims to secure driving privileges "for all residents of New York."
"This legislation allows for undocumented immigrant New Yorkers, who contribute to our state economy in so many ways, to drive safely to and from school, work, and home," Crespo said.
However, the assemblyman asserted that the bill was not only helpful for undocumented immigrants, but would also be beneficial for all residents across the state by making "our roads safer."
In a statement, Senate co-sponsor Democrat Luis Sepúlveda agreed that passing the bill "is the right thing to do for all New Yorkers."
Sepúlveda also echoed Crespo's assertion that the bill would "make our roads safer," in addition to making New York's "economies stronger." Left-leaning think tank the Fiscal Policy Institute estimated earlier this year that with as many as 265,000 undocumented immigrants eligible, the state and counties could see $57 million in higher fee revenues under the licensing program.
New York is a popular state for undocumented immigrants, as the below graph from Statista shows.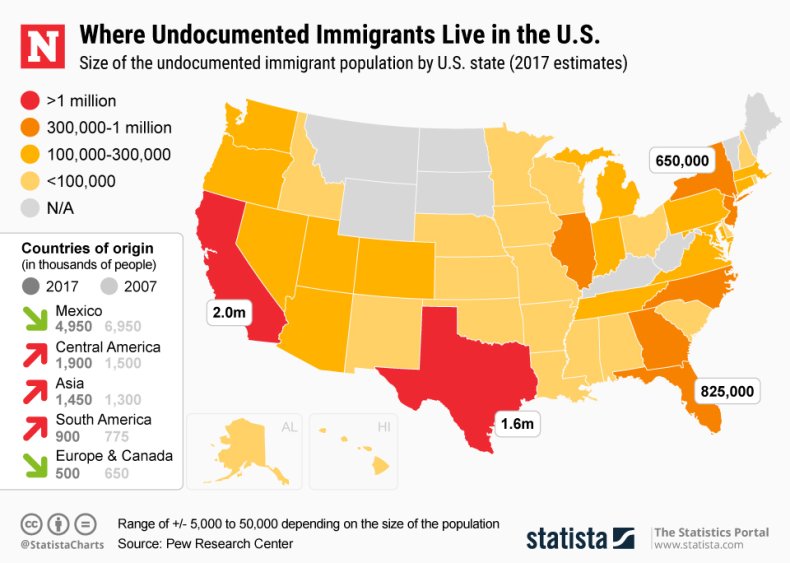 The argument that giving undocumented immigrants access to driver's licenses will improve road safety is one that advocates have repeatedly made to garner support for the program.
Many have pointed to Connecticut as an example, with the state seeing a reduction in hit-and-run crashes—as well as a dramatic decline in the number of people found guilty of unlicensed driving—after opening up driver's licenses to undocumented immigrants four years ago.
Between 2016 and 2018 alone, Connecticut saw hit-and-run crashes fall by 9 percent statewide, according to one report from NPR.
Meanwhile, courts in Connecticut found 4,000 fewer people guilty of unlicensed driving in the last four years, NPR said, citing Connecticut judicial data obtained by the New England Center for Investigative Reporting.
"People that have gotten licenses ... [are] trained right, so it has made the roads safer," Charles Grasso, a former police sergeant who now works with the Connecticut Transportation Safety Research Center, told the media outlet.
Still, critics of New York's measure to give undocumented immigrants access to driver's licenses have expressed concerns that the driver's licenses could give voting privileges to immigrants in the country illegally and potentially encourage identity theft.
"I'm worried about DMV being able to comply with law enforcement and ensuring the data systems that they use will have accurate information," Republican Assemblyman Mike Reilly, a former police officer, told The New York Post.
According to a new Siena College poll released on Monday, the majority of New Yorkers are also opposed to the bill. Only 41 percent of state voters back the legislation, compared to the 53 percent who oppose it.
"A majority of New Yorkers continues to oppose allowing undocumented immigrants to get New York State drivers' licenses," said Siena College pollster Steven Greenberg in a statement.
"Licenses for undocumented immigrants is supported by Democrats as well as black, Latino and younger voters, however, it is overwhelmingly opposed by Republicans," he said. "Upstate and downstate suburban voters, white voters and voters 55 and older oppose it, while New York City voters are evenly divided."