New York at War: Then and Now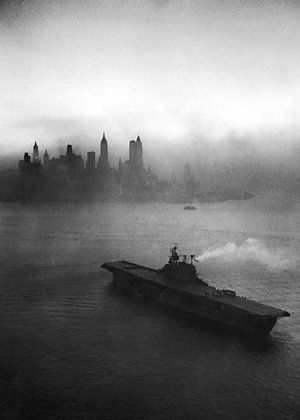 Between the bombing of Pearl Harbor and the Allied victory in 1945, New York City was a choke point for the nation's war effort, and America's enemies did everything they could to choke it. U-boats ventured so close to Manhattan that German sailors could see the skyline's glow. Nazi spies prowled Times Square. The most vulnerable part of the city—and the most important—was the port: 650 miles of miraculously productive waterfront that dispatched 3 million troops and even more tons of matériel to the fight in Europe. With German sympathizers parading in swastikas on the East Side, how could the city keep the docks safe from a secret or not-so-secret attack?
As Richard Goldstein writes in Helluva Town, his new history of New York in World War II, the port owed its safety not least to a canny and highly unlikely calculation. In 1942, the Navy and the district attorney swallowed hard and asked the help of the real authority in the harbor: the Mafia. Lucky Luciano, then doing 30 to 50 years for running a prostitution ring, consented. It sounds like a plot from The Sopranos, but the payoff was real: with mobsters keeping an eye out for saboteurs, and Navy intelligence officers posing as longshoremen, the harbor suffered zero acts of sabotage during the war.
A hardheaded deal struck in a wiseguy's cell is only one of the ways that being "Target Number One" brought out the furthest extremes in New York's character. In some precincts, a puckish cosmopolitanism bloomed: Mayor Fiorello LaGuardia entrusted the safety of German interests in the city to a unit of Jewish cops. A short taxi ride away, intolerance flared. Harlem erupted into a race riot in 1943 so violent that people who heard it thought Hitler's bombers had arrived. A few years earlier, the feds had rounded up a dangerous right-wing Christian militia—in Brooklyn.
A longtime reporter for The New York Times, Goldstein has a knack for snapshots like these, if not for panoramas: for all its juicy raw material, his book has surprisingly little momentum or cumulative power. He also resists what must have been a potent urge to extrapolate from New York's wartime experience. Because the most compelling thing about the book remains implicit: the contrast between wartime New York of the 1940s and wartime New York today.
Newsweek subscription offers >
Goldstein's story illustrates why "war effort" wasn't an empty phrase: the scale of sacrifices asked of New Yorkers was immense. As in other cities, kids collected tin and housewives saved their cooking grease. But New York required a different magnitude of protection. Sixty thousand people in the metropolitan area signed up to be volunteer air watchers. In the Bronx, 600 families were evicted to make way for naval housing. The New York Public Library and the Metropolitan Museum of Art evacuated thousands of cultural treasures so they'd survive the city's potential destruction. Blackouts cut short baseball games and even remade the skyline: the Statue of Liberty traded its signature 13,000-watt lamps for a pair of 200-watt air-warning bulbs.
Seventy years after it sweated and struggled to funnel troops to the front line, New York City has become the front line. Lower Manhattan still bears the scars of the 9/11 attacks, and if the Times Square bomber hadn't been so feckless, midtown would have its own crater and makeshift shrine. Yet in spite of the threats aimed at the city, the wars in Iraq and Afghanistan seem curiously disembodied here. After nine years of conflict, we've grown accustomed to the extra bollards in front of government buildings and the bag check at Yankee Stadium. Even the battle-armored cops with machine guns fade into our hectic mental wallpaper. The roaring, frenetic New York described by Goldstein demonstrates what it's like for a state and its people to fight a war; the watchful and uneasy New York of the 21st century shows what it's like for a city to endure one. Little is asked of us and little expected (except for military families, for whom the opposite is true). If you see something, say something is the sum of our war effort now.
The New York of 1942, where war was an activity, and of 2010, where it is more like a condition, have one thing in common: New Yorkers' ornery determination to get on with life. Goldstein writes that during an air-raid drill to prepare for a German attack, a cop ordered a busload of people to disembark and take cover in a shelter near City Hall. The New Yorkers looked at the sky, saw they had nothing to fear, and ignored him. After haranguing them for five minutes, he gave up, and told the driver to get those people out of his sight. He'd be wasting his breath today, too.
New York at War: Then and Now | U.S.