New York Governor Andrew Cuomo announced Monday that the state will begin producing its own hand sanitizer, following reports it has now surpassed Washington state in having the most cases nationwide.
The statewide total for coronavirus cases has hit 142, a 35 percent increase over the course of one day, the governor said. That is just above Washington state's previous record high of 141. Although New York has not recorded any COVID-19-related deaths as of Monday afternoon, Cuomo held a press conference outlining tactics the state government is taking to curb the spread of the illness. The Democratic governor pulled open a curtain to unveil dozens of bottles of "NYS Clean" hand sanitizer, which he said will be distributed to schools, prisons and government agencies across the state this week.
"We are introducing New York State Clean hand sanitizer made conveniently by the state of New York," Cuomo said Monday. "This is a superior product to products now on the market. The World Health Organization, the CDC, all those people suggest 60 percent alcohol content. Purell, a competitor to New York State Clean, has 70 percent. This has 75 percent alcohol. It also comes in a variety of sizes and has a very nice floral bouquet [scent]."
The governor then pretended to be advertising an infomercial product as he put some of the NYS Clean product on his skin. He told reporters, "I detect a little hydrangea, lilac, tulips, floral bouquet.... Corcraft makes glass cleaner, floor cleaner, degreasers, laundry detergent, vehicle fluids, hand cleaner, and now they make hand sanitizer with alcohol."
Corcraft Products, which is spearheading the manufacturing of the product for the state, already makes dozens of different products for government distribution. Prison inmates are assisting in the new hand sanitizer's production. Cuomo said that it costs $6 per gallon to make the sanitizer, which is being produced at the Great Meadow Correctional Facility in Washington County.
Cuomo also confirmed that Port Authority Executive Director Rick Cotton has tested positive for the new coronavirus. Cotton oversaw containment efforts at John F. Kennedy Airport, one of the key entry points for international arrivals, some of whom might be infected with the coronavirus illness.
Cuomo said the state and Corcraft Products now have an output capacity of 100,000 gallons a week but will be "ramping up production" of the sanitizer statewide. Cuomo said the Metropolitan Transit Authority, public schools and every government agency will receive the product.
In addition, Cuomo said a cluster of coronavirus cases have emerged in Westchester County, just north of New York City. Additionally, there are at least 19 confirmed cases in the city's five boroughs, as well as cases in other parts of the state, from Long Island to the Albany area.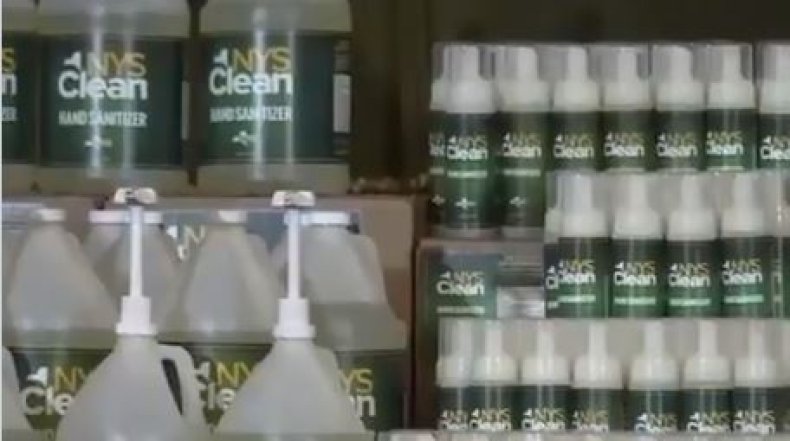 About the writer
Benjamin Fearnow is a reporter based out of Newsweek's New York City offices. He was previously at CBS and Mediaite after working as a news curator at Facebook. Fearnow has pieces published in The Atlantic as well as stories published about him in Wired and The New York Times. He attended the Columbia University School of Journalism after graduating from Indiana University-Bloomington. Email: b.fearnow @ newsweek [dot] com.