"This Attack Resembles Nazi Germany": Second Jewish Man Assaulted in Brooklyn in Matter of Days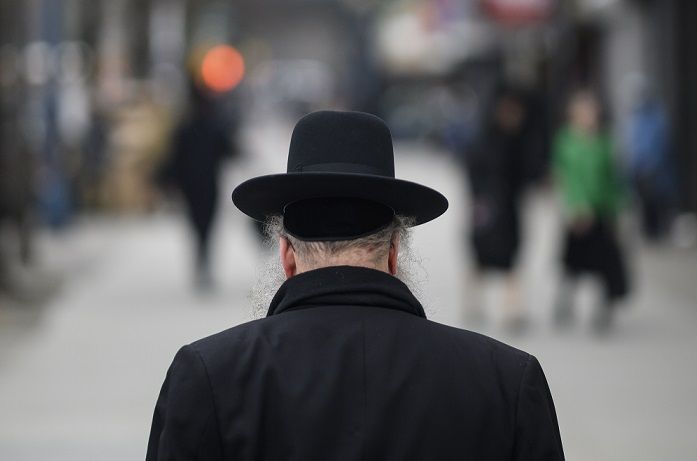 Police are investigating a potential hate crime against a Jewish man in the Brooklyn area of New York, just days after a similar alleged anti-Semitic attack took place less than a mile away.
Surveillance footage, obtained by Williamsburg News, shows a man dressed in full religious attire walking down Rodney Street at around 7:40 p.m. on May 7.
A male suspect wearing a backpack can then be seen running up being the Jewish man and punching him in the back of the head in an apparently unprovoked attack.
The suspect then runs away in the opposite direction with the victim chasing after him. The incident is now being investigated by the Hate Crimes Task Force as a possible religiously motivated attack.
Tweeting the video of the attack, former Brooklyn Assemblyman Dov Hikind said: "This attack resembles Nazi Germany where anti-Semites attacked Jews with glee."
"We have now seen a significant spike of antisemitic hate crimes in NYC. The question remains, what will the city do about it? Silence isn't an option. Neither is pacifism. Anti-semitism must be rooted out or it's going to get a lot worse," Hikind added.
The incident occurred just three days after another Jewish man was assaulted less than half a mile away in the Williamsburg neighborhood.
In that instance, a 42-year-old man said a group of males yelled anti-Semitic slurs at him before he was punched in the face by one of the assailants on Broadway Street at around 1 p.m. on May 4.
New York Governor Andrew Cuomo ordered the Hate Crimes Task Force to investigate the attack.
"I am appalled and disgusted by the apparent attack on a Jewish man in religious attire in Williamsburg," Cuomo said in a statement. "This abhorrent act of hate-fueled violence is deeply disturbing, especially in the wake of a reported spike in hate crimes and anti-Semitic incidents over the past year.
"We will always stand with the Jewish community against anti-Semitism in all its forms. There is no place for hate in our State, and we must continue to stand united against the cancer of division and hate spreading across our nation."
The Anti-Defamation League (ADL) is offering a $5,000 reward for anyone who can provide information leading to an arrest and conviction in connection to the attack on the 42-year-old.
"We are alarmed and deeply concerned that yet another violent anti-Semitic incident has occurred in Brooklyn," Evan R. Bernstein, ADL NY/NJ regional director, said in a statement. "This is unacceptable, and the hate must stop. The fact that this alleged attack took place during the Sabbath makes it even more egregious.
According to NYPD figures, there have been 82 recorded anti-Semitic attack in the city this year as of April 30, an 82 percent increase compared to the 45 that occurred during the same period last year.