Snow has been falling across the Northeast, where a winter storm has also led to strong winds, freezing temperatures, disruption—and beautiful scenery.
In New York City the snowfall came at a rate of 2 inches an hour on Wednesday night, according to the National Weather Service. Central Park had 6.5 inches of snow and sleet by midnight, the service said.
A winter storm warning remained in place for the city on Thursday morning, with anything up to a further 9 inches forecast to fall that day as the nor'eastern continued.
Amateur and professional photographers were out capturing the scenes last night.
The Rockefeller Center's world-famous Christmas tree was pictured by Gary Hershorn as he took in the sites around Manhattan.
In Times Square, another Twitter-user took video of people throwing snowballs, making snowmen, and traversing the icy roads.
One snowman in the square was given a face mask in a sign of the times. Indoor dining has been banned in New York City since Monday.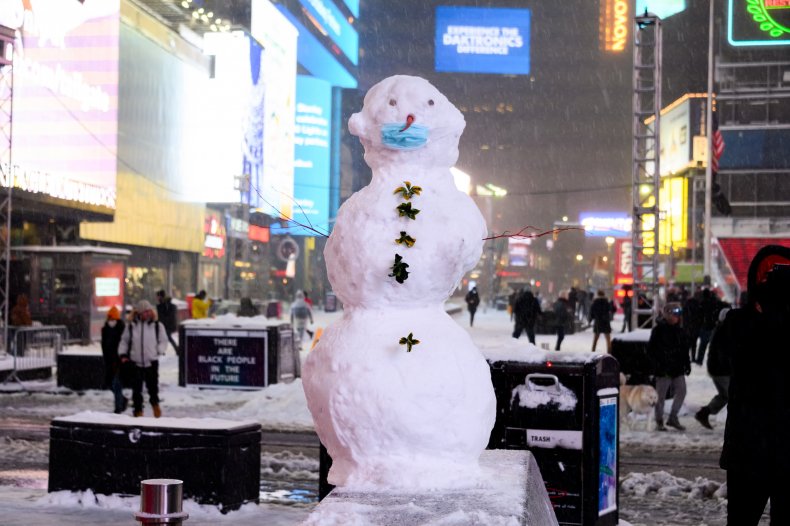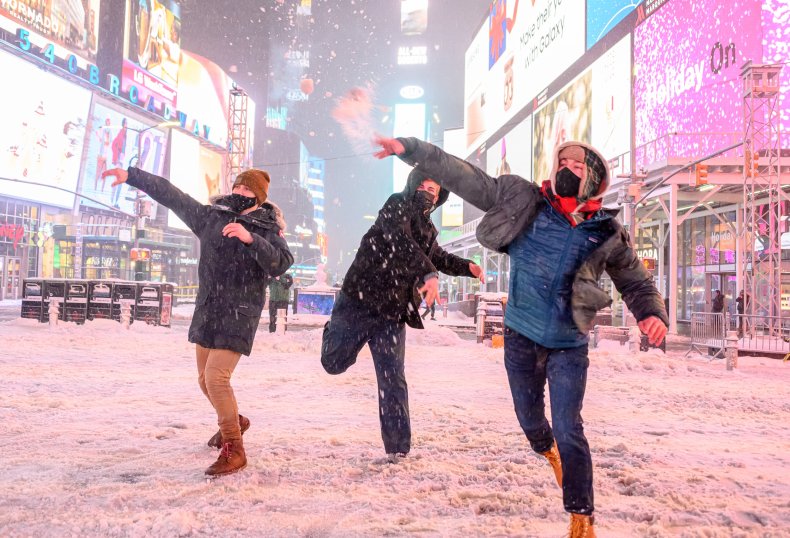 New Yorker Rad Alzyoud shared a walk-through video of Times Square as the snow came down early on Thursday morning.
The storm brought a blast of cold to the Big Apple, with temperatures dropping to -4 degrees overnight. Leaving some frozen stiff...
Walkers through Central Park were met by a sea of white on Thursday morning.
This stunning photograph, below, was also shared on Instagram with the caption asking: "Who was lucky to walk in the snow in the City last night?"
On Tuesday, ahead of the storm, New York City Mayor Bill de Blasio asked New Yorkers to take public transportation rather than use their own cars.
"We have not had a lot of storms like this in the last few years, thank God," de Blasio told reporters. "This could be the biggest storm in several years."
Busy bus stops were pictured in the city on Wednesday night.
However, one man was pictured getting around Manhattan on skis.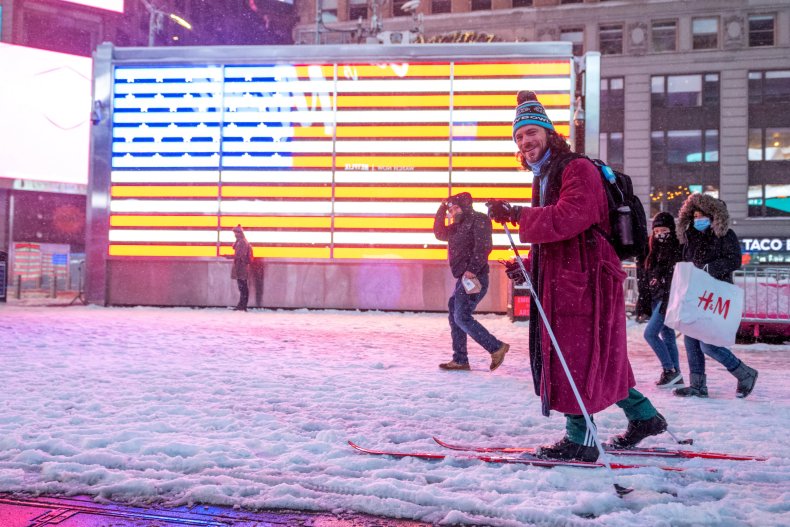 The difficulty in getting around was perhaps best summed up by NBC New York meteorologist Matt Brickman, who shared this video crossing into New York from New Jersey on Interstate-287's Mario Cuomo Bridge.
He said winds were pushing around the vehicle he was in, despite travelling 40 mph under the speed limit. "If you don't have to be on the road right now, don't," he wrote.
Indoor dining has been banned in New York City since Monday due to COVID restrictions. But it appeared even snow could not stop these people embracing outdoor dining.
What does a Winter Storm Warning mean?
A vast area in the northeastern area of the U.S. is under a Winter Storm Warning, which means that forecasters are confident that a winter storm will produce snow, sleet, freezing rain, or ice that could cause significant impacts and anyone under this warning should take action now.
Areas of Maine, New Hampshire, Massachusetts, New York, New Jersey, Pennsylvania, Delaware, Washington, D.C., Maryland, and Virginia are under a Winter Storm Warning.