A New York woman was arrested on Friday after she dumped a bucket of popcorn on a two-year-old during a January Star Wars: The Last Jedi screening at an AMC movie theatre in Long Island.
Keri Karman, 25, allegedly got angry after Harley, the young girl sitting next to her, asked her for some popcorn. Karman told the girl to be quiet, which prompted her mother, Celia Riggs, 28, to warn the "female not to talk to her daughter," according to a Nassau County Police Department incident summary.
"All she said was 'popcorn.' She didn't even say a full sentence," Riggs later told the New York Post.
Then things took a turn for the worse.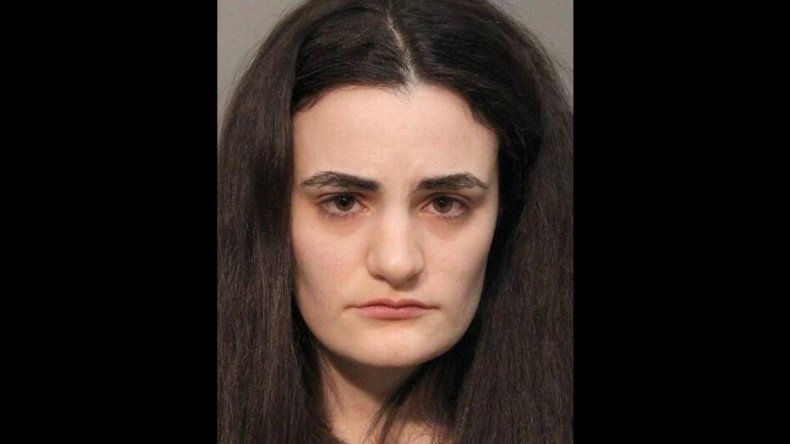 Karman started to loudly curse and gesture obscenely at Riggs and her young daughter, before dumping a bucket of popcorn on Harley's head. The hard paper tub end of the box bruised the child, who began sobbing. This prompted Karman and her father to flee the building through the fire exit.
Police were called to the scene after the incident. Riggs held Harley on her lap as they waited for them to arrive. According to the Sacramento Bee, detectives tracked down the Karmans using their credit card receipt and surveillance footage at the theatre.
Authorities also arrested Karman's dad, Charles Karman, 61, for endangering the welfare of a child after he was seen in the footage watching the fight and doing nothing.
An employee at the theatre said that Karman must have inherited her temper from her father, who was also disruptive and argued with other customers over a seat before the incident occured.
Abby Levitt Ferrara, who claims to be a friend of Keri Karman, came to her defense in a Facebook post. Ferrara said the police account did not sound like Karman and accused Riggs of being the actual aggressor.
"Too bad you didn't hear the real story!! When asked to quiet the kid, the mother pushed Keri and the popcorn went flying," Abby Levitt Ferrara wrote on Facebook, according to the New York Post. "Keri never raised a hand in any way… there is not an aggressive bone in Keri's body."