New York Woman Hits Man in the Face With Chair During Anti-Hispanic Tirade in Mcdonald's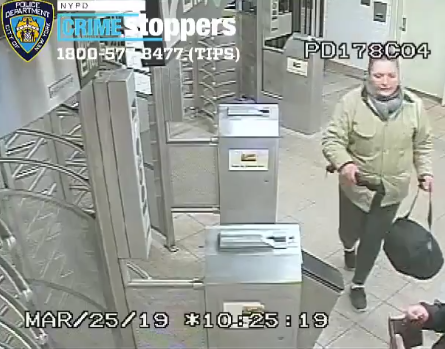 New York police are searching for a woman who launched an unprovoked anti-Hispanic attack against a McDonald's customer, hitting him in the face with a chair before fleeing the scene.
According to NBC New York, the woman hurled anti-Hispanic remarks at the 33-year-old man, who was sitting inside a McDonald's on Canal Street at 10:30 a.m. in Manhattan, before launching a physical attack.
The man told New York police the woman, who he had never met before, had picked up a chair and hit him in the face after making the racist comments. She then fled the downtown Manhattan restaurant, the NYPD said.
Police have released footage of the woman. She can be seen wearing a beige overcoat, a grey scarf, black trousers and carrying a black bag as she attempted to get through a turnstile at Canal Street train Station. She was ultimately unable to board a train at the station.
The NYPD has given further information about the woman who they estimate was aged between 35 and 45, weighed around 180 pounds and measured 5"2' in height.
The victim of the attack was taken to a local hospital where he was treated for a contusion to the face, police added.
Spates of violence in New York's McDonald's restaurants are not unheard of. In January a man attacked an employee at one of the fast food chain's outlets in the Bronx with a deep fryer basket, before punching another in the face.
ABC7 reported a dispute between the man and the McDonald's workers flared to violence after they told him the eatery on University Ave in Morris Heights was closed. Police said the suspect stole a set of keys before fleeing the scene.
In October last year, also in the Bronx, a man attacked an elderly woman, breaking several of her bones in an apparently unprovoked attack.
NBC New York reported that the attacker, who had grey hair, walked up to the 87-year-old woman, before grabbing and throwing her to the ground.
Paramedics were called to the scene, and the woman was taken to hospital, where she was reportedly treated for a fractured arm and fractured pelvis.
CCTV from the fast-food restaurant on 149th Street in Melrose showed the attacker wearing a black baseball cap and wearing a dark blue jacket. He was wheeling a blue suitcase, which he apparently took with him as he left the McDonald's where the attack took place.